He Said, She Said: Clinton and Trump on Jobs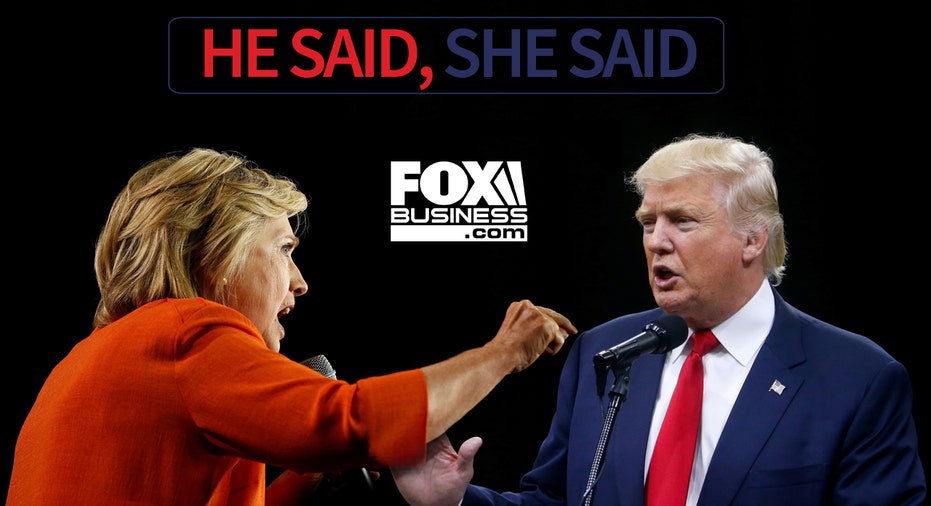 Both candidates are working hard to convince the American people that they are the right candidate to increase job growth, what many say is the driving force behind our economy. Well, Clinton and Trump have both claimed to have the best plan to get America working again. So who can really get the job done?
We here at FOXBusiness.com took a look at speeches, debates and tweets in our special series, "He Said, She Said" jobs edition.
Here's a look at what both Hillary Clinton and Donald Trump have said about putting America back to work.
I have created tens of thousands of jobs and will bring back great American prosperity. Hillary has only created jobs at the FBI and DOJ!

— Donald J. Trump (@realDonaldTrump) October 2, 2016
"Well, first of all, I do have a very comprehensive plan to create more jobs and I think that has to be at the center of our economic approach. And so I think it is important that we do more on manufacturing. I went to Syracuse and laid out a $10 billion plan that would, I believe, really jump-start advanced manufacturing" – Clinton, April 14, 2016
"I will be the greatest jobs president that God ever created." – Trump, June 16, 2015
"Good paying jobs are the tickets to the middle class and we're going to stand up for the American middle class again. We're going to stand up for American workers and make sure no one takes advantage of us, not China, not Wall Street and not overpaid corporate executives" – Clinton, March 15, 2016
Be sure to check FOXBusiness.com for more from our "He Said, She Said" series ahead of Election Day.