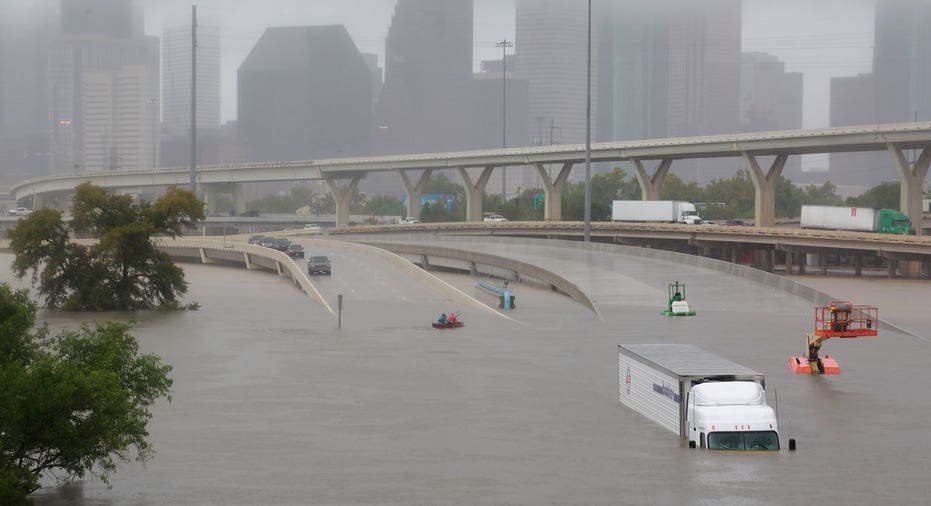 As the dangers of Tropical Storm Harvey continue to threaten residents in areas of the Texas Gulf Coast and Louisiana, local administrators warn this could be a "landmark" national disaster for the United States.
Harvey made landfall on Friday as a Category 4 hurricane and stalled out over the coastal areas of Texas this weekend, bringing dangerously high winds and dumping catastrophic amounts of rain.
As local communities and response teams across the nation seek to mitigate damages from the storm, here's a look at Harvey by the numbers so far.
Rainfall
This month has officially been deemed the wettest on record for Houston, Texas, according to the U.S. Department of Commerce's National Oceanic and Atmospheric Administration. On Sunday, Houston established a new daily rainfall record with just over 16 inches.
Between Friday and Sunday, some areas along the Texas gulf coast received as much as 30 inches of rain. But the dangers are not over just yet. Weather services warn that before the storm clears out, some areas could cumulatively receive as many as 50 inches of rain. Continuing rainfall will worsen already grave flooding conditions.
Fatalities
At least 5 people have died as a result of Harvey. Rescue efforts are still ongoing and that number could increase over the coming days.
Disaster assistance
On Monday morning, FEMA Administrator Brock Long said more than 450,000 Texans will need disaster assistance relief in the wake of the storm.
President Donald Trump has approved a federal emergency disaster declaration, directing government aid toward the relief and recovery efforts. Under this declaration, the U.S. government will cover about 75% of some of the relief costs.
Rescue efforts
Rising water levels have made rescue efforts challenging. As many as 346 roads are closed due to high water, according to local traffic aggregator. At least 15 states are sending first response teams to Texas, including New York and California.
Gas prices
Because many of the United States' oil refineries are located in Texas, outages have already caused gas prices to hit a 2-year high. Texas boasts a refining capacity of more than 5.6 million barrels per day, according to the EIA. About 16% of that capacity has been taken out due to the storm.
Some experts predict gas prices could rise by as much as 25 cents, The Associated Press reported. Gas prices averaged $2.38 a gallon as of Monday morning, up two pennies from Sunday, according to GasBuddy.
Rescue effort costs
While wind damage insurance claims alone could reach as high as $6 billion, according to The Associated Press, flooding costs could be even larger.
FEMA already owes the U.S. Treasury more than $24 billion, which was provided for previous disaster relief efforts, as reported by Reuters.
Small business fate
The longer the recovery effort takes, the less likely it is the area's small businesses will survive the economic damage, Former Joint Task Force Katrina Commander Russel Honore told FOX Business. Honore said Monday that about 40% of small businesses won't survive this type of natural disaster.