Harvard's first female president stepping down after 11 years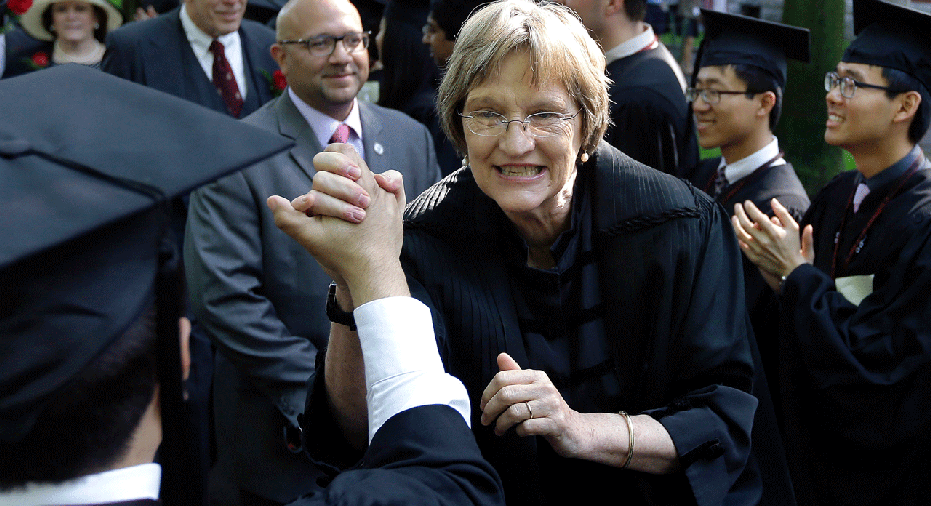 After more than a decade at the helm, Harvard University's president said Wednesday she will step down from her post at the end of the next academic year.
Drew Gilpin Faust, Harvard's first-ever female president, said now is the "right time for the transition to Harvard's next chapter," in an e-mail to faculty and students.
Hired in 2007, she is credited with fostering collaboration among Harvard's academic factions and being a champion of the arts and sciences. At the university's graduation ceremony in May, Faust reminded students of the importance of free speech, a controversial subject on college campuses across the country this year.
"It is not about the freedom to out-shout others while everyone has their fingers in their ears. For free speech to flourish, we must build an environment where everyone takes responsibility for the right not just to speak, but to hear and be heard, where everyone assumes the responsibility to treat others with dignity and respect," Faust told graduates.
Faust has been credited with increasing the percentage of low-income Harvard attendees through a vast expansion of the university's financial aid program. Over the course of her tenure the amount of aid allocated to students has risen by $200 million. She is also the originator of a capital drive that has raised $8 billion. However, she has also faced challenges, including the recently lagging performance of Harvard's $35.7 billion endowment.
Faust is a historian of the American Civil War and plans to take a sabbatical and continue her scholarship.
The Associated Press contributed to this report.