Halloween Spooks: Beware of Home Insurance Risks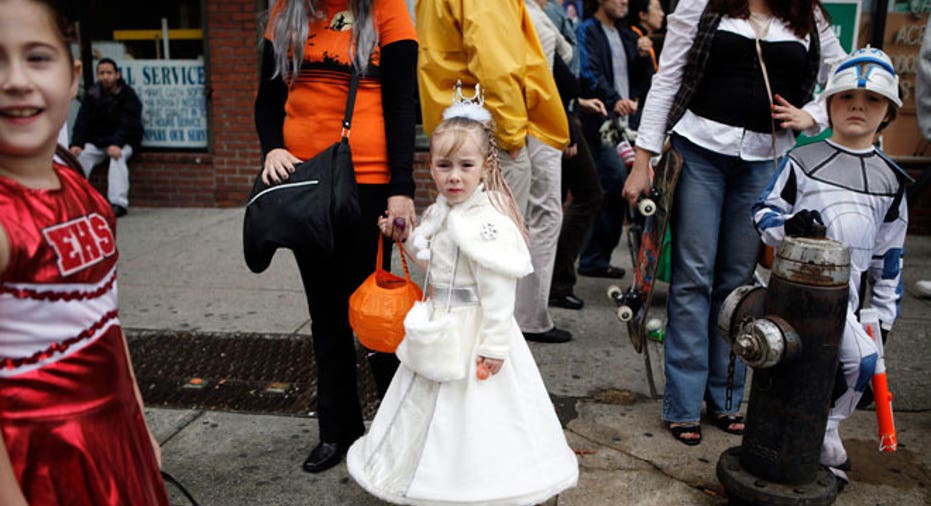 Trick-or-treaters will soon be knocking on doors nationwide looking for candy, and homeowners looking to get in on the Halloween spirit need to know about potential liabilities to avoid unexpected fright from their insurance company.
Putting up decorations aimed at having visitors run screaming from you property, but experts warn to proceeded with caution and know your risks.
Here's a look at several insurance risks associated with Halloween and how to stay safe:
Risk: Giving Out Candy
Whether you plan to personally hand out candy to dressed-up visitors or leave out a bowl for them to help themselves, having people on your property is risky—particularly if they fall and get hurt.
Amy Danise, insurance expert for Insure.com, says home insurance offers coverage for any slips, trips or falls that take place outside your home. "If a person sues you because a brick was out of place, or because they say it was too dark, this will be covered as a liability," Danise says. "Your home insurance will also pay for your defense, which a lot of people don't realize."
For smaller injuries, there is standard home insurance, known as "no-fault-medical" which could offer protection if a trick-or-treater has a small injury and files a lawsuit. A small claim can be made against your home without actually suing the home owner.
For bigger injuries and lawsuits, most home insurance plans cover around $100,000 in claims, according Danise, who advises all homeowners check with their individual insurer and policy to be sure.
"People can also add on extra liability by buying an umbrella policy, which can add extra coverage to auto and home insurance," she says.
Risk: Hosting a Haunted House
If Halloween is your favorite holiday and includes you turning your dwelling into a haunted house open to visitors, insurance experts recommend being mindful of your admissions policy.
Danise says the same rules apply for these "haunted houses" when it comes to injuries on your property, with liability and no-fault medical coverage. But the tables do turn if you charge people to come inside your home to see your haunted displays.
"Your home insurance would likely not cover this because you are running a business," she says. "They will not cover business activities in your home, unless you have a separate policy."
Risk: Vandalism and Stolen Decorations
If your decorations are carried off by thieves, Danise says, the losses may be covered by homeowners insurance.
"I have heard of people stealing holiday decorations and you can make a theft claim against your home insurance," she says. "You would need to file a police report and also have to pay deductibles."
In such a case, the you would have to decide if it's really worth it to pursue an insurance claim for stolen decorations, as it may hurt you in the end if a larger issue occurs down the road.
"You don't want to rack up a lot of small claims," she says. "You want to save this for the big problems, like a house fire. If you have lost thousands of dollars of property though, or incur damage, it may be worthwhile to take advantage of your insurance.