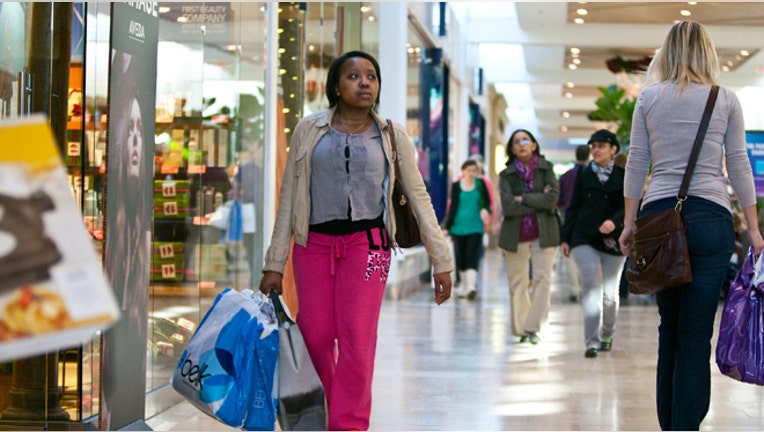 If you've been to your local Macy's (NYSE:M) or Kohl's (NYSE:KSS) recently you might be feeling a bit like Rip Van Winkle. The wreaths are hung, Christmas trees line aisles and the tables full of flannel pajamas, ornaments and berry-scented candles are ready to get picked over.
Target (NYSE:TGT) has already started airing a holiday-themed TV commercial.
Rest assured, you did not sleep through Halloween. Hanukkah and Christmas are not just around the corner, in fact, Thanksgiving and the infamous Black Friday is still more than a month away!
It might seem as if retailers have conspired to lead us all by the nose, dictating when we should buy based on their own schedule, but it turns out, they're mostly responding to our time-crunched lifestyle.
The National Retail Federation (NRF), which calls itself "the voice of retailers worldwide," has been surveying American consumers for a decade and recently reported that when it comes to the year-end holidays, more than 40% of us begin shopping before Halloween. That includes 20% of consumers who are really early-birds, starting their holiday shopping in or before September.  "It's very important for retailers to have their merchandise ready,' says NRF spokesperson Kathy Grannis. "If they don't, they know there are plenty of shoppers who will go next door."
So what's behind the early jumpstart? According to Grannis, the attitude among consumers seems to be that "the early shopper scores the gift." While not wanting to miss out on this year's hot gift items is one factor, social change is also getting us out shopping earlier. More women today hold full-time jobs compared to the '60s and '70s so instead of getting all the holiday shopping done by spending a day or two at the mall, we complete our lists during "hit-and-run" trips to pick up one or two gifts on a lunch hour or when the kids are at soccer practice.
Starting early is a must, and so are sales and coupons. Despite the fact that politicians keep telling us that conditions have improved, more than half (52%) of those surveyed say the current state of the economy has put a damper on what they plan to spend this year. Overall, retail sales in the last two months of the year- including grocery as well as auto parts stores- are expected to be up about 4%.
However, the average amount we plan to shell out for gifts is projected to be $749.51, a paltry 1.2% more than last year and not even on par with inflation.  As you can see in the graph below, that would put us back where we were before Great Depression II hit in 2008. According to Grannis, "Considering the uncertainties in the economy, this is a pretty optimistic outlook."
For retailers. the fact that holiday spending is up at all this year is a good sign. "It indicates that consumers have the desire and ability to spend this holiday season," says Grannis.
Retailers have responded by catering to consumer demands for convenience and bargains. According to the NRF, for the first time ever, more than half of us plan to make some of our holiday purchases online. Walmart (NYSE:WMT) is taking on Amazon (NASDAQ:AMZN) by promising same-day delivery in some markets. Lay away has made a come back.
Coupons are already widely available, both online and via text and 36% of shoppers say the offer of a discount is the single most important factor that determines the retailer they visit- more than twice the number who cite the quality or selection of the merchandise carried.
On the other hand, if crowds and carols and decision-making make you want to crawl under the covers until mid-January, fear not: the present that once again tops the "Most Wanted" list is still the gift card."Four years ago we were hearing people were using gift cards to buy gas and food," says Grannis.  But in today's slightly better economy, "it can be looked at as free money."  In other words, while someone might not want to spend their "own" money on a particular item, they're fine using a gift card to splurge on themselves.
Ms. Buckner is a Retirement and Financial Planning Specialist and an instructor in Franklin Templeton Investments' global Academy. The views expressed in this article are only those of Ms. Buckner or the individual commentator identified therein, and are not necessarily the views of Franklin Templeton Investments, which has not reviewed, and is not responsible for, the content. 
If you have a question for Gail Buckner and the Your $ Matters column, send them to: yourmoneymatters@gmail.com, along with your name and phone number.