Hagel announces new approach to finding breakthrough technologies to keep US military ahead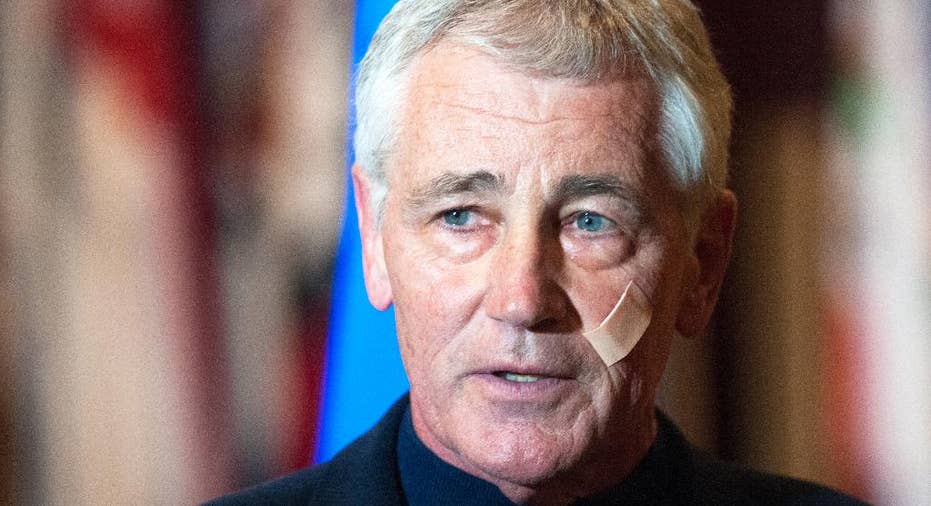 Wary of a more muscular Russia and China, Defense Secretary Chuck Hagel said Saturday the Pentagon will make a new push for fresh thinking and creative ideas about how the U.S. can keep and extend its military superiority despite tighter budgets and the wear and tear of 13 years of war.
Hagel announced a "defense innovation initiative" that he likened to historic and successful campaigns during the Cold War to offset military advantages of U.S. adversaries. He described a "game-changing" strategy to sharpen American's military edge in the face of budget impasses on Capitol Hill.
"We must change the way we innovate, operate and do business," he said in remarks prepared for a defense forum at the Ronald Reagan Presidential Library.
In a memo to Pentagon leaders in which be outlined the initiative, Hagel said the U.S. must not lose its commanding edge in military technology.
"While we have been engaged in two large land-mass wars over the last 13 years, potential adversaries have been modernizing their militaries, developing and proliferating disruptive capabilities across the spectrum of conflict. This represents a clear and growing challenge to our military power," he wrote.
Speaking just a short walk from Reagan's tomb, Hagel invoked the late president's legacy as a rebuilder of U.S. military strength in the 1980s and cited Reagan's famous call for the Soviets to tear down the Berlin Wall, which epitomized a divided Europe and a world at risk of a new global war.
"America and its allies prevailed over a determined Soviet adversary by coming together as a nation - over decades and across party lines - to make long-term, strategic investments, including in innovation and reform of our nation's military," he said. Those investments "ultimately helped force the Soviet military and Soviet regime to fold its hand."
Hagel, a Republican who served two terms in Congress as a senator from Nebraska, said the U.S. can no longer count on outspending its rivals and potential adversaries.
But longstanding overseas alliances and America's reputation for dependability require, he said, that the military be able to project power abroad — an expensive capability that he said is now at risk.
"If this capability is eroded or lost, we will see a world far more dangerous and unstable - far more threatening to America and our citizens here at home than we have seen since World War II," he said.
Hagel said the U.S. cannot afford to relax or assume that the military superiority it developed during the Cold War will automatically persist.
"We are not waiting for change to come to us - we are taking the initiative, getting ahead of the changes we know are coming, and making the long-term investments we need for the future," he said.
Hagel said he is launching a long-range research and development program to find and field breakthroughs in key technologies, including robotics, miniaturization and advanced manufacturing techniques such as 3-D printing. He said the Pentagon will call on the private sector and academia for help.
"This program will look toward the next decade and beyond," he said. "In the near-term, it will invite some of the brightest minds from inside and outside government to start with a clean sheet of paper and assess what technologies and systems DoD ought to develop over the next three to five years."
Hagel likened the program to the Eisenhower administration's "New Look" program in the 1950s, which sought to rapidly expand the U.S. nuclear weapon arsenal to offset superior Soviet conventional military power in Europe. He also compared it to the 1970s push by the Pentagon to emphasize long-range research into technologies that yielded such significant breakthroughs as stealth aircraft, Patriot air defense weapons, precision-guided bombs and missiles and more sophisticated surveillance systems.
"Because subsequent leaders, including President Reagan, sustained these investments on a bipartisan basis, these investments helped America build and hold our military edge for decades," he said.