Gupta Won't Testify in His Own Defense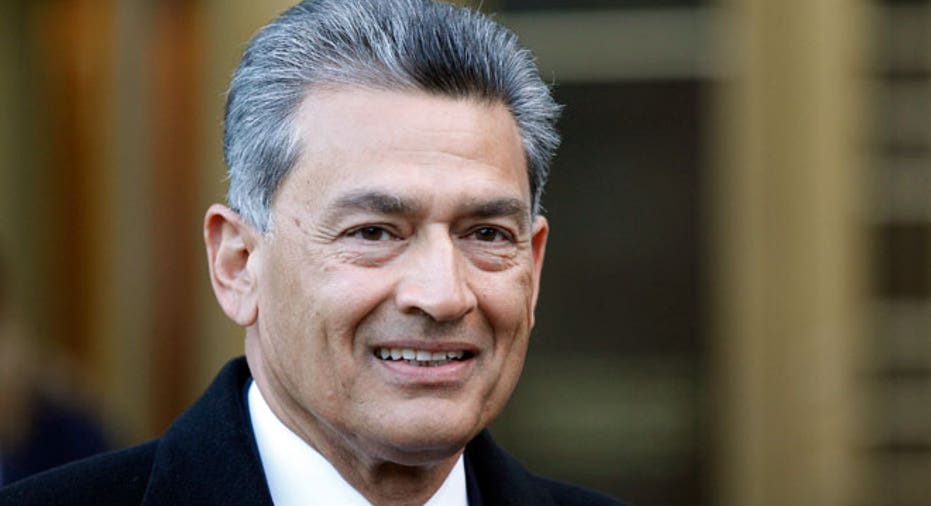 Former Goldman Sachs Group (NYSE:GS) director Rajat Gupta will not testify in his own defense at his closely-watched insider trading trial in New York.
"We have spent the last day reviewing what we believe we need to present in the defense case," Gupta's lead attorney Gary Naftalis wrote in a letter dated June 10 to U.S. District Judge Jed Rakoff.
"After substantial reflection and consideration, we have determined that Mr. Gupta will not be a witness on his own behalf in the defense case."
On Friday, Naftalis raised eyebrows when he told Rakoff that it was "highly likely" that Gupta would testify.
Rakoff said Friday that if Gupta testified closing arguments would be slated for Wednesday, which may now move up to Tuesday. Gupta's trial began on May 21. The prosecution rested its case June 8.
Gupta is charged with one count of conspiracy and five counts of securities fraud. If convicted, he faces up to 25 years in prison.
Prosecutors say Gupta tipped his former friend and business partner Raj Rajaratnam about corporate secrets including earnings reports and acquisitions when he was on the boards of Goldman and Procter & Gamble Co. (NYSE:PG).
Rajaratnam, former Galleon hedge-fund manager, was found guilty in 2011 on 14 counts of conspiracy and securities fraud. He was the central figure in the federal government's massive crackdown on insider trading. He was sentenced to 11 years in prison.
Gupta denies any wrongdoing. He lawyers argue that Rajaratnam had a network of sources plying him with corporate secrets.
Gupta's trial is one of the toughest cases of insider trading the government has prosecuted. The evidence against him is mostly circumstantial and what the government has produced isn't nearly as incriminating as it has been in other insider trading cases.
If Gupta had testified, it would have given the jury an opportunity to hear his side of the story in his own words. However, some legal experts questioned the strategy, saying it would do more harm than good.
Defendants in white collar crime trials usually refrain from testifying in their own defense but there have been a handful of high-profile defendants who have - and lost.
In March 2005, former WorldCom Inc. CEO Bernard Ebbers was found guilty on all nine criminal counts he faced in U.S. District Court in New York City, including conspiracy, securities fraud and seven counts of filing false securities documents. The charges stemmed from accounting fraud that led to the company's $107 billion bankruptcy.
In June 2005, a jury in New York State Supreme Court found former Tyco International Ltd. CEO Dennis Kozlowski and CFO Mark Swartz guilty on 22 of 23 counts against them for looting $600 million from the Bermuda-based conglomerate. The four-month-long trial was the second for the men. Kozlowski testified on his own behalf in the second trial, a move he had avoided in the first one. Swartz testified at both trials.
After the verdict, jurors said they found Kozlowski untrustworthy in his testimony, convincing them that the former CEO was guilty on most of the charges against him.
Former Enron Corp. CEO Jeffrey Skilling took the stand April 10-13, 2006 in his trial. He was charged with 28 counts of fraud and conspiracy related to the defunct energy company's 2001 bankruptcy.
His co-defendant, Kenneth Lay, testified April 24-May 2 in his own trial in Houston on charges of fraud and conspiracy. On May 25, 2006, the jury convicted Skilling on 19 charges of fraud, conspiracy and insider trading. Lay, Enron's founder and Skilling's successor, was found guilty on all six counts of fraud and conspiracy with which he had been charged.