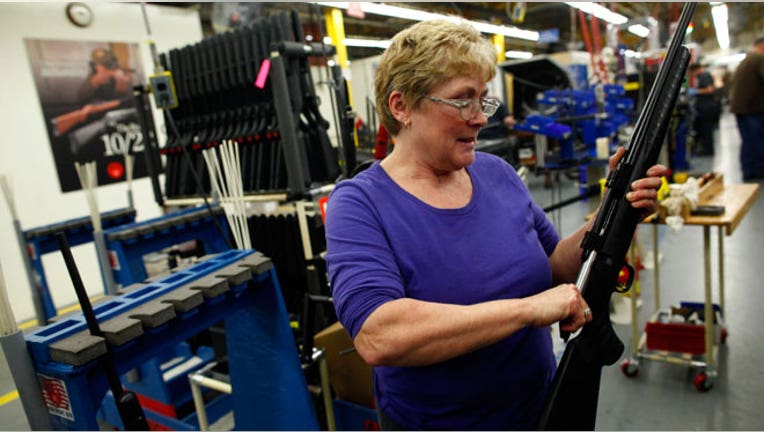 As some states move to enact stricter gun regulations, manufacturers of firearms, ammunition and magazines are looking to take their businesses elsewhere.
States including Colorado, Maryland and Connecticut are debating new restrictions on gun ownership, while New York will face a battle in court beginning this month after passing one of the strictest laws in the country.
Those states have something else in common. Each of them is home to some of the firearms industry's most well-known names, who are promising to move operations to more gun-friendly states.
Firearms businesses, responsible for making and selling guns, magazines and other related products, have cited business interruptions and added costs as reasons to move. Meanwhile, several manufacturers like Maryland's Beretta USA already have operations outside of their home states, making an entire move a bit easier.
Given the added economic activity and in-state jobs those companies could bring, Texas Republican Gov. Rick Perry and politicians from Missouri, Tennessee, Wyoming and others are courting gun manufacturers, as well as other businesses like Colorado magazine maker Magpul.
"The last thing companies want to do is move, but the laws are forcing their hand," said Jake McGuigan, Director of State Affairs for National Shooting Sports Foundation, a firearms industry trade group. "Manufacturers are being courted by second amendment- and gun-friendly states. They will have to look at these offers."
Connecticut's state economy potentially has the most to lose if new laws hit the books. Four major firearms manufacturers call the state home, although Sturm Ruger (NYSE:RGR) does most of its manufacturing in Arizona and New Hampshire.
Gov. Dannel Malloy, a Democrat, has pushed for an expansion of Connecticut's current ban on what gun control advocates call "assault weapons" and the industry refers to as modern sporting rifles. Malloy also wants universal background checks and a limit on magazine capacities.
A bipartisan task force in the state announced two separate proposals, split along party lines. Democrats on the task force included in their recommendation a magazine restriction that would require current owners of rifle and pistol magazines that hold more than 10 rounds to discard them by Oct. 1. Pistols that are unable to hold 10 rounds or less would no longer be usable.
According to a report from the NSSF, Connecticut stands to lose 1,768 jobs, $13.5 million in business tax revenue and $450 million in economic activity if Colt, Mossberg & Sons and Stag Arms move elsewhere.
Overall, the firearms industry accounts for $1.75 billion in economic activity and 7,340 direct and indirect jobs in Connecticut.
"A lot of these manufacturers have called Connecticut home for years, but now that they continue to be vilified, they have to consider if they want to stay," McGuigan said, adding that local communities heavily rely on many firearms manufacturers.
Stag Arms is one of those companies. Located in New Britain, Conn., Stag Arms has become a well-known manufacturer of modern sporting rifles and employs nearly 200 people. It hired 40 new people last year amid 60% growth, and is working on a one-year backlog of 70,000 rifles. But with the uncertainty there over a potential ban on its products, Stag Arms put further expansion in a fourth factory building on hold.
Would the company consider moving in the wake of a Connecticut gun ban? "Absolutely," Stag Arms President and CEO Mark Malkowski said. "If the state's not going to be supportive, we have to consider moving."
Moving Out
According to a NSSF report last year, the firearms industry accounted for 220,130 total jobs that paid an average $47,280. The firearms and ammunition industries were responsible for total economic activity of $33.36 billion, while the industry and its employees paid over $2.1 billion in taxes to states.
Mossberg, based in North Haven, Conn., since its founding in 1919, reportedly invested $4 million for new equipment and hired 100 people, but has considered expanding operations at its Texas facility instead.
Remington Arms, whose parent company is North Carolina-based Freedom Group, could look to move from its manufacturing home in Ilion, N.Y., after the state passed a controversial set of gun restrictions. The town's mayor, John Stephens, said at a rally last month in Albany that Remington directly employs 1,300 people and has an economic impact of $150 million. Stephens added that Remington, which now has a plant in Kentucky, was allowed to use municipal power to help keep the manufacturer in Herkimer County.
Spokespeople for Mossberg and Remington did not respond to requests for comment.
Maryland Democratic Gov. Martin O'Malley supports bans on 45 particular weapons and magazines larger than 10 rounds, two proposals that are making their way through the state legislature. Similar to the magazine ban proposed in Connecticut, handgun magazines are included.
That doesn't sit well with Beretta, which has said its 13-round 9mm pistol magazines would be illegal in the state. Beretta, an Italian gun maker, also makes the U.S. military's standard-issue sidearm, the M9, and its Maryland plant has supplied 600,000 pistols to the Defense Department.
"We are confronted with a state government that wants to ban our products at a time, by the way, when numerous other state governments are courting our investment," Jeff Reh, a member of Beretta's Board of Directors, said in a testimony to the state legislature.
Reh, who noted that Beretta moved one of its factories to Virginia in 1990 when Maryland imposed stricter laws, said Beretta and its two subsidiaries, Benelli USA and Stoeger Industries, are projected to pay about $31 million in taxes from 1997 to 2014.
Beretta, Mossberg and other companies that already have manufacturing plants in alternate states would have an easier time moving, McGuigan said, especially considering the rapid growth of the industry.
"There are opportunities for these companies to expand where they already have operations," he said. "If there is expansion, why wouldn't they look to move to gun-friendly states where they already have operations?"
With Colorado politicians locked in a debate over several gun control measures, Erie-based magazine maker Magpul has made the most concrete pledge so far. Magpul founder and CEO Richard Fitzpatrick, a former Marine, announced in February he will move Magpul's operations out of Colorado if a ban on magazines becomes law.
The proposal, set for a state senate vote Monday, would limit magazines to 15 rounds and require all magazines to have serial numbers, which would add to Magpul's production costs.
"As we have previously stated, HB 1224, if signed into law will require us to move operations out of Colorado," the company said in a Facebook message over the weekend, reaffirming its plans. "This is a process that will take some organization/negotiation with potential new location(s)."
Magpul, which directly employs 200 people in addition to 400 who work for suppliers and contractors, has also received invitations from other states. The company projects it would spend $85 million in Colorado next year in payments to suppliers and other companies.
Magpul's move could have a ripple effect, as would moves by other manufacturers, because many suppliers and contractors are dependent on firearms-related businesses. Denver-based Lawrence Tool & Molding said it would follow Magpul out of Colorado since most of its business comes from the magazine maker.
"As a group that represents the industry and manufacturers, we support making sure prohibited people don't have access to firearms," McGuigan said. "But firearms shouldn't be restricted based on cosmetic features."
"For each individual business, they have to weigh the cost of a move and the impact on employees. States are not considering the impact on employees. Legislators seem more than willing to pass legislation" that will lead to an exodus of firearms-related businesses, he added.
Fielding Offers as Pressure Builds
While Magpul and other firearms-related companies would be given exemptions under most proposals to continue manufacturing, such exemptions have drawn the ire of businesses amid talk of banning their products.
"I take the manufacturing exemption as an insult," said Malkowski, the CEO of Stag Arms. "We make a quote-on-quote horrible product, but they have no problem taking the tax revenue."
"Manufacturers are saying, 'Fine, you can exempt us, but the CEO of Colt can't own his rife anymore,' " McGuigan said.
And if imposed bans aren't enough to convince businesses to pack up and leave, the damage to their brands could push them over the edge.
"Firearms owners are very loyal. The last thing they want to do is support a company in an unfriendly state. Customer loyalty is a major issue," McGuigan said.
Malkowski said customers of Stag Arms are very loyal and do a lot of research on the company. Most of them are aware of the company's local manufacturing, something that has contributed to the success of Stag Arms.
"The pressure is building, especially from customers who don't want to support a company" in a state with strict laws, Malkowski said of a potential move.
Meanwhile, Stag Arms has received offers from Nebraska, Mississippi, Oklahoma, Virginia, Texas and South Carolina.
"They're basically saying we'll build you a factory, just bring some jobs," Malkowski said, adding that he is conducting due diligence on a move and surveying employees to find out who would be willing to move with Stag Arms if it came to that point.
Malkowski, who grew up in Connecticut, said the situation is frustrating because the majority of people "use our product safely" and the company is "being pushed out by emotions, not facts."
"It comes down to our hand being forced," he said. "It wasn't even on the table, ever, before this."