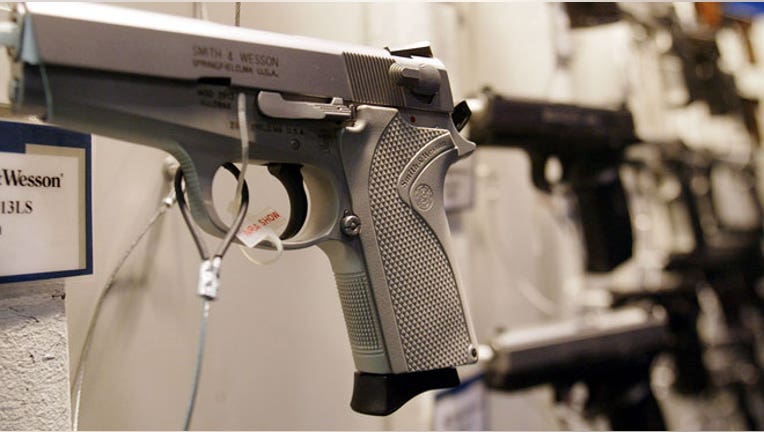 Coming off a record year for gun sales and more than two years of rising stock prices, the firearms industry is waiting in limbo as the White House considers gun control measures in the wake of December's school shooting in Newtown, Conn.
President Barack Obama and Vice President Joe Biden announced on Wednesday a combination of 23 executive actions and legislative proposals that the administration believes will curb gun violence. The executive actions, signed by President Obama after the announcement, call for a permanent ATF director and aim to make more data available to the federal background check system, among other measures.
President Obama also said Congress should reinstate the assault weapons ban that expired in 2004 and pass legislation that requires background checks for nearly all gun sales. The ban would include some semiautomatic rifles and magazines that hold more than 10 rounds.
Biden, who had floated the possibility of executive actions, held meetings in recent weeks with representatives from retailers, video game makers and organizations that support or oppose gun control.
Meanwhile, support for gun rights remains strong. The National Rifle Association said its membership grew by 250,000 in the month following the Newtown shooting, bringing its total membership to about 4.25 million. And a survey released last month by Rasmussen Reports indicated that 40% of respondents oppose an assault weapons ban, while 62% oppose a complete gun ban.
The threat of gun control out of Washington has driven firearms sales higher. Demand for firearms is gauged by background checks processed by the FBI's National Instant Criminal Background Check System (NICS), which was created in 1998 and hit an all-time high of 2.78 million last year.
Scott Hamann, an analyst at KeyBanc Capital Markets, wrote last month in a research note that background checks adjusted to exclude permit applications are a good indication of retail firearm demand. Adjusted NICS checks leaped 58.6% year-over-year to more than 2.23 million in December. That outpaced increases in November (38.5%), October (18.4%) and September (14.7%). For the full year, adjusted background checks grew by 27.7% compared to 2011.
Firearms sales have certainly flourished in recent years. Reports of limited inventory and out-of-stock magazines flowed after the November election and Newtown shooting.
But consider that even as gun manufacturers try to keep up with demand, sales could slow if attempts at gun control sputter and concerns over pending legislation are eased.
Alternatively, new gun regulations would put constraints on the industry. Tighter gun control, particularly restrictions on magazine capacities, could eat away 20% of Smith & Wesson's business, Wedbush Securities analyst Rommel Dionisio said in a note Friday.
"Overall, we believe the December data is in line with expectations, as recent events and the pending introduction of gun control legislation appear to have driven much of the significant increase in activity," wrote Haman, who explained after Ruger's dividend announcement in November that the industry was approaching a near-term peak. "While demand continues to appear solid, we believe large spikes in sales remain driven by headline events, underscoring our thesis that the current level of demand is potentially unsustainable at current levels."
For now, business at Ruger and Smith & Wesson has never been better. Ruger produced 1,114,700 firearms in 2011, a new record at the time for the 64-year-old company. In 2012, the Connecticut-based gun maker made its one-millionth firearm on Aug. 15. Shares of the company were up 32.98% for the year.
Smith & Wesson also had a strong year, citing demand for its M&P-branded rifles and handguns as the company reported record second-quarter results. The company said the M&P Shield, a pistol designed for concealed carry and personal protection, was a strong seller. Smith & Wesson's stock closed out the year up 87.97%, hitting a 52-week high of $11.25 a share.