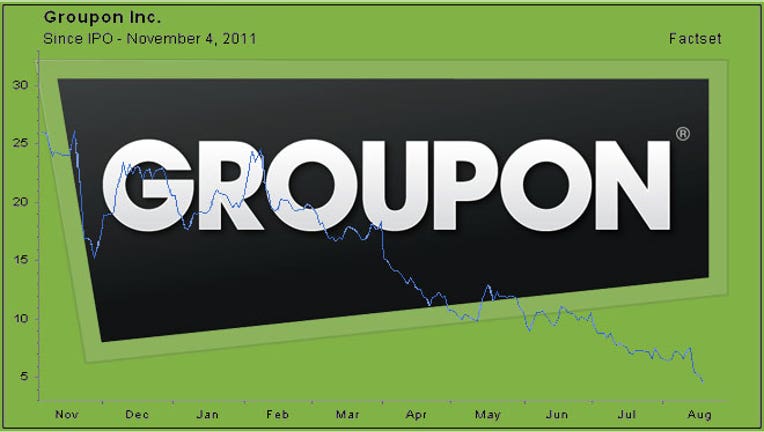 Groupon's (NASDAQ:GRPN) market valuation continues to crumble, plummeting on Friday below $3 billion for the first time after the embattled daily deals company was slapped with the equivalent of a "sell" rating amid concerns about a cash burn problem.
The 10% plunge for Groupon's shares on Friday leaves the company trading down a whopping 77% since debuting in November at $20 a share.
Despite the fact that Groupon has lost about one-third of its value over the past month alone, Evercore Partners (NYSE:EVR) analyst Ken Sena downgraded the stock to "underweight" from "equalweight" and slashed his price target to $3 from $6.50.
"We see its future cash position as potentially tenuous," Sena wrote, according to The Wall Street Journal.
Shares of Groupon tumbled 9.02% to $4.54 in recent action and fell to a new intraday low of $4.51 earlier.
The Evercore downgrade comes just days after Groupon spooked Wall Street with a cautious revenue forecast and slower-than-expected sales growth.
While the Chicago company beat estimates with a non-GAAP profit of 8 cents a share, sales had been projected to jump more than 45%. Management called for third-quarter revenue of $580 million to $620 million, the midpoint of which would miss the Street's view of $604.5 million.
Groupon's stock crumbled about 22% the day after the earnings report, which also prompted a series of downgrades.
Sena acknowledged his downgrade could seem "after-the-fact," but suggested Groupon's troubles could actually deepen.
"Should billings declines persist, we see a potential for cash burn," Sena reportedly wrote, "as Groupon would find itself in a situation where it would be paying cash to merchants on a larger (prior) business scale relative to the cash it would be collecting."
Groupon, the global leader in daily deals, listed $1.19 billion in cash and equivalents as of the end of the second quarter.
It's been a mighty fall for Groupon, which raised $700 million in November, becoming what was then the largest U.S. Internet IPO since Google (NASDAQ:GOOG) raised $1.7 billion in 2004.
The Groupon offering valued the company at a hefty $12.8 billion, compared with its shrunken market cap of just $2.95 billion on Friday.