Graduation Etiquette 101: Have Some Class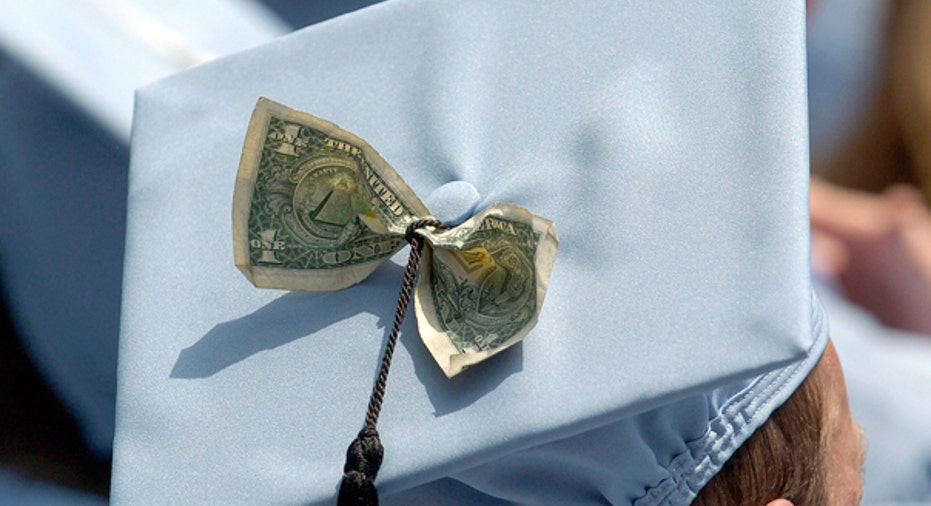 Growing up is tough enough without the worries of your financial future, so Money101  is here for you. E-mail us your questions and let us take off some of the pressure.
Graduation season has officially started, and that means ceremonies, parties, fancy dinners and gift giving.
While academics achievements are a significant part of celebrating this milestone, it speaks volumes if kids are also schooled on the protocol of such a big event.
"It really is amazing to see the difference in kids who seem to have been through or at least have been told about these situations as opposed to kids who are flying blind," says Lizzie Post, author and spokesperson for the Emily Post Institute. "I think if we prepare our kids by giving them that confidence, they understand that much more why it's important."
With the celebrations surrounding graduations--both college and high school--comes etiquette rules that should be followed to make sure everything goes smoothly and no feelings get hurt.
From who should get an invite, to appropriate gifts, etiquette experts share their tips for surviving graduation with class.
Announcements vs. Invitations: Who Gets What
There is a major difference between graduation announcements (that include graduation/degree details) and graduation invitations (an invite to the actual ceremony).
Students tend to have a limited amount of tickets to the ceremony, so not every family member and friend will be able to attend. Post says students should reserve tickets for immediate family members and grandparents.
"It's really up to you to know the number of tickets you're allowed, to be very clear with people on who gets those tickets, to actually get those people those tickets, and then to find a really good way to explain to others or help others enjoy the ceremony and festivities even if they don't have a ticket," she says.
Etiquette experts say graduation announcements should be sent out after the ceremony has taken place.
Jay Remer, etiquette expert and editor at StageOfLife, says students can send announcements to all family members and friends that they would like to know about this accomplishment, even if you have not been in close contact recently.
"It's not a list where you sort of prune people off," he says. "It's more of an inclusive list than an exclusive list."
While it may be tempting to send out a mass-email, students should only share their news over the Web if they have an extensive amount of cousins or tech-savvy relatives who would not be offended finding out so informally. Always be respectful concerning the majority of your relatives and send a printed announcement, the experts warn.
"It takes the polish off the apple," says Remer. "It is an important milestone in someone's life and it deserves more than an e-mail."
Parties: Do You Have to Have One? Do You have to Go?
If a grad is having a party, experts say invitations should be sent to local friends and family three to four weeks before the date. Invitations for out-of-town relatives and friends should be sent out at least six weeks in advance, and should include a map of the area along with a list of local hotel suggestions.
"While you're not required to pay for the hotel, it would be nice, particularly if you knew you had family that are going to come, to make a block of rooms at that hotel and get a discounted rate for them," says Cynthia Lett, founder and executive director of the International Society of Protocol & Etiquette Professionals and author of That's So Annoying: An Etiquette Expert On The World's Most Irritating Habits and What To Do About Them."You don't actually have to put up any money to do that, but it does give them a discount and it encourages them to come."
Remer says that the invitation should state what the party is going to involve (venue, food, open vs. cash bar, etc.) so your guests know what to expect.
As for the preferences of the person actually graduating, Post says it is important for the host and the graduate to communicate about the graduate's wishes and guest list--it should be a fun occasion, but the party should not be overbearing for the host.
"If a graduate can just simply be sensitive to the fact that it is a lot to put together for someone, I think that that goes a long way towards making everyone comfortable about what's going on," she says.
Even though the party is centered on the graduate, take into consideration that many relatives have travelled a long way to celebrate. It's alright to for the grads to hang out with their friends, but it's important to spend quality time with your relatives and out of town guests.
"It can be as simple as one sentence," says Post. "I think it's really good to believe in the good manners and behaviors that you've instilled in your children and let them do it."
Gifts: Do You have to Give One? If so, What?
According to the experts, if you receive a graduation announcement or invitation to the party, it is appropriate to give a gift, but it's not a requirement. However, it is always appreciated to  acknowledge the graduate's accomplishment in some way.
"We recommend that you show up with a card, even a small hostess gift just to say, 'thank you for including me,'" says Post. "You can keep it simple--it could be homemade, it could be totally within your budget, that's the most important thing."
The experts agree it is tacky for grads to mention gift registries or suggestions on an invitation, which makes it hard for guests to know what to give; guests can seek out suggestions when they RSVP, advises Post.
Many people automatically think to give the graduate money as a present. Whether giving cash is appropriate or not and the amount of money depends on the individual's family, says Post.
"Some families really don't believe in giving money as a gift—they really believe in items and picking out a gift that represents how they feel about the occasion and the person who they're celebrating," Post says. "[For] other families, cash is the best thing ever [and] it's what they always give and get."
If  you'd rather give a small gift, Lett suggests gifts that are youthful and tasteful; a nice pen set, a monogrammed computer case, or pieces of luggage are thoughtful items that the graduate can use in the near future.
Grads are expected to send a hand-written thank you card for every gift received. And it is inappropriate to send e-mails or text messages to express gratitude.
"It's good for graduates to get into the habit of writing a hand-written thank you note because they're going to have to do it in other situations, for instance with a job interview," says Remer. "They are a good rule of thumb."
Whether you're graduating from high school or college, having and using good manners will continue to be valuable throughout your work-related and social interactions.
"The skills that we learn in our classrooms will help us on the job, but the people skills that you know and use are the ones that will actually get you the job" says Lett. "Etiquette is what is going to make your life happy, because etiquette involves behavior with other people and it is people and relationships that drive our lives."