GOP Health Plan Risks Backlash From Seniors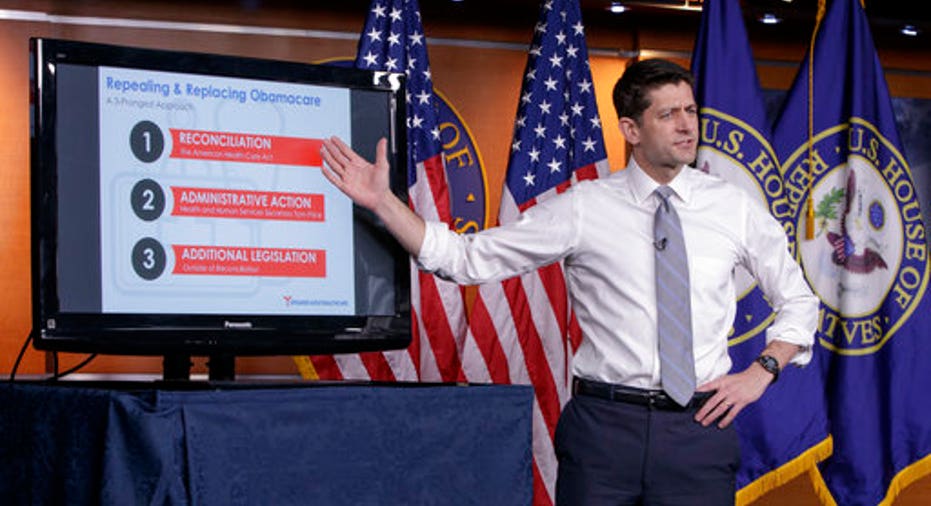 WASHINGTON -- House Republicans' health-care proposal is running into a new political problem: opposition from older people.
One day after House GOP leaders unveiled their plan to repeal and replace the Affordable Care Act, AARP, the politically potent advocacy group for Americans over 50 years old, came out in opposition.
Independent analysts have predicted that the House plan would significantly boost costs for low- and middle-income seniors. Democrats, sensing an opening, are targeting their criticism on how the GOP health bill would affect older people, particularly those between ages 50 and 64, before they qualify for Medicare.
"Older Americans are specifically targeted for harm in this piece of legislation," said Sen. Chris Murphy (D., Conn.). "There are going to be millions of older Americans, people on the precipice of Medicare, who are not going to be able to afford insurance."
That could be a problem for Republicans, who tend to draw more support from older voters. President Donald Trump won 52% of voters age 50 and older in November.
The House GOP bill's impact on seniors stems from a series of policy changes it would make to the 2010 health-care law. One of the biggest would allow states to permit health insurers on the individual market to charge seniors up to five times as much as younger customers, who typically are healthier. The ACA prevented insurers from charging seniors more than three times as much as younger people.
Republicans hope their shift would enable insurers to offer cheaper plans to young people, drawing additional healthy customers into the insurance market.
"As you get more young people into the marketplace, it'll bring down prices for everyone," said Rep. Brett Guthrie of Kentucky, the second-ranking Republican on the House Energy and Commerce Committee, which drafted part of the House health-care bill.
The AARP says its analysis shows that the change doesn't significantly increase enrollment in health-insurance plans. The nonpartisan Congressional Budget Office is expected to release its estimate of the bill's cost and coverage early this week.
The GOP legislation makes other changes that analysts say would increase costs for seniors, most significantly through the tax credits it offers to individuals who don't get health insurance through work.
Under the GOP plan, tax credits would be set at a fixed amount, starting at $2,000 a year for eligible people under 30 and rising to $4,000 for those over 60. The tax credits slowly start to shrink for individuals making more than $75,000.
"The older a person is, the more costly their insurance is," House Speaker Paul Ryan (R., Wis.) told reporters Thursday, explaining why the credits grow for older people.
The tax credits would be available to people with higher incomes than under the ACA. But health-care experts said the GOP tax credits don't increase enough for older people and cover less of their health-care costs than do the ACA's subsidies. Where the ACA subsidies are pegged to a person's income and the costs of health plans in the geographic area where the recipient lives, the tax credits are based on age, with income limits.
For a 60-year-old with $40,000 in income, for example, the ACA credit would be $6,752 in 2020, according to an analysis by the Kaiser Family Foundation. If that senior had a lower, $20,000 in income, the ACA credit would be $9,874.
The GOP's tax credits are indexed to the Consumer Price Index plus 1 percentage point, a level lower than health-care inflation that will make the credits less valuable over time.
Nearly all of the 46 million Americans age 65 and older are enrolled in Medicare. But it's Medicaid, the joint federal-state program for the poor and disabled, that plays a larger role in covering long-term care, including nursing homes, assisted-living facilities and in home-aides.
The House GOP's proposed bill would set in motion deep cuts to Medicaid by putting fixed limits on how much the federal government sends to states to cover beneficiaries.
David Certner, AARP's legislative policy director, said his group is willing to work with lawmakers to improve the bill, but the centerpiece tax credit "is a big fundamental part of the bill, and so you'd have to make some pretty substantial changes to the way it's structured" to win the group's support.
AARP supported the passage of the 2010 health-care act largely because of the way the law structured its subsidies to rise with premiums, which are higher for seniors. Its opposition to the GOP law troubled some Republicans on Capitol Hill, where the bill is also facing resistance from groups representing doctors and hospitals, including the American Medical Association and the American Hospital Association.
"There are some legitimate concerns, and we're paying attention to them, " Rep. Carlos Curbelo (R., Fla.) said of the AARP's worries about how the GOP bill would affect seniors. Mr. Curbelo said he was confident that giving consumers more choices would increase competition and help bring down premium costs. "That's the invisible hand that can actually bring costs down," he said.
--
Richard Rubin and Stephanie Armour contributed to this article.