Google Pops as 3Q Profits Soar 36% on Paid Click Growth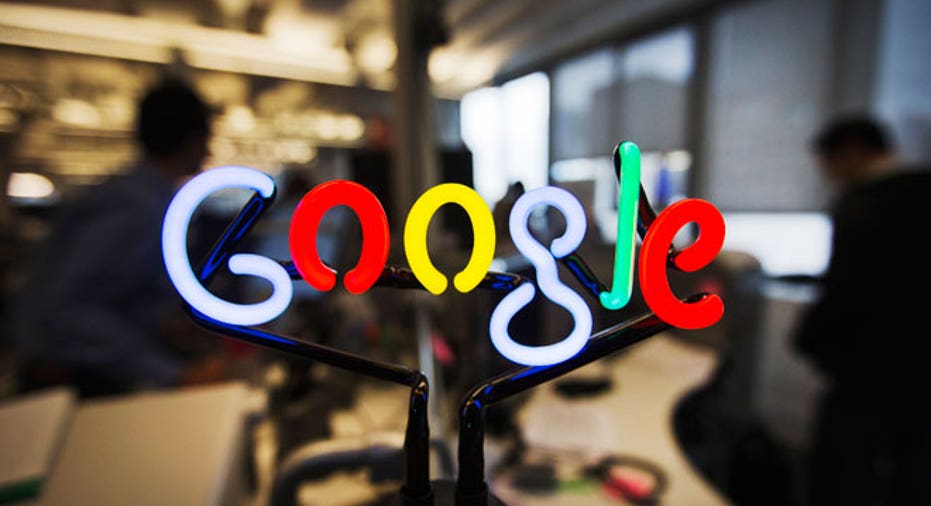 Google (NASDAQ:GOOG) beat the Street on Thursday with a 36% jump in third-quarter profits as the tech behemoth generated a 26% increase in paid clicks that masked a continued slide in cost-per-click.
Wall Street cheered Google's stronger-than-expected results, bidding its shares almost 6% higher in late action.
The tech titan said it earned $2.97 billion, or $8.75 a share, last quarter, compared with a profit of $2.18 billion, or $6.53 a share, a year earlier.
Excluding one-time items, it earned $10.74 a share, compared with consensus calls for $10.34.
Revenue jumped 11.9% to $14.89 billion, topping the Street's view of $14.79 billion.
Paid clicks soared 26% year-over-year but dropped 4% from the second quarter.
The average cost-per-click fell 8% year-over-year, marking the eighth straight decline amid the shift to mobile and more emerging-market users. This metric was also off 4% from the second quarter.
"Google had another strong quarter with $14.9 billion in revenue and great product progress," Google CEO Larry Page said in a statement. "We are closing in on our goal of a beautiful, simple, and intuitive experience regardless of your device."
Traffic acquisition costs, which measures the portion of revenue Google shares with partners, increased to $2.97 billion from $2.77 billion. As a percentage of ad sales, TAC dipped to 24% from 26%.
Google's Motorola division continues to bleed cash, posting an operating loss of $248 million last quarter, compared with a loss of $192 million the year before. Revenue slid to $1.18 billion from $1.78 billion the year before.
Operating expenses, a point of contention among some analysts, rose 9.3% to $5.04 billion last quarter. Yet as a percentage of revenue, expenses slipped to 34% from 35%.
Google continues to generate more of its revenue from overseas, with international revenue totaling $7.67 billion last quarter, representing 56% of total revenue, compared with 53% the year before.
The tech giant employed 46,421 full-time employees, including 4,259 Motorola Mobile employees as of the end of the third quarter, compared with 44,777 the year before.
Google listed $56.52 billion in cash, cash equivalents and marketable securities on its balance sheet as of the end of September.
Shares of Mountain View, Calif.-based Google rallied 5.81% to $951.55 in extended trading Thursday evening, putting them on track to add to their 2013 gain of 25.5%.
Since Google disclosed second-quarter results that missed forecasts in July, its shares have lost about 4%, compared with a gain of more than 5% for the Nasdaq Composite.