Goodbye Bridezillas? Today's Bride is Money-Conscious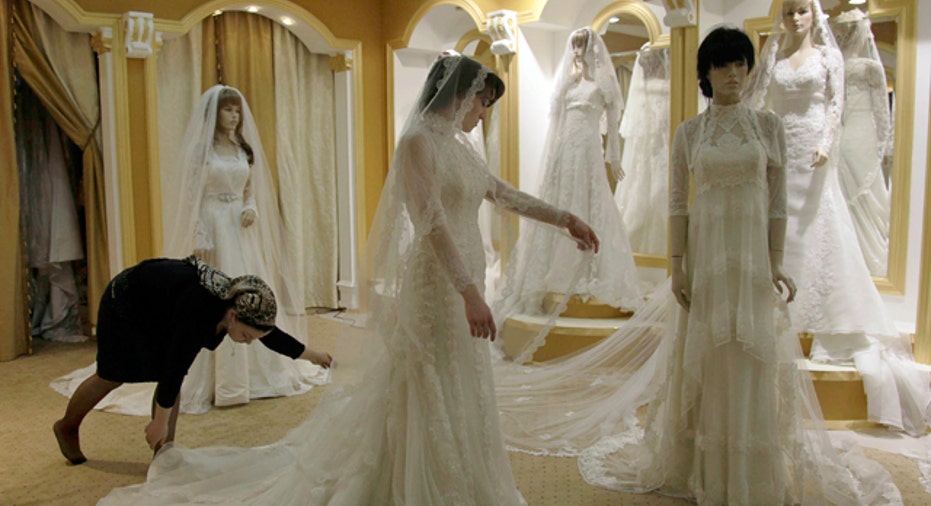 The recession may have done away with the "bridezilla. According to a recent survey, 2011's brides are more focused on being budget-conscious than pulling out all the expensive stops, thanks to the recession.
The "Chase-BRIDES Wedding Finances Survey," conducted jointly by Chase Card Services and BRIDES magazine, found that todays American couples are talking more openly about their personal finances before saying I do. The survey found that 85% of brides say financial compatibility is important, with 47% saying it is "very important." The survey was conducted online among 697 engaged or recently married BRIDES readers.
Caryn Kaiser, general manager of Chase Blueprint, said the recession has put money issues front and center for many brides and grooms. Another reason couples are talking more about finances pre-wedding is because many people are getting married later in life, Kaiser said.
"You are merging two lives together that already have their own financial component," she said. "That prompted the dialogue to happen in many of these situations."
Wedding Planner Ara Farnam, owner of Rock Paper Scissors Wedding & Events Planning, is hopeful that this trend of financial honesty between future brides and grooms is one that continues.
"Being open about those things will improve the divorce rate we have," Farnam said. "People wind up being surprised later to find out they are not compatible."
It's important for couples planning a wedding to start off with a set budget in mind, and to prioritize the things that matter most to themfrom flowers, to the band, to the food and alcohol being served, she said. Typically the food and beverage menu is about half of the wedding cost, Farnam said, so once that estimate is in place you can double it to see what your total cost will likely be.
Today the burden of paying for the wedding doesnt rest solely on the bride's family. The survey found that 91% of brides did have parents contribute financially to their wedding. However, on average, their contribution accounts for only 29% of the wedding cost. The remaining costs are often split among the couple and both families.
Brides and grooms should be wary when asking for financial contributions from families or friends, Farnam said. Those who contribute to your big day often want to have a say in what the celebration will look like. However, the trend of multiple contributors to one wedding is common in her business, she said.
If you do plan to ask for financial contribution from your parents or family, Farnam said to do your research first.
"Give them an idea of what things cost and talk realistically about it," she said.
Budgeting, saving and being realistic about borrowing were all major wedding themes for the study participants, Kaiser said, and brides weren't so eager to use their line of credit without first figuring out the costs and interest, and more importantly, when they will be able to pay off their wedding bills.
Nine out of ten of those brides who did borrow with credit cards to cover their wedding costs expect to have paid off their purchases within a year. Moreover, one-third plan to have everything paid off in the next three months.
"In a wedding all expenses come at one time, so its very encouraging that this [trend] might stick," Kaiser said.