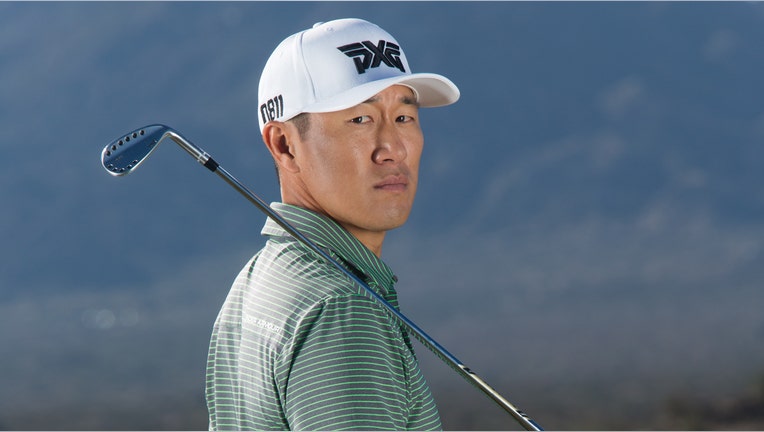 Professional golfers are nothing if not entrepreneurs and small business owners. That's exactly how up and comer PGA TOUR pro James Hahn likes it.
"I 100 percent think of myself as my own business," PGA TOUR pro Hahn told FOXBusiness.com in an interview. "I'm CEO, CFO, and President. I do everything myself, but my wife also helps out a ton."
The 34-year-old discussed his business mindset as he continues shaping his career and prepares to defend his first and only PGA TOUR victory this week at the Northern Trust Open on the revered Riviera Country Club in Los Angeles.
This pro golfer doesn't take anything for granted even after cashing a $1 million check for that victory a year ago. The Cal-Berkeley alumnus famously sold shoes at Nordstrom (NYSE:JWN) to bank enough cash to support his dream of playing on the PGA TOUR.
Hahn does seek some advice from consultants, for his golf swing or taxes from time to time, but they aren't under his "business umbrella."
As for an agent, Hahn says, "I've gone this far without an agent or agency helping out and giving me additional exposure. I feel like they really help when you're playing well but there's not much they can do when you're not playing well."
He pauses, adding, "When I need (an agent) the most they're not there, but when I'm doing well they're in my business taking 20 percent. It's another person I have to include in conversations and relay information to."
For now, the golfer says he's more focused on finding "key players" to help him when he's struggling between the ropes than landing him public appearances or endorsements.
Hahn Golfs Gangnam Style
Prior to winning the Northern Trust Open last year, Hahn was best known for dancing Gangnam Style after sinking a birdie putt at the raucous Waste Management Phoenix Open, played not far from his home in Arizona. The clip went viral as it cut against the grain of golf's staid image, and right into the #Morethangolf mentality that the PGA TOUR has adopted to boost popularity with younger fans.
For his part, Hahn downplays his moves. "That was spontaneous. I don't know if people realized I wouldn't have done that if I hadn't made a 20 or 25-foot birdie putt. It was on Super Bowl Sunday, I was a rookie and having fun with it. I got caught up in the whole atmosphere and thought I'd give them a bit of a show…That was a few seasons ago [and] even after the win (in LA last year) people expect me to dance after chipping in from the bunker."
Winning Personality Boosts Bottom Line
But Hahn and other golfers understand that short of winning weekly in Tiger-esque fashion, personality goes a long way towards scoring with fans and sponsors.
In fact, it was Hahn's winning personality that led to a unique sponsorship after last season. He had been under contract with Taylormade (a unit of Adidas), but felt like he needed new clubs for added distance.
Enter Parsons Xtreme Golf (PXG), created by GoDaddy (NYSE:GDDY) founder Bob Parsons as an uber high-end club maker—some $5,000 per set-- claiming to provide players with longer and more accurate shots. PXG signed Hahn to a three-year deal for an undisclosed amount.
"James is a great personality, he fits what we want to do," explains Matt Rollins, who is now director of tournament player operations for PXG after 16 years of signing players for club maker Ping. "He's fun, he's not a standard guy, he likes rap music and is not a dull PGA pro. We felt like last year after he broke through and won at Riviera, that was just the tip of the iceberg."
Rollins appreciates that Hahn represents himself, but says that can make for delicate situations. "The good part is dealing with James himself. The bad is do you say something to an agent about a client that you wouldn't say to the player? With James you had to balance, 'You're not worth that much, but this much, or a little bit more than that.'"
The PXG exec notes that Hahn was leading through the first two rounds at the recent Phoenix Open, providing lots of TV exposure for the clubs and the brand.
And like any bootstrap operation, Hahn stays hungry as he knows wins will create opportunities.
"I've gotten multiple texts of my face on the side of buses, billboards, shopping malls. I've never had that before, it keeps me motivated and makes me want to go back [to Riviera] and win another one."