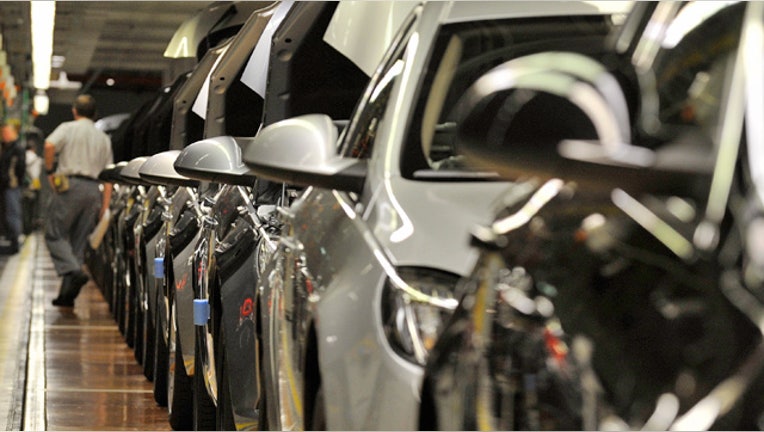 Shares of General Motors (NYSE:GM) jumped on Monday after Goldman Sachs (NYSE:GS) reinstated its buy rating on the auto maker and added the stock to its Americas Buy List.
Goldman, which previously didn't have a rating on GM, cited the company's improving margins in North America and rising profitability in Brazil.
Analysts at Goldman slapped a $35 12-month price target on the stock, implying upside from Friday's close at $27.32.
Goldman also ramped up its 2013 and 2014 EPS projections on GM by 11% and 10%, respectively, to $4.49 to $5.36. By comparison, analysts on Wall Street had been calling for EPS of $3.82 and $4.81.
The stronger EPS outlook comes after GM unveiled plans last week to buy back 200 million shares of its own common stock from the government for $27.50 each, amounting to a $5.5 billion repurchase.
To support the move, Goldman cited "the convergence of [North America] margins toward those at Ford and a secular improvement in Brazilian profitability" amid major product refreshes, volume improvements and a "benign input cost environment."
At the same time, Goldman said GM's stock valuation is "far from stretched" as the company trades at just 2.1 times estimated 2013 earnings before interest, taxes, depreciation, amortization and pension income, or EBITDAP.
However, GM is still trying to turn around Opel, its struggling European business. Goldman warned that Europe "remains the key risk" for GM as red ink will continue due to "intense competition and a weak end market"
Shares of Detroit-based GM rose 1.4% to $27.31 Monday morning, leaving them up 35% so far this year.
Rival Ford (NYSE:F) dropped 0.89% to $11.76 on Monday, trimming its 2012 gain to 9%.