Golden State Warriors on White House visit: 'We have not been invited'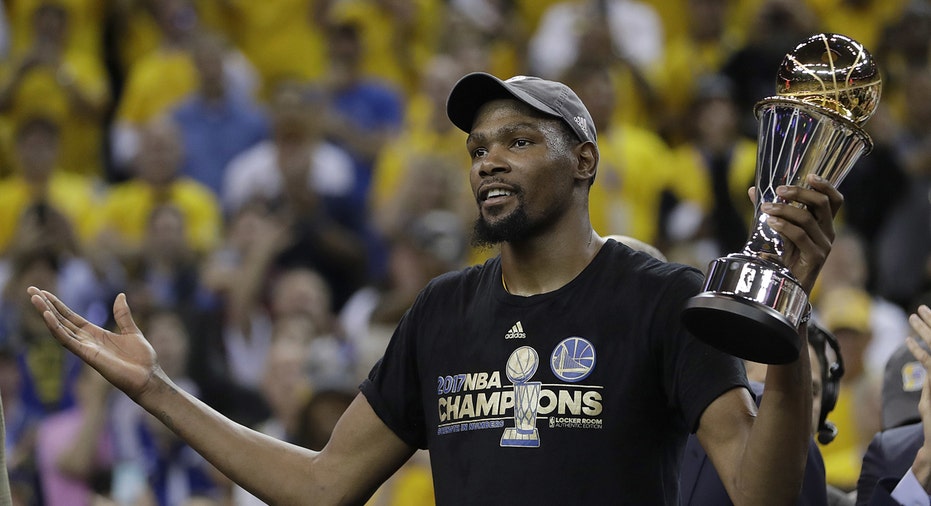 A Golden State Warriors official said Tuesday the team will wait for an invitation before deciding whether to make the traditional visit to the White House to celebrate their NBA title victory, despite rumors that the team's players have already decided to skip the trip.
"We have not been invited to the White House. Today is about celebrating," said Raymond Ridder, the Warriors' vice president of communications, in an interview with FOX Business. "We will make those decisions when and if the time comes."
The team responded amid multiple reports that Warriors players have already decided unanimously not to meet with President Trump. The White House typically invites championship teams from professional and college sports to visit the Oval Office and meet with the president.
League sources confirmed to FOX Business that reports the Warriors have decided to skip the trip are false. According to the sources, the team has yet to formally discuss the situation.
Several members of the Warriors franchise publicly criticized the Trump administration in the weeks preceding the franchise's championship win over the Cleveland Cavaliers. Golden State has won two of the last three NBA titles.
Warriors star Stephen Curry publicly disagreed last February with Under Armour CEO Kevin Plank's assertion that Trump would be "a real asset" to the United States.
"I agree with that description – if you remove the '-et' [in asset]," Curry told the San Jose Mercury News.
Several members of the reigning NFL champion New England Patriots opted to skip the team's post-Super Bowl White House visit last April for various reasons. Some players, including Chris Long and Martellus Bennett, cited disagreements with the Trump administration's policies.