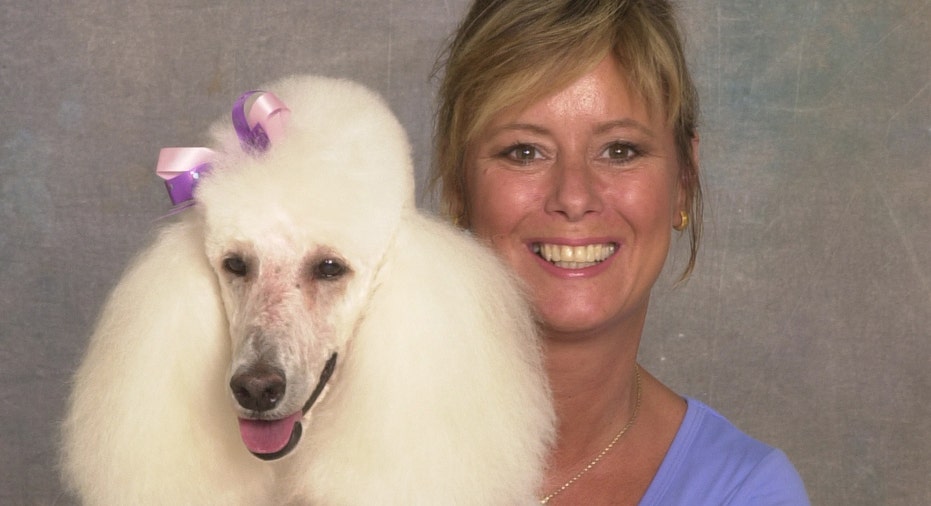 When her first mobile pet salon spontaneously destructed, Mitzi Parrish was determined to build an even better model. When that second prototype was destroyed by a careless accident, she was devastated. But this entrepreneur was breed to be a business owner. In the face of red light after red light, she altered her company's vision and discovered a new revenue stream that turned out to be even more rewarding, financially and personally.
Growing up as the child of a small business owner, Mitzi Parrish said she was exposed to the trials and tribulations of entrepreneurship at an early age. She and her two sisters were raised by their mother, Jacqueline Rauch, who breed show poodles and owned a handful of dog grooming salons throughout the western U.S.
"We used to do homework and sometimes sleep in the salons," said Parrish, 50, while reminiscing about shops her mother once operated in California and Montana. "When you start a business, sometimes you don't have a lot of money left over. So there were times when we just lived in her business. We even had Thanksgivings in the shop."
In 1994, equipped with what she'd learned from her mother's teaching and experiences, Parrish purchased an old grooming shop in Humble, Texas for $5,000 and transformed it into a chic pet salon named Golden Paws. While Parrish was working on the shop's build out, she said her mother helped her acquire the customer list of a pet salon that was going out of business in nearby Houston. Before she knew it, Parrish was already expanding her business and opening a second storefront in Houston to better accommodate her new clientele list.
"It all happened fast," said Parrish. "The first store was up and running in March. Then, I started on the space in Houston and opened it that summer, before it was even fully finished. People had to walk their dogs across the construction planks."
According to Parrish, by the end of that inaugural year, Golden Paws was serving more than 350 clients and generating about $160,000 in revenue.
THE DREAM
Parrish said early on she believed there was huge profit potential in mobile grooming units—fully-outfitted salons on wheels that travel to clients' homes. Her ultimate plan was to create a traveling salon that could be franchised. During Golden Paws' first year, Parrish said she bought a used RV, gutted it, and transformed it into a pet parlor equipped with fresh water tanks, a bathtub, cages, a blow dryer, grooming accessories and a generator. For two years, the Golden Paws mobile salon steadily served clients in and around Humble.
THE DISASTERS
The Golden Paws mobile unit's success was cut short when it was destroyed in a sporadic electrical fire. "No one was hurt," said Parrish, "but all that was left standing was the steel frame."
Still convinced that a mobile franchise model could be lucrative for her company, Parrish said she spent the next two years researching and developing a second mobile unit. This time, she bought an airport shuttle-type bus and built a prototype of the vehicle she envisioned franchising around the country. According to Parrish, this version of her traveling salon had an interior that was sleeker and easier to navigate, updated equipment, ramps for the dogs and safety elements, such as a carbon monoxide detector.
"It felt like a vet's office," she said. But its lifespan was equally as short. During its third year on the road, "the mobile unit driver missed a church overhang going about 20 to 30 miles an hour and just accordioned the unit," Parrish recalled.
"I was devastated," Parrish continued. "I was glad no one was hurt, but it was devastating because it was my prototype and so beautiful and different from anything else on the market at that time in terms of mobile units. I was upset at the driver for what I thought was carelessness."
UNLEASHING A NEW REVENUE STREAM
Though frustrated with the unexpected failure of her mobile concept, Parrish said she then realized that another part of her business was showing growth potential. The grooming classes that she was offering at her two locations were attracting more and more students from throughout and beyond the Lone Star state, each paying about $5,000 for an eight-week training program.
"Prior to that second mobile unit going out on the road, we already had state-licensed teaching schools attached to the salons in Humble and Houston, " said Parrish. "The teaching program we developed was good and the schools were going so well that I decided to put my focus there. Then, I thought to myself, 'Why stop at two? What if I did this across the country? The schools fit so easily with the flow of my salons, a lot better than the mobile units. I saw a huge market in helping other salon owners open their own schools."
Parrish said she then refocused her energy on education and worked with her younger sister Rianne and their mother to turn more than 40 years of experience into a structured training program that could help other pet groomers open schools to train future stylists."I have worked and quit some places immediately after seeing how they treated dogs," said Parrish. "A lot of that experience inspired me to go into teaching."
In 2006, after selling her two storefront salons, Parrish said Golden Paws introduced its education program. For a one-time licensing fee of $50,000, the Golden Paws package includes an eight-week curriculum, comprehensive teaching textbooks and tools, an operational guide explaining how to start a school, marketing materials, and in-person support from the Golden Paws team, if necessary. For those who pay an extra $25,000, Golden Paws vows not to license their program to anyone based within an hour's driving distance.
Parrish said her passion for education lays in her desire to create tools that can help people, especially single-parents, create sustainable careers. She said she witnessed first-hand that opportunities within the growing pet grooming industry can help families survive.
"My mom raised three girls on her own doing this and I raised a daughter," said Parrish. "It can really be a life changer."
To put the industry into perspective, the American Pet Products Association estimates that pet owners spent $3.45 billion on grooming and boarding in 2010. Jeff Reynolds, the Executive Director of the National Dog Groomers Association of America, said he has noticed growth in the mobile pet salon sector, but he believes Parrish is offering a vital service that is in need and desired by groomers.
"Education is the key to a successful grooming establishment," he said.
Michelle Kennedy, 53, can attest to this. Last year, she licensed the Golden Paws program for $50,000 and opened a pet styling academy to complement her salon, The Pink Dog Parlor. Kennedy said Parrish's program has enabled her to actualize a dream she once tossed aside."I looked into opening a school about 17 years ago. When New York State sent me the forms to fill out, I looked at the thick stack of paper and quickly threw it in the garbage. The details they wanted were too overwhelming," she said. Golden Paws supplied Kennedy with lesson plans and also helped her tackle the tedious process of applying for state certification.
"The school does have the potential to be very lucrative," said Kennedy, whose students pay up to $6,550 for registration, tools, and tuition. This year, she's planning to move her academy out of her salon and into a rented space that can accommodate up to 16 students, four times her current classroom's capacity. She also hopes to begin offering weekend sessions.
Besides bringing in additional capital, becoming a teacher has allowed Kennedy to better understand her industry, take on a new professional role, and affect the lives of others who also love her craft.
"I actually think I'm turning out to be a good teacher," said Kennedy. "It's made me think about my craft and about how to break it down so people can better understand it. And I love encouraging people to open a business. I think three of my former students have started their own salons."
According to Parrish, there are currently seven schools across the country that license the Golden Paws program and two additional locations pending state approval. Last year, the company unveiled the Long Distance Learning Program, an online pet grooming training module. Parrish is also developing a TV show that explores the connection between dogs and their owners.
When Parrish reflected on her decision to forgo her franchise idea and root her business in education, she said she believed she chose a path that will continue to reap benefits both financially and personally.
"I think an individual running their own mobile unit can make a tremendous amount of money but when I looked more into franchising mobile units, I realized it wasn't going to generate enough profit for our growing company," said Parrish. "Offering education for other groomers is very rewarding on a financial basis, but also on a personal level. When you have someone calling you that you taught 11 years ago to say that you changed their life, that's rewarding. "
Are you, or do you know, a well-established mom-and-pop and/or thriving startup that started out at the bottom of the barrel? How did they dig out and climb up? FOX Business wants to hear from you about your from-roadblock-to-success stories, and those of your entrepreneurial heroes. They are the little engines that could and today keep chugging and pushing our economy back on better footing, and for that they deserve the spotlight. Send us details at smbs@foxbusiness.com about those in your neighborhood or city, and we'll feature some in upcoming articles in the FOX Small Business Center special series, "Determined."