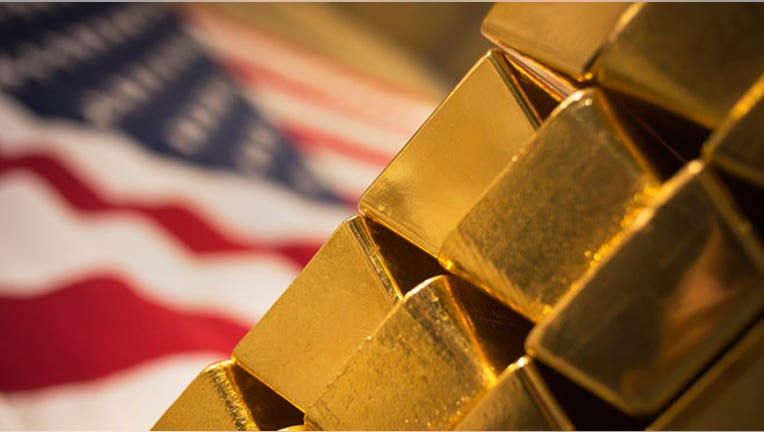 Gold rose to six-month highs on Friday and was headed for its biggest weekly gain in four buoyed by lower equity markets on mounting tensions between Russia and the West over Ukraine and worries of an economic slowdown in China.
The metal has gained more than 2 percent this week so far, in what would mark its sixth straight weekly rise, as investors' appetite for risk diminished in view of increasing political tensions and economic troubles, which benefit gold.
Spot gold rose 0.1 percent to $1,370.95 an ounce by 1110 GMT, after hitting its highest since Sep.10 at $1,376.02. The metal is up 14 percent this year.
U.S. gold futures rose by more than 1 percent to their 5-1/2 month high of $1,364.10 an ounce, before trading at $1,356.70, up 0.7 percent.
"Gold's upside has been helped by quite a lot of things happening at the same time, the U.S. and China and Ukraine," Deutsche Bank analyst Michael Lewis said.
"As for Ukraine, the impact on gold could fade quickly (once a diplomatic solution is found), whereas if structural changes happen in China the effect on gold could last longer," he added.
"But we still view the U.S. labour market and the Fed policy as the predominant driver and ... in the longer term that will reinstate the downside risk to gold."
European equity markets fell to five-week lows on heightened tensions ahead of Ukraine's weekend referendum in Crimea.
Russia launched new military exercises near its border with Ukraine on Thursday, showing no sign of backing down on plans to annex its neighbour's Crimea region despite a stronger-than-expected drive for sanctions from the EU and United States.
Another element of support for gold is related to worries over China's economy. Data on Thursday showed growth slowed in the first two months of the year.
FED TAPER
The market was now awaiting the U.S. Federal Reserve's policy meeting on March 18-19. The central bank will most likely to announce another $10 billion cut to its bond-buying stimulus after solid U.S. retail sales and employment data on Thursday. This followed a series of U.S. economic data showing that growth has been hurt by severe cold weather.
Global uncertainties sent investors looking for gold, with holdings in SPDR Gold Trust - the world's largest gold-backed exchange-traded fund - rising 2.1 tonnes to 813.30 tonnes on Thursday.
While money flowing into gold-backed exchange-traded funds has increased, reflecting confidence in the metal's outlook, physical demand has quietened as higher prices put off buyers - making some cautious about how long the rally can last.
"While gold's push higher is attracting greater investment demand, higher prices may be cooling emerging market physical appetite," HSBC said in a note.
Demand in China, the world's biggest bullion consumer, has fallen off with prices in Shanghai at a discount to spot prices. Prices on the Shanghai Gold Exchange were about $4 an ounce lower than London prices, compared with premiums of over $20 earlier this year.
Physical buying in other Asian regions has also slowed, with some selling to make a profit from rising prices.
Platinum unchanged at $1,470.99 an ounce, while palladium rose 0.1 percent to $773.50 an ounce.
Silver gained 0.7 percent to $21.28 an ounce.