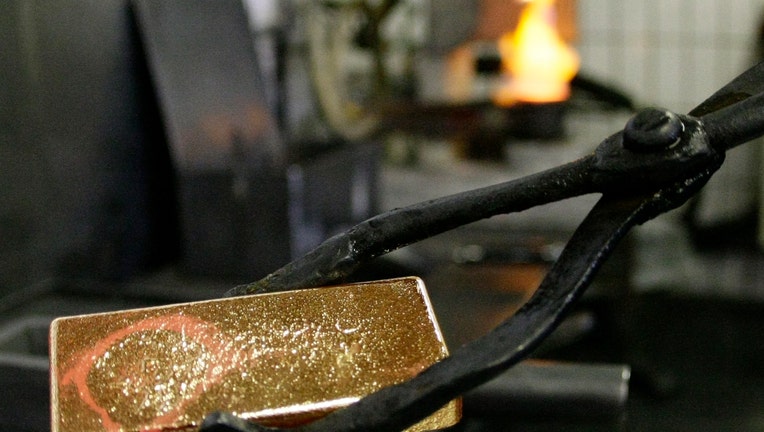 Gold steadied on Thursday as a weak dollar extended losses following weaker-than-expected U.S. jobs data, but a rebound in European shares after comments from Russian President Vladimir Putin on the Ukraine conflict limited gains.
Initial claims for U.S. unemployment benefits increased by 21,000 to a seasonally adjusted 311,000 for the week ended Aug. 9, above economists' expectations for a rise to only 295,000.
Spot gold was unchanged on the day at $1,312.60 an ounce by 1326 GMT, while U.S. gold futures for December delivery were down 0.1 percent at $1,313.90.
"I think there is some skepticism among investors that the U.S. economy is definitely out of the woods or on the road to recovery, and some of the early Q3 data has fueled that," Macquarie analyst Matthew Turner said.
"These data releases give gold a boost now and again as they are seen as restraining the more hawkish Fed governors, though they haven't ever been enough to change medium-term expectations for the U.S. economy or gold."
The dollar, already under pressure from lower 10-year U.S. Treasury yields, extended losses after the data to be down 0.2 percent against a basket of leading currencies.
The weaker jobs data added to Wednesday's retail sales report for July, which pointed to a loss of momentum in the economy early in the third quarter.
This eased some investor fears that the Federal Reserve will raise interest rates sooner than expected.
Support from the weaker dollar was counterbalanced by higher European stocks after Putin said Russians did not need conflict with the outside world.
A 9 percent rise in the price of gold so far this year has been boosted by periods of international political conflict in Ukraine, Iraq and Israel, although any impetus they have provided has not lasted long.
In the Middle East, a renewed truce between Israel and Hamas appeared to be holding on Thursday despite a shaky start, after both sides agreed to give Egyptian-brokered talks more time to try to end the Gaza conflict.
Gold, which was heading for a second week of gains, also benefited from data showing contraction of the German economy and a surprising fall in Chinese loans, which made any tightening in monetary policy by global central banks seem a distant prospect.
Accommodative monetary policies favor gold, because low interest rates encourage investors to put money into the non-interest-bearing assets.
Holdings in SPDR Gold Trust, the world's largest gold-backed exchange-traded fund, fell 0.26 tonnes to 795.60 tonnes on Wednesday.
"In the absence of notable physical demand or renewed safe-haven inflows, the market is set to continue its current sideways pattern at the end of this week," VTB Capital said.
Silver was up 0.2 percent at $19.85 an ounce. Platinum rose 0.2 percent to $1,462.75 an ounce, while palladium gained 0.8 percent to $881 an ounce.