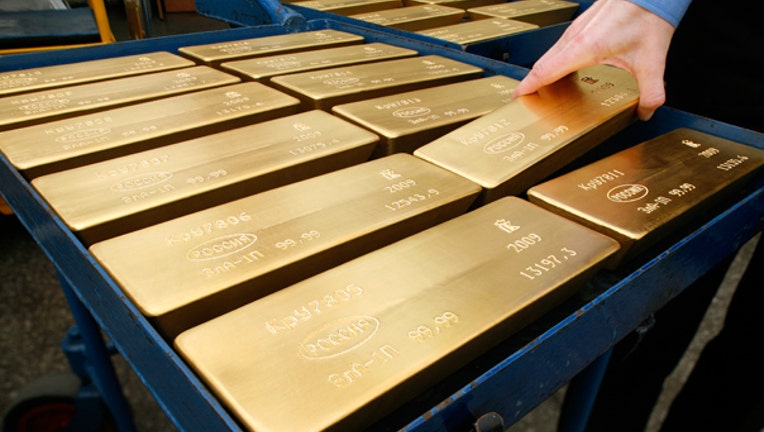 Gold slid below $1,200 an ounce on Tuesday as relief that Greece had submitted reform plans to its international partners boosted appetite for assets viewed as higher-risk, such as stocks.
Dollar strength ahead of Federal Reserve Chair Janet Yellen's Senate testimony added pressure to gold. Investors are awaiting her comments for clues on the timing of the first U.S. interest rate hike in nearly a decade, slated for this year.
Spot gold was down 0.2 percent at $1,199.50 an ounce at 1233 GMT, while U.S. gold futures for April delivery were down $1.50 an ounce at $1,199.30.
European shares rose on Tuesday and Greek shares outperformed after a list of proposed reforms submitted by Greece was received favorably by the European Commission.
"Hope that there will be an agreement, and that the list of reforms that Greece presented overnight is sufficient to meet the demand of the Eurogroup, is (pressuring) gold, coupled with the firmer dollar," Commerzbank analyst Daniel Briesemann said.
The dollar rose on expectations that Yellen would keep nudging the Fed towards U.S. rate increases. Speculation that the Fed is poised to increase rates, lifting the opportunity cost of holding non-yielding bullion while boosting the dollar, has weighed on gold over the past year.
Expectations for a rate rise have led to months of dollar strength, lifting it to an 11-year high against a basket of currencies in January.
Gold rose in spite of this as concerns over the euro zone economy grew after the anti-bailout Syriza party won a snap election in Greece. The metal is now losing ground as markets digest the prospect of Greece gaining a financial rescue deal, which could soften demand gold as a haven from risk.
"At least in the near-term, an agreement would be negative for gold," HSBC said in a note.
A number of major Asian gold markets, most notably China, remained closed for the Lunar New Year break, removing key support for gold, dealers said.
Data from the International Monetary Fund showed on Tuesday the euro zone raised its gold holdings by 7.437 tonnes in January, while Turkish holdings declined by 14.227 tonnes.
Turkey counts gold held on deposit with it by commercial banks as part of its bullion holdings, meaning outflows from those holdings do not necessarily reflect central bank selling.
Among other precious metals, silver was up 0.1 percent at $16.31 an ounce, while platinum was flat at $1,159.75 and palladium was down 0.1 percent at $784.25.
(By Jan Harvey; Additional reporting by Manolo Serapio Jr in Singapore; Editing by David Goodman and David Evans)