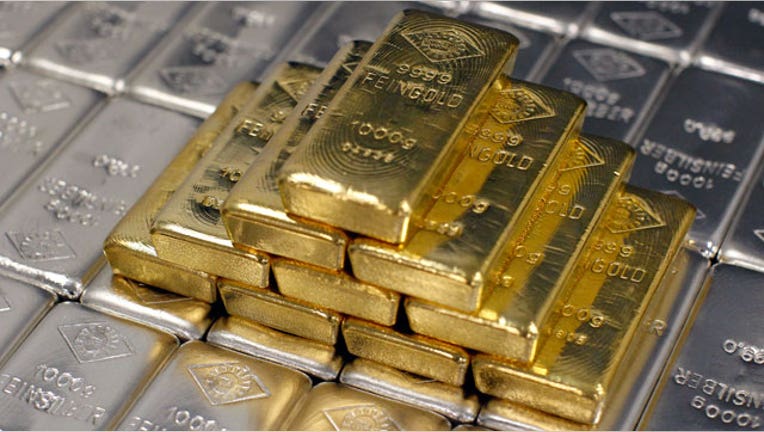 Gold fell almost 1 percent to a near four-month low on Friday, extending its losing streak a fourth consecutive day, weighed down by book squaring ahead of month end and selling by commodity funds.
For the week, gold lost about 3.5 percent for its worst decline since late November 2013. Heavy technical selling throughout the week sent bullion prices below $1,250 for the first time since Feb. 4.
"It's the end-of-the-month position clearing," said COMEX gold options floor trader Jonathan Jossen.
Some hedge funds are forced to sell commodities to raise cash to pay for losses in their bearish bets against the rallying U.S. government bond prices, Jossen added.
Analysts noted a breakdown of gold's usual inverse correlation with U.S. bond yields. Yields on 10-year U.S. Treasuries fell sharply this week to hit their lowest in 11 months.
Spot gold was down 0.7 percent at $1,247.10 an ounce by 3:22 p.m. EDT (1922 GMT), having earlier hit a low of $1,241.99, its lowest since early February.
U.S. gold futures for August delivery settled down $11.10 an ounce at $1,246.
The yellow metal largely ignored a U.S. government report which showed falling U.S. consumer spending for the first time in a year in April after two months of solid gains, as analysts said the decline is likely temporary given a strengthening jobs market.
Among other precious metals, silver was down 1.3 percent to $18.72 an ounce, while platinum fell 0.5 percent to $1,446 an ounce, and palladium was up 0.3 percent to $833.25.
(By Frank Tang and Jan Harvey; Additional reporting by A. Ananthalakshmi in Singapore; Editing by William Hardy and David Goodman)