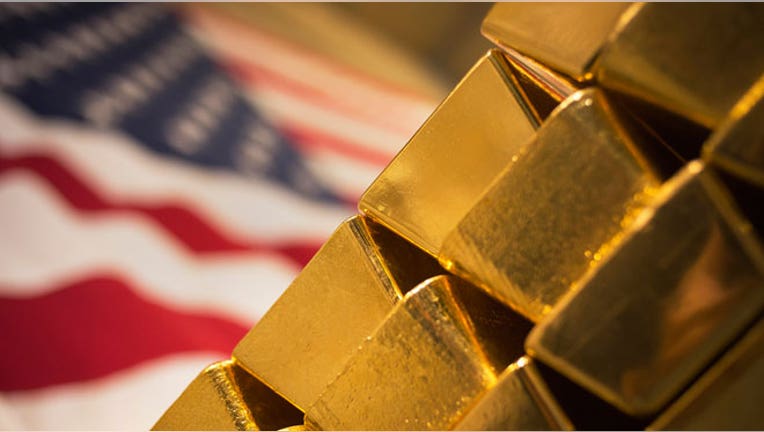 Gold rose about 1% on Wednesday, its largest gain in three weeks, on bargain hunting in the precious metal after two straight days of losses, traders said.
The possibility of higher inflation pressure from bullish data for U.S. jobs and factory orders growth in March also helped.
"There was pretty good bargain hunting across precious metals today," said George Gero, senior vice president and gold analyst at RBC Wealth Management in New York.
"It's significant that we are seeing this on the first real business day of the new quarter, after the April 1 decision making by fund managers which is little more than a monkey-see, monkey-do process."
By 4:15 p.m. EDT, the spot price of bullion was up 0.9 percent at $1,289.44 an ounce, after touching a session high at $1,294.60. It was the market's largest gain since March 14.
Gold futures' most-active contract, June, settled up 0.8 percent, or $10.80, at $1,290.80 an ounce.
In other financial markets, the dollar was up 0.2 percent against a basket of currencies. U.S. stocks edged higher, with the S&P 500 index holding near all-time highs.
The run-up in gold coincided with data from U.S. payrolls processor ADP, which showed U.S. private-sector employers adding 191,000 workers in March.
Separately, orders for U.S. manufactured goods jumped 1.6 percent in February, the biggest rise since September and above a 1.2 percent estimate. January's manufactured orders had also been revised to show a larger 1.0 percent drop instead of the previously reported 0.7 percent fall.
"Those numbers indicate not only a better recovery chance for the economy but also a higher possibility for inflation," Gero said. "That's good for gold."
Even so, gold's upside could be limited ahead of official jobs data for March due from the U.S. Labor Department on Friday. Since last week, the market has been weighed down by worries that the Federal Reserve will be reading any signs of economic strengthening - which include good jobs numbers - as a nod to raise interest rates.
The March jobs data is expected to show an increase of 200,000 nonfarm payrolls, the most in four months, a Reuters poll of economists showed.
"Should Friday's payrolls data exceed expectations, then following on from the more-hawkish Fed last month, gold (will) certainly find itself under pressure again," UBS said in a note.
"It's likely for this reason that gold is stuck here in limbo land," it said, adding that there was there was "little urgency to be short or long gold".
The weaker gold price in the previous two sessions had weighed on the bullion holdings of SPDR Gold Trust, the world's largest gold-backed exchange-traded fund. The SPDR EFT recorded a 2.1 tonne drop in holdings on Tuesday, bringing total bullion it held to 810.98 tonnes, the lowest since early March.
CHINA DEMAND
In Asian markets on Wednesday, gold saw a pick up in physical demand from top buyer China as the precious metal fetched a premium in Shanghai trade versus London for the first time since early March.
Prices for 99.99 percent purity gold on the Shanghai Gold Exchange hit a premium of about $1 an ounce to spot prices in London before paring gains.
Shanghai prices had traded at a discount of between $8-$10 to London gold since March. Before this week, the last time they were at premium to London was in January, when Shanghai prices fetched a premium of about $20 or more an ounce on ramped up demand for gold before the Chinese New Year holidays.
"Physical demand remains lacklustre across a host of regions and this is an important signal - gold needs that physical indicator to pick up in order to give the market some confidence that a floor is nearby," the UBS note said.
RBC's Gero said spot gold was holding well at above $1,275. "But we need to close at over $1,310 going forward."
In other precious metals, platinum rose 1 percent to $1,432 an ounce and palladium gained 1.2 percent to $783.25 an ounce on continued worries over supply constraints and positive U.S. car sales.
Prices rose after Anglo American Platinum said it has sent out force majeure notices on supply from its South African mines, underscoring the impact of a near 10-week-old workers' strike on the No. 1 platinum producer.
Silver rose about 1.5 percent to $19.93 an ounce.
(By Barani Krishnan; Additional reporting by Clara Denina and A. Ananthalakshmi; Editing by William Hardy, Keiron Henderson and Chizu Nomiyama)