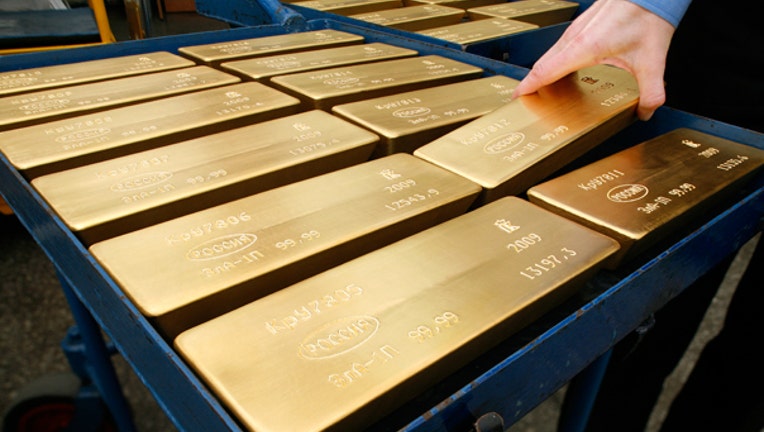 Gold extended losses to a third straight session on Thursday, hitting fresh 16-week lows on investor risk appetite and as the dollar hovered near a two-month high, while weak physical demand in top buyer China also weighed.
Spot gold fell to $1,251.50 an ounce - its lowest since Feb. 4 - in earlier trade and was down 0.4 percent at $1,253.33 by 1200 GMT. It dropped nearly 3 percent over the past two sessions.
U.S. gold futures for June delivery were down $6.20 an ounce at $1,253.10 an ounce.
"Gold seems to have found a new level below its previous trading range between $1,280 and $1,310... and the next significant support lies around $1,238- $1,240," Mitsubishi Corp analyst Jonathan Butler said.
The dollar hovered just below a two-month high against a basket of major currencies, but gains were capped by lower 10-year U.S. Treasury yields, which stood below 2.5 percent .
Global shares traded near an all-time peak on bets the European Central Bank would unveil new stimulus measures next week.
ECB policymakers have opened the door to a rate cut and to a refinancing operation aimed at supporting businesses when its board meets on June 5.
Higher equities dent the precious metal's appeal as a hedge against risk, while returns on U.S. bonds are closely watched by the gold market, given that the metal pays no interest.
"There is some further strengthening of the dollar to come potentially and that should similarly put pressure on gold and on a macro level attract some further buying of U.S. treasuries, pushing down the yields," Butler said.
The market was awaiting U.S. weekly jobless claims and preliminary GDP data for the first quarter for further clues about the economy.
Demand in No. 1 bullion consumer China failed to pick up significantly despite the sharp drop in prices.
Chinese premiums to global prices were largely unchanged at about $2-$3 an ounce from before the price drop, indicating that strong buying has not materialized.
"I think prices are going to fall below $1,230 because we don't see any physical demand to support these lower levels," said Peter Fung, head of dealing at Wing Fung Precious Metals in Hong Kong.
Among other precious metals, platinum was down 0.1 percent at $1,448.00 an ounce, while palladium was unchanged at $834.60 an ounce, not far from its highest since Aug. 2011 hit in the previous session.
A deadlock in South Africa's crippling 18-week platinum strike will soon be broken after movement made on both sides of the wage dispute, the country's new mines minister Ngoako Ramatlhodi declared on Wednesday.
Silver fell 1.1 percent to $18.82 an ounce, having touched a near one-month low in earlier trade.