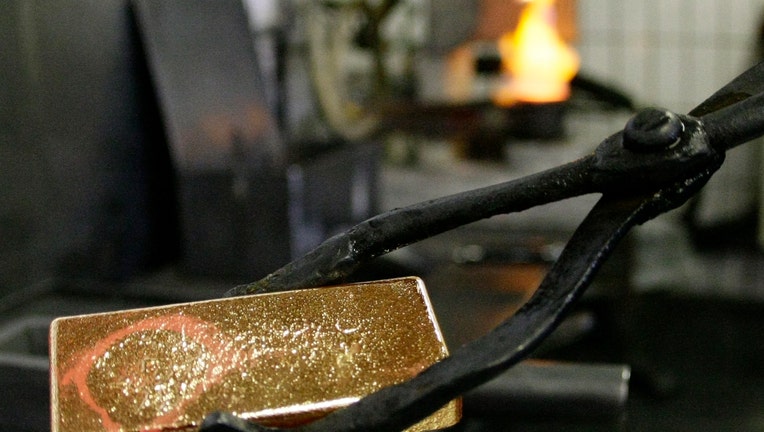 Gold fell 1.8% on Wednesday as the dollar rallied after the Federal Reserve dropped a set of guideposts it had been using to help the public anticipate when it would finally start bumping overnight borrowing costs up from zero.
In announcing its view on future rates after a two-day policy meeting, the U.S. central bank said it could keep interest rates low even after the U.S. job market returns to full strength and inflation rises to the central bank's target.
It also proceeded with its well-telegraphed reductions to its massive bond-buying stimulus, announcing it would cut its monthly purchases of U.S. Treasuries and mortgage-backed securities to $55 billion from $65 billion.
"Gold's appeal as an inflation hedge is not as strong after the Fed's moves. It was already down on the reduction in geopolitical risk, so the combination of the two is pretty powerful," said James Steel, chief precious metals analyst at HSBC.
Earlier in the session, gold came under pressure after Russian President Vladimir Putin signed a treaty on Tuesday making Crimea part of Russia again but said he did not plan to seize any other regions of Ukraine.
Spot gold fell 1.8 percent to $1,330.61 an ounce by 2:58 p.m. EDT (1958 GMT), its biggest one-day fall since Jan. 30.
Gold has lost nearly 4 percent in the metal's biggest three-day drop since Dec. 19.
U.S. COMEX gold futures for April delivery settled down $17.70 at $1,341.30 an ounce, with trading volume about 20 percent above its 30-day average, preliminary Reuters data showed.
The Fed said, however, that dropping a promise to hold rates steady "well past the time" the U.S. unemployment rate falls below 6.5 percent did not indicate any change in its policy intentions. Rather than relying on unemployment and inflation thresholds to guide expectations, it said would lean on a wide range of economic indicators in making its decision.
Yields of the U.S. 10-year Treasuries rose after the closely watched announcement from the Fed.
George Gero, vice president at RBC Capital Markets, said dropping the unemployment gauge and the continued tapering supported yields on the key 10-year Treasury bonds.
"Higher rates are anti-inflationary and not helpful to gold," Gero said.
A stronger dollar also weighed on gold, with the yen 1 percent lower against the U.S. currency after the Fed statement.
Ukraine worries, China's first corporate bond default and fears of a slowdown in the world's No. 2 economy helped gold gain 3 percent last week.
Year to date, the yellow metal has risen 10 percent after a 28-percent drop in 2013.
Among other precious metals, silver was down 0.8 percent to $20.60 an ounce. Platinum eased 0.4 percent at $1,444.74 an ounce, while palladium inched up 22 cents to $764.72 an ounce.
(By Frank Tang and Clara Denina; Additional reporting by Lewa Pardomuan in Singapore; Editing by William Hardy, Stephen Powell and Meredith Mazzilli)