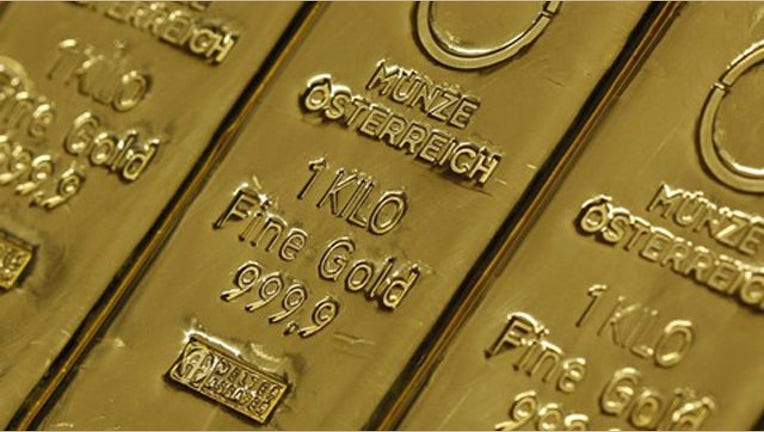 Gold firmed on Friday, edging further above the previous day's six-week low as the dollar steadied off a 10-month peak, but moves were muted ahead of key U.S. payrolls data which could prompt a further wave of selling.
The payrolls numbers follow a raft of upbeat reports on the U.S. economy, including signs of an improving job market. Data showing the biggest rise in labor costs in 5-1/2 years in the second quarter helped knock gold 1 percent lower on Thursday.
Spot gold was up 0.2 percent at $1,284.70 an ounce at 0932 GMT, off Thursday's low of $1,280.76, while U.S. gold futures for December delivery were up $2.60 an ounce at $1,285.40.
Analysts have said the Federal Reserve may take a more hawkish stance on raising interest rates at its September policy meeting in light of the recovering U.S. economy.
"Another gain in employment will really focus the mind on the Fed's response," Mitsubishi analyst Jonathan Butler said.
"We heard earlier this week that they are maintaining their accommodative monetary policy for some time after their quantitative easing program comes to an end. But clearly investors are already starting to move on, and gold is having a hard time."
The closely watched July payrolls report is expected to show 233,000 jobs were added to the U.S. economy last month, the sixth month in which employment has expanded by more than 200,000, a stretch last seen in 1997.
A strong reading has the potential to reignite a rally in the dollar index, which in July posted its biggest monthly gain since February last year.
"Gold and the U.S. dollar have a strong historical negative correlation, as bullion is most frequently priced in dollar terms," HSBC said in a note. "Expectations for a stronger dollar may keep a lid on gold prices in the near to medium term."
ASIAN DEMAND STILL LACKLUSTER
Demand for physical gold in Asia failed to pick up in a robust way despite the price drop on Thursday, a dealer in Hong Kong said.
Metals consultancy GFMS, a division of Thomson Reuters, warned on Thursday that buying in the main physical gold markets of China and India may not be strong enough to provide a floor for prices this year.
"Strong physical demand from Asia, especially China, arguably supported gold prices from falling further last year," GFMS analyst Sara Zhao told the Reuters Global Gold Forum.
"Weaker Chinese physical demand for the rest of the year would see the gold price influenced more by Western investors' sentiment, which fluctuates majorly by macro and geopolitical conditions."
Sales of American Eagle gold coins by the U.S. Mint dropped about 40 percent in July from a year earlier.
Gold prices remain up 6.6 percent this year, but the bulk of those gains were made in the first quarter. The metal fell 3.4 percent in July, its biggest monthly drop of 2014.
Among other precious metals, silver was flat at $20.35 an ounce, while spot platinum was up 0.2 percent at $1,457 an ounce and spot palladium up 0.3 percent at $868.20 an ounce.