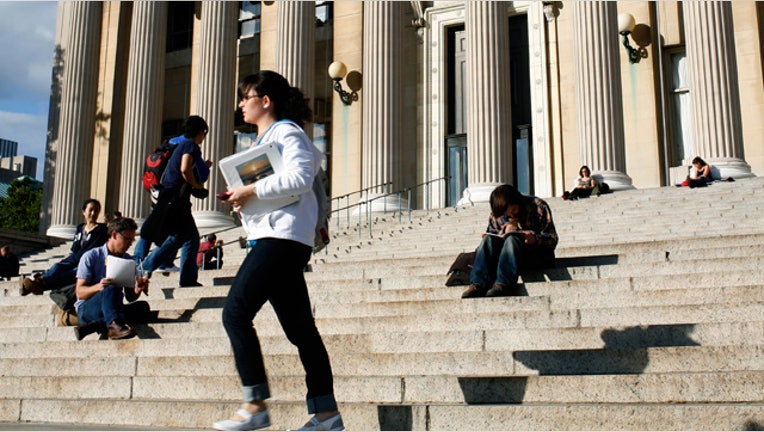 The idea of "going away to college" is taking a new meaning for incoming freshmen with many of them now attending schools within 100 miles of home.
According to the Higher Educational Research Institute at UCLA, 38% of college students attend a school within 50 miles or less, 15% within 51 to 100 miles and 37% within 101 to 500 miles.
Though it may be hard to leave the comforts of home, it's important that students not be afraid to leave and base their decision based on academic options, extracurricular activities, campus life, and scholarship offers, says Sally Rubenstone, senior advisor at College Confidential.
"I always tell students, and especially parents, that one of the most important parts of going to college can be the 'going' itself--getting away from what is familiar, to expand one's horizons and to be challenged by new experiences."
In an attempt to fill their roster with talented students, many private universities have stepped up their outreach efforts to encourage students from all over the country to enroll, says Howard Greene, educational consultant and author of Making it Into a Top College.
"Admissions officers are literally travelling all spring, all summer to different targeted parts of the country where they normally wouldn't have much representation," he says.
For students who are on the fence about staying close by or leaving the state, here's what education experts say to consider.
Staying at Home: Affordability
Room and board is a hefty expense for college students, so being able to stay with mom and dad would eliminate that cost and make tuition much more affordable.
If students can work out a deal with their parents, living at home and commuting to a nearby campus can make financial sense, says Jerry Slavonia, CEO and founder at Campus Explorer.
"The typical rate for a dorm room per year will run $10,000, meaning that over the course of four years, you could save upwards of $40,000--and don't forget the money you'll save on other expenses, like food and laundry," he says.
In-state tuition can also be hard to pass up.
"Some states offer free or greatly reduced tuition to the top in-state candidates to entice them to enroll," Rubenstone says.
Going Out of State: Cost Factor
While many state schools charge exponentially more tuition to out-of-state students, it is possible for families to find a cost-effective option.
For academically-inclined students who also display real financial need, experts say that looking at schools beyond their backyard can help them in terms of admissions and with institutional funding.
"If you're a good student for a particular college, financial aid and merit based aid can be an attraction and the cost of travel can be built into a financial aid package—that's something that many families do not know about," says Greene.
Slavonia points out that depending on the level of need, many schools will support students with 60-85% of tuition costs.
"It's very rare for a student to receive 100% coverage from the school alone, which is why there are so many scholarship opportunities available."
Staying at Home: Potentially Setting Limits
Some parents are not comfortable with the thought of their child leaving the nest, particularly in cases where the student is the first in the family to attend college.
To avoid last-minute panic from either party, Rubenstone suggests discussing the topic of "location" early on in the college conversation.
"I also urge parents not to set the boundaries too tight, especially in the early stages of exploration, so that students will have the best possible chance of finding schools that are good fits, even if they're not just down the road," she says.
Families should also keep in mind that the closest school may not be the best choice for their student's learning style, says Slavonia.
"You may be a student who will succeed more on a smaller campus, but the two schools that are closest to you may have 20,000 students and larger student to professor ratios," he says.
Going out of State: Understanding Options
Entering into a new environment is a big component of the growth and personal development that students go through during their college experience, says Greene.
"They could be missing out on super educations and financial aid as an attraction if they're [not] willing to think more broadly," he says.
For students considering staying close to home because they don't fully understand their options, they should solicit advice from guidance counselors and college coaches, but also to do their own research to find a good fit.
A search tool like College Confidential's SuperMatch allows students to enter preferences such as campus size and setting, majors, extracurricular offerings, and specifics about campus groups, says Rubenstone.
"The limits can always be added later but, at least at first, casting a wide net can open a student's eyes to what else is 'out there,' beyond the local and familiar colleges and universities."