Going local: Japanese carmakers turn to Chinese parts for China market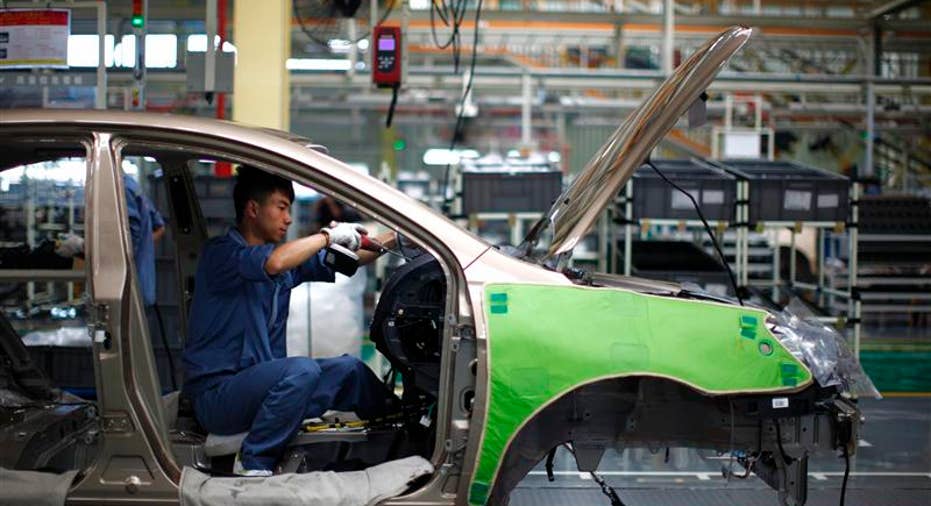 When Nissan Motor Co Ltd <7201.T> was preparing to launch the Venucia marque with its China venture partner two years ago, it sourced more components locally to keep costs down - and was sent mislabeled parts and sun visors that melted in the heat.
The quality of Chinese-made car parts has since improved and, facing tougher competition in what is now the world's biggest autos market, Nissan and its Japanese rivals Toyota Motor Corp <7203.T> and Honda Motor Co Ltd <7267.T> are having to increase the locally made content in their cars.
This is a big step for Japanese automakers that have built a global reputation for quality through close relationships with known and trusted suppliers, many of whom they own and control and with whom they jointly design and develop components.
But, at the fast-growth end of the Chinese market - the sub-$10,000, no-frills cars that appeal to a new generation of drivers - the Japanese are going bumper-to-bumper with local manufacturers such as Geely <0175.HK> as well as some global brands, and they need to contain their costs. This segment of the market is seen as a key battleground for all carmakers as growth is forecast at nearly 40 percent over the next two years.
Entering China a decade ago, Japan's automakers relied heavily on parts from their affiliates, or "keiretsu" companies, which were often imported from Japan or elsewhere. To check costs, the automakers urged suppliers to shift production to China - and Honda and Nissan say they can now secure more than 90 percent of their car parts locally depending on brand. But even these parts made by "keiretsu" suppliers at Chinese plants are more expensive than those from Chinese manufacturers as they often rely on materials imported from Japan.
Now, a firmer yen and a lingering anti-Japan sentiment from a territorial row between Asia's two leading economies last year are adding pressure for automakers to source more parts from local Chinese suppliers.
Until now, the battle for the sub-$10,000 car market has been between Chinese firms. But as the higher-end market is crowded and volume sales are at the cheaper end, the entry-level segment is one that foreign automakers can no longer ignore.
TAKING ON KING KONG
To compete at the no-frills end of the market against Geely's King Kong and GM's Chevrolet Sail, the Japanese are having to keep costs down and step up their sourcing of local parts. In this, they are playing catch-up with U.S. and European rivals, which already have more Chinese content in their cars.
"No matter how you look at it, pure Chinese suppliers are cheaper," Shouhei Yamazaki, senior vice president for purchasing at Nissan's local joint venture, Dongfeng Nissan Passenger Vehicle Co, told Reuters.
For example, Nissan, which has been the most aggressive among the Japanese in localizing parts production at its plants around the world, can cut its costs for rear lamps on its made-in-China Venucia brand by around 40 percent by shopping at local suppliers. "GM and Volkswagen use these firms and since we compete with them we'll lose out unless we also use them," Yamazaki said.
LOCALS BOLDER
At the same time, local joint venture partners have been emboldened since a row between China and Japan over disputed East China Sea islets. The row triggered often violent protests and battered sales of Japanese branded cars in China.
"The Japanese had to rely on their Chinese partners to deal with the crisis ... and the Chinese have gained more influence," said the head of one Japanese interior parts supplier to Honda in China. "The Chinese are pushing to bring in their own suppliers ... and business in China is all about relationships."
The quality of Chinese-made car parts has improved as manufacturers gain experience, though many still fall short of those made by Japanese rivals, people in the industry say.
"During the trial stages in the lead-up to the Venucia launch, we had quite a few problems that were unthinkable," Yamazaki said, recalling how sun visors wilted and parts were often delivered with the wrong labels, prompting Nissan to send in a team of Japanese engineers to work with local suppliers and ensure products met the firm's high standards.
Yamazaki said parts made by Chinese suppliers currently make up around 15-20 percent of Nissan branded cars in value terms, and the aim was to push that up to more than 35 percent.
"KEIRETSU" WARNING
So far, much of the localization by Japan's carmakers has been limited to firms supplying electrical and interior parts that are considered less vital to car safety. The shift will impact second- and third-tier supply firms more than the bigger Japanese auto parts providers such as Denso Corp <6902.T> and Aishin Seiki Co Ltd <7259.T>.
"It's not our goal to 100 percent localize," Honda spokeswoman Akemi Ando said in an emailed response to Reuters questions for this article. Toyota's China-based spokesman declined to comment.
However, the Japanese "keiretsu" suppliers warn that more local parts will mean poorer quality cars.
"The carmakers will never admit that quality will drop, but it will. There's no doubt about it," said an executive at a main Japanese supplier to Toyota, Nissan and Honda, who didn't want to be named as he is not authorized to speak to the media.
"Sure, they're making suppliers provide samples and so on, but that's not bullet-proof. Things like the endurance of an auto part are very hard to check unless you actually apply them in cars on the road."
(Additional reporting by Fang Yan in BEIJING; Editing by Ian Geoghegan)