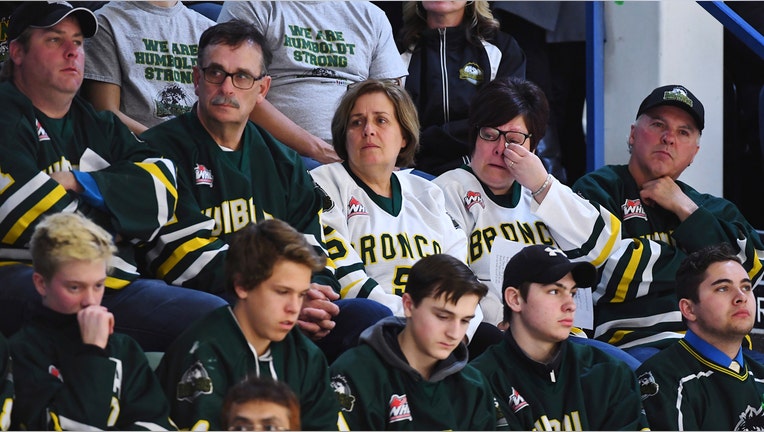 A GoFundMe crowdfunding campaign for victims of a bus crash that killed 15 people in Canada's Saskatchewan province, including 10 members of the Humboldt Broncos youth hockey team, has raised one of the largest sums of money in the platform's history.
The fundraising tally stood at more than $8.5 million as of Wednesday afternoon, five days after the fatal bus accident. That sum more than quadrupled the initial goal of $2 million set by Sylvie Kellington, the Humboldt resident who started the GoFundMe campaign.
"There are no words that could express the incredible support the hockey community has seen here," Kellington wrote in an update on the GoFundMe page. "Thank you to everyone for your kindness and prayers, your donations, and for sharing this GoFundMe far and wide. More updates to come."
More than 103,000 people in 65 countries have donated to the campaign, a GoFundMe representative told FOX Business. Multiple companies, including the Canadian Tire Corporation and Gongshow Hockey apparel, donated $50,000 each. Other top donors included the GoFundMe team ($25,000), the NHL's Toronto Maple Leafs ($25,000) and athletic apparel retailer Lululemon ($25,000).
The Humboldt Broncos fundraiser ranks among the five largest campaigns in GoFundMe's history, the company said. Only the "Time's Up Legal Defense Fund," which raised more than $21 million for sexual harassment victims who face court fees, and the Las Vegas Victims Fund, which raised $11.8 million for victims of a mass shooting that killed 59 people in October 2017, have tallied larger sums.
The tragic accident occurred when a semi-trailer crashed into a bus carrying the Humboldt Broncos, who were on their way to a playoff game. Another 14 people were injured in the crash. Authorities are still investigating the cause of the crash. The Broncos' head coach, Darcy Haugan, and team captain, Logan Schatz, were among the deceased.
"An entire country is in shock and mourning," Prime Minister Justin Trudeau said in a statement. "This is every parent's worst nightmare. No one should ever have to see their child leave to play the sport they love and never come back."
GoFundMe has placed all crowdfunding campaigns related to the crash on one page, which can be viewed here.