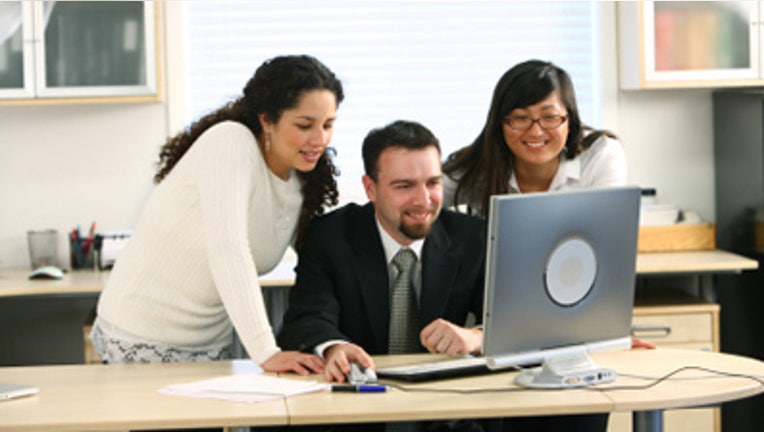 Locally driven businesses do have control over their online reputations. Find out how you can start managing yours today.
More than 80 percent of us have searched online for businesses in our area and researched product information on the Web before buying locally. Twice as many of us use search engines as printed yellow pages when looking for local business information — and yet only 44 percent of local businesses have a website, according to a 2009 research brief from the Center for Media Research.
If you're a locally driven business of any kind, creating a Web presence can help you connect with more of your customers and get a leg up on the competition. And it's easier than you think.
Create a website
If you don't have a website already, create a simple one with just a few pages. Sound like too much work? It doesn't have to be. An easy option is to use WordPress.com, which is free, aside from the less than $20 a year you pay for your own domain name. Include the following on your site:
- A home page, with text in the title of the page and in the content that includes your business name, your location, and what your business does.
- An "about" page that offers details such as hours, directions, address and phone number.
Make sure you include your city and state as part of your address. When potential customers search for businesses like yours, search engines will display Web pages from businesses that they know are in the same geographic location as the searcher. Also make sure that the content is in text, not images.
Claim your Google, Bing and Yahoo Maps listing
The three major search engines let you provide your business details for free. Completing this information yourself not only ensures that potential customers searching their maps and local listings can find you, but also prevents your listings from having inaccurate information. Don't forget to include details such as your hours of operation. Several times I've chosen a business because I knew it was open when other businesses in the maps results didn't list hours. Here are some basic considerations for creating a listing:
- Include your business description, hours of operation, and any other relevant information.
- Add photos, your website address, phone number, and other contact information.
- Be sure to include all of the relevant categories for your business.
You can claim your listings at Google Places, the Bing Local Listing Center and Yahoo, among others.
Create social media profiles for your business
Create a Twitter account for your business, as well as a Facebook page that links back to your website (even if you don't yet have time to participate in social media). These profiles may also appear in search results, so they help you gain visibility. Plus, grabbing the profiles ensures that no one else registers them — so they're yours once you're ready to start using them.
Still not convinced? For more information, read about why having a social strategy is so important for local businesses.
Seek out reviews
Review sites such as Yelp and TripAdvisor are popular, and information from them appears in search results and map listings. Encourage your customers to leave reviews for you. (Just make sure you don't try to sway their opinion in ways other than providing superior customer service!) Be sure to monitor these sites for feedback about how to improve.
If you see a negative review, don't react defensively. Thank the reviewer for the feedback, then describe how you're going to improve things or how you've already taken steps to improve them. Don't worry if you have a few negative reviews. Consumers can be suspicious of purely positive reviews and usually aren't unduly influenced by a few negative ones.
Ensure you have an accurate listing in online directories
Review local directory listings and update any out-of-date information. (Most local directories should let you update inaccurate information for free.) Search-engine maps sometimes use information from these directories, and more than once I've navigated to a business via Google Maps only to find the business had moved. Some to directories to check include SuperMedia, MerchantCircle, Citysearch and Yellowbook.
Add your listing to location services
Foursquare, Gowalla and Facebook all let businesses add pages so users of their services can "check in." This is the best kind of free advertising. Once a customer checks in at your location, a message is sent to that customer's entire friend network. You can't beat your customers telling their friends about your business. Offer coupons or other incentives to those using the services, and you may generate repeat customers, too.