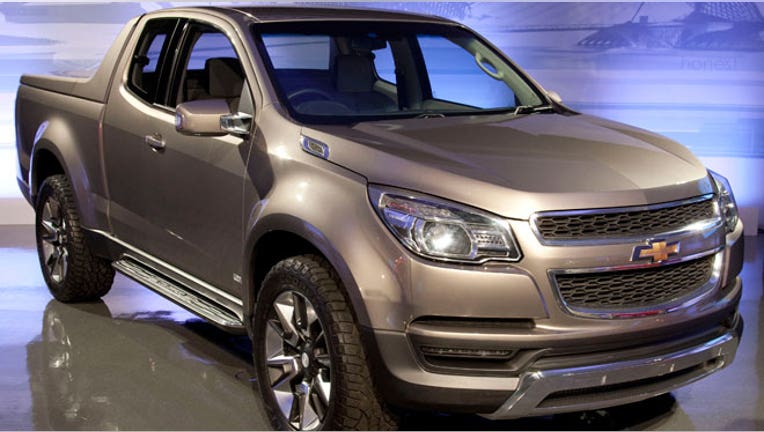 General Motors (NYSE:GM) will re-launch its U.S. mid-size pickup trucks next year with the same Chevrolet Colorado and GMC Canyon nameplates but different design objectives, Chief Financial Officer Dan Ammann said.
The automaker ceased production of the smaller pickups about a year ago. Ammann, speaking at an annual Center for Automotive Research conference in Michigan, explained that GM's redesigned Chevrolet Colorado will be a sport pickup, while the higher-end GMC Canyon will be positioned as a truck for city drivers.
GM confirmed last fall that the trucks would return to the U.S. On Thursday, the company provided an image featuring just the front grills of the new Colorado and Canyon.
"These are a fundamental different proposition than what we offered previously," Ammann said, according to The Wall Street Journal. "This is a segment that used to be a very big portion of the truck market that has diminished over the years, because there hasn't been an offering in the segment customers were looking for. So we are looking to bring something that redefines the segment."
Mid-size pickups were primarily geared toward drivers looking for towing capacity on a budget, with less emphasis on design. The refreshed versions for 2015 were expected to be a different breed, as GM has already begun selling international models featuring sportier designs.
The U.S. trucks will share certain components used in the global versions. However, Ammann said the domestic models will not be based on the same underpinnings, even though GM and other automakers have used global platforms more frequently to control costs.
"Our goal is to meet the needs of the customers here in North America, and we think they are different than the customers in places like Thailand," Ammann said.
GM is betting on the mid-size pickups to attract a wider range of customers interested in trucks, broadening its portfolio beyond the full-size Chevrolet Silverado and GMC Sierra. Full-size pickup sales have been on a tear lately, with GM seeing July demand for its redesigned 2014 Silverado and Sierra trucks climb 44% year-over-year.
The Colorado and Canyon, slated for production at a plant in Missouri, will likely be priced lower and offer better fuel economy, while sacrificing some towing capacity.
U.S. car makers currently don't compete in the market for mid-size pickups. Nissan's Frontier and Toyota's (NYSE:TM) Tacoma virtually split annual mid-size pickup sales of 200,000.
Chrysler Group is weighing a new mid-size pickup to replace the Dodge Dakota. Ford (NYSE:F) previously made the Ranger but hasn't revealed any future plans.
On Friday, GM shares were down 10 cents at $35.91 in early afternoon trading.