GM, Tech Industry at Loggerheads Over Self-Driving Cars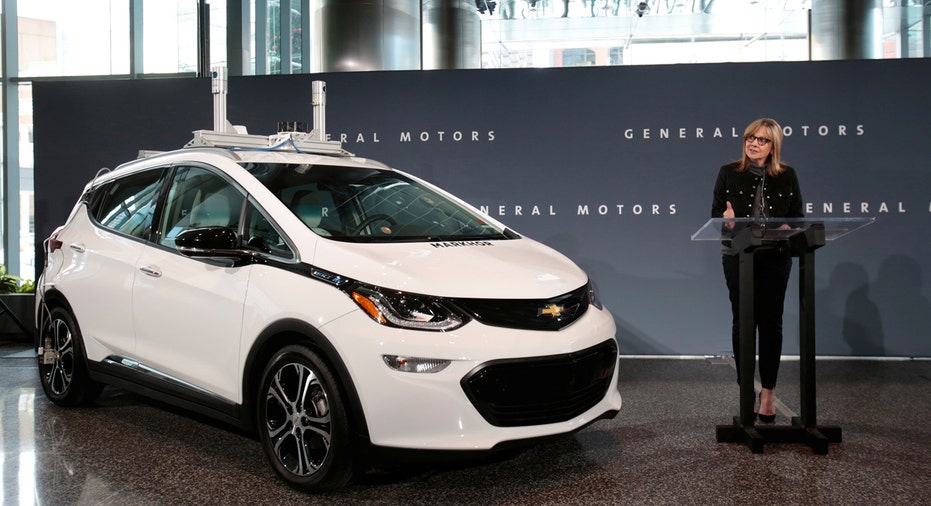 When Illinois state Rep. Michael Zalewski crafted state legislation that would allow car makers to operate self-driving taxi services, he leaned heavily on General Motors Co. (NYSE:GM).
His bill, introduced Feb. 8, would limit access to the business to companies that make their own vehicles. That means GM would be eligible, but not tech companies like Uber Technologies Inc. that are developing their own self-driving cars and don't make their own vehicles.
"General Motors approached me about it and suggested that they had success last year in Michigan [with a similar bill], and they consider Chicago a big market for them," Mr. Zalewski, a Democrat, said in an interview. "We went from there."
GM's involvement in the legislation underlines a simmering tension between Motor City car makers that have long done it their way, and Silicon Valley tech companies that aim to rewrite the rules of the road.
After falling behind in self-driving cars, GM has unleashed its powerful lobbying team to cultivate relationships with statehouses. The largest U.S. vehicle maker by sales has a long history of backing legislation to preserve its interests, including a bill in Indiana last year that would stop electric-vehicle maker Tesla Inc. (NASDAQ:TSLA) from operating its own stores there.
GM denied it is trying to keep tech companies out of the market for autonomous vehicles, noting that ultimately the lawmakers make the decision on what's filed and that the company has worked with policy makers who have different views on the degree of legislation they want to support. On Thursday, the auto maker said it has been having discussions with Uber and Waymo, a unit of Google owner Alphabet Inc. (NASDAQ:GOOGL), on language that everyone can support.
"Our business is to introduce new technology into vehicles safely and that's what we do," said Harry Lightsey, GM's executive director of emerging technologies policy. "We don't have a problem with tech companies being in this business if they can show they are responsible and can be accountable for the performance of their product."
Last year, legislators introduced bills in 20 states that involve self-driving cars, according to the National Conference of State Legislatures. This year, lawmakers in several states are looking at legislation modeled after legislation in Michigan that GM endorsed and that originally excluded tech companies from participating in so-called mobility on-demand services, or autonomous taxis.
Waymo, which has logged more than 2.5 million miles of testing its self-driving cars on U.S. roadways, is fighting back. Michigan's SAVE Act, enacted in December, was ultimately amended to include Waymo after outcries from the tech giant.
"Just as Americans should have a choice in what car they buy, they should also have a choice to ride in safer, more advanced self-driving cars," a Waymo spokesman said in a statement. "This kind of anticompetitive bill will only slow down the rollout of live-saving technology and create an unlevel playing field at the expense of consumer safety."
GM's Mr. Lightsey said he is aware of at least 10 states where the SAVE Act language, which GM views as a model, is circulating among lawmakers, including in bills filed in Maryland, Georgia and Tennessee.
Tennessee state Rep. William Lamberth said he consulted with GM and others when drafting legislation similar to the SAVE Act. The Republican said he is cautious about letting tech companies have access to public roads for testing.
"I know that if a manufacturer of a vehicle puts a car on the roadway it's going to have gone through a thousand different tests before it ever gets out on the road," Mr. Lamberth said. He added there is nothing preventing a tech company from partnering with an auto maker.
In Illinois, where Mr. Zalewski in the past proposed statewide regulations against Uber, the lawmaker said he was prepared to "engage" in a dialogue with the ride-hailing service and other tech companies. "There are always opportunities for amendments," Mr. Zalewski said.
Mr. Zalewski's bill includes a carve-out for Waymo similar to the one in the Michigan legislation, allowing for a company that has tested more than one million miles on public roads to be considered a car manufacturer. The Tennessee legislation doesn't have such a provision.
"We think it is early in the life of this technology" for states to enact legislation on self-driving cars, an Uber spokeswoman said in a statement.
TechNet, a lobbying group founded years ago by Silicon Valley fixtures John Doerr and John Chambers to advocate for tech-industry issues, is tracking 60 autonomous-car-related bills that are circulating and expects 10 to 20 more this year.
In Massachusetts, lawmakers proposed legislation to tax self-driving cars, dubbed by one lawmaker as zombie cars, out of fear of fleets of cars circling Boston without passengers. In California, after Uber last year operated self-driving cars in San Francisco without a state permit, a bill has been filed to make such a violation punishable with a fine of up to $25,000 a day.
Eric Paul Dennis, an analyst at the Center for Automotive Research in Ann Arbor, Mich., cautioned states from quickly adopting legislation.
"The earliest timeline to when we might see some kind of product to which these laws would apply is at least 2021," he said. "By that time, our knowledge of the topic may have changed so much that anything passed now will be obsolete."