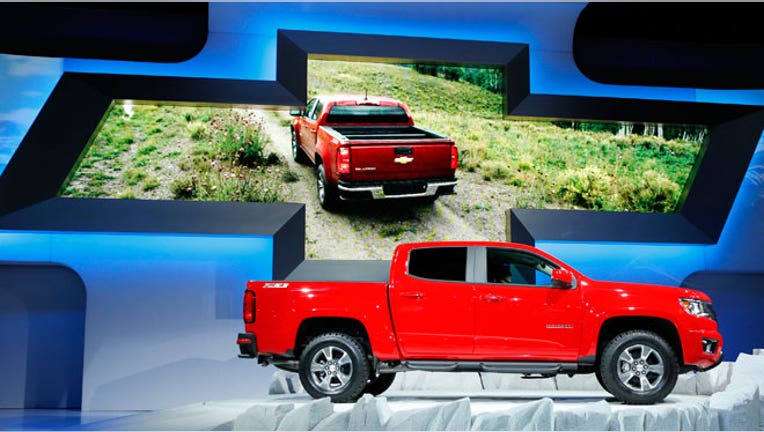 General Motors (NYSE:GM) halted the sale of its new mid-size pickup trucks to fix an issue with their airbags.
The automaker began shipping 2015 Chevrolet Colorado and GMC Canyon trucks to dealers in September, marking GM's return to a segment that was also abandoned by rivals Ford Motor Co. (NYSE:F) and Chrysler Group.
GM said Friday it suspended shipments from the factory and told dealers not to sell any Colorados or Canyons until the airbag flaw is resolved.
The airbag connections of the driver's side were incorrectly wired during the manufacturing process. GM spokesman Alan Adler said the company is working to validate a correction for the issue. Deliveries will resume once the trucks are serviced.
GM will initiate an official safety recall, although it remains unclear exactly how many vehicles will be included. Only a small number of vehicles have been sold to date, Adler added. GM is aware of no crashes, injuries or fatalities related to the issue.
The stop-delivery order was first reported by Automotive News.
Also on Friday, GM announced two recalls affecting 379,401 cars in the U.S., as the nation's largest automaker by sales continues to address safety concerns.
GM is calling back 290,107 Cadillac SRX crossovers from model-years 2010 to 2015 and Saab 9-4X sport-utility vehicles from 2011 and 2012. The issue relates to a faulty rear toe adjuster, which requires a new link assembly. The company is aware of three crashes and two injuries in connection to the issue.
GM also recalled 89,294 units of the 2013-2015 Chevrolet Spark due to possible corrosion that can "cause the secondary hood latch striker to stick in the open position."
Approximately 13,000 Sparks, which are imported from South Korea, will remain at U.S. dealerships until the fix is applied. GM said no accidents or injuries are tied to the defect.
The two recalls cover 524,384 cars across North America.
Following recall of 2.6 million vehicles worldwide for faulty ignition switches, GM began a safety review of its entire portfolio to address potential defects in other models. The automaker has issued about 70 safety recalls for 30 million cars and trucks in North America so far this year.
GM has sought to become more proactive with potential defects, conducting several stop-delivery orders in advance of recalls.
The ignition-switch recall, which began early this year, put GM under a microscope because engineers knew of the problem a decade earlier.
GM shares were trading 1.8% higher at $33.78 on Friday.