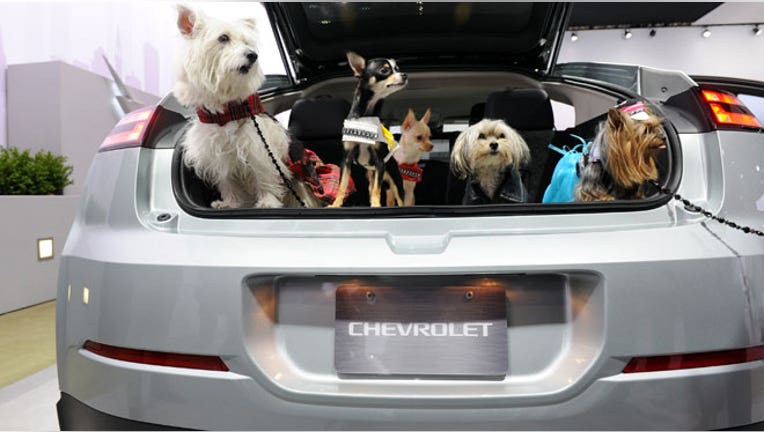 Forget horsepower, sleek lines, leg room and cup holders -- just be sure Fido will be comfortable.
That's right, GM hopes to attract more buyers by personalizing their experience on the road with ... their pet.
"We have focused on the interior experience," said James Bell, head of consumer affairs at General Motors (NYSE:GM), talking about why pets are considered in the design of their vehicles. "That was the next level," said Bell. "We are taking good care of the humans, what about the dogs that are going for the rides?"
GM is hosting owners -- or "pet-parents" -- with their pooches at the New York Auto Show, in conjunction with National Pet Day on April 11, to check out their pet-friendly cars.
Forty-six million households in the U.S. own a total of 76 million dogs, according to the American Pet Products Association. And nearly six in 10 people in a recent survey by AAA/Kurgo Pet Passenger Safety Survey said they drove with their dog in the car once a month over the past year.
"Anything a car maker can do to differentiate themselves in the consumer market is not a bad idea," said Carroll Lachnit, features editor at Edmunds.com, a website for automotive consumers and enthusiasts.
For instance, some of the pet-friendly features offered by GM's Chevrolet Traverse crossover are a trunk that is wide enough and tall enough for a crate to carry a dog. The sports utility vehicle also offers fold-over back seats for the dog to move around, tinted rear windows, a cooling system to cool down pets on a hot day, and air-bags in the back that are designed to cover the windows and inflate longer in case of an emergency.
"I test drove a lot of different cars with the dog to make sure that I could see him on the back seat and he could see out of the window," said David Ader, who owns a yellow, 90-pound Labrador called R2.  "One-hundred percent of the decision was if my dog could fit in the car." (Ader finally settled on an Audi A6 after looking for the right car over a four-year period.)
To pet-proof their cars, GM invited owners, with their pets, to test their products out and help determine features that worked. But convincing consumers to buy a car is not just about making them pet-friendly, it's about making them human-friendly for a pet-owner.
"The number one issue is that the fur gets everywhere when my dog is in the car," said Mark Drayer, who owns a Jack Russell Terrier mix and drives a Honda CRV.  "In a decision to buy a car, a solution to that would actually sway me."
"For dog owners, that's a member of their family," said Mike VanNieuwkuyk, executive director of global automotive at JD Powers. "It's no longer about transportation but is about making my driving experience as useful and as effective as possible."
Ader said it's imperative that his dog is comfortable when traveling. "The kids can sit anywhere. It's hard to fit the dog, and if his tail is wagging and I can see his face, it's good."
Americans spend nearly 20 hours in their cars per week and travel more than 200 miles,  according to data collected by Arbitron National In-Car Study. Drivers are already communicating in their cars, being entertained, being informed and even connecting to the Internet in their cars.
"We want our interiors to be like our living room," said VanNieuwkuyk.  "And it seems logical to want to make our pets to be comfortable."