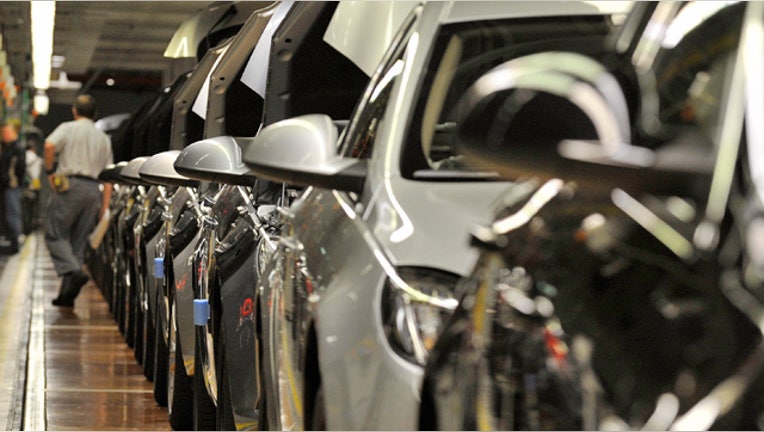 General Motors (NYSE:GM) will begin to include 4G wireless broadband connectivity, the same used for smartphone devices, in its 2015 models sold in the U.S. and Canada, the automaker announced Monday.
Under the plan, car owners who choose to add the feature to GM vehicles would select a wireless subscription package. GM cars and trucks, including GM's Buick, Cadillac, Chevrolet, GMC, Opel and Vauxhall brands will be able to connect to mobile broadband and also create WiFi hotspots that will allow mobile device users in the car to connect to the Internet.
The first models offering the 4G option will be model year 2015 cars from Chevrolet, Buick, GMC and Cadillac that roll out in 2014.
The addition of 4G Internet is considered a significant improvement over the capabilities of current in-car technology. For example, rather than simply showing directions using GPS, maps displayed on the vehicle's console screen will be able to include real-time traffic information.
GM said other features like faster downloads, video streaming and simultaneous voice and data connections will also be available.
The company will use AT&T (NYSE:T) as its 4G provider in the U.S. and Canada, and select other providers as the feature expands to other regions around the world.
"In addition to allowing consumers to bring in and connect to personal mobile devices, the vehicle will also act as its own mobile device, enabling embedded vehicle capabilities," Mary Chan, president of GM's Global Connected Consumer division, said in a statement.
The new feature builds on GM's OnStar offering, which launched in 1996. Although GM owns OnStar, when it comes to using the latest consumer technology to help sell vehicles, the automaker fell behind rivals like Ford (NYSE:F), which combined its own MyTouch system and Microsoft's (NASDAQ:MSFT) Sync technology  to control the radio and Bluetooth hands-free calling features.
Ford also serves as a cautionary tale, as the adoption of its MyTouch was rocky. The feature was built into Ford's Lincoln vehicles and consumers reported some initial difficulty in using the system.
Meanwhile, GM's OnStar is perhaps the most recognizable wireless systems in the auto industry. OnStar, which has over six million subscribers, provides emergency services and on-demand directions. GM chief executive Dan Akerson, a former telecommunications executive, has looked to improve on the automaker's in-car connectivity.
The move also means GM will no longer use current provider Verizon (NYSE:VZ) for OnStar services once new models offering 4G hit dealerships. GM said Verizon will continue to support all existing vehicles with OnStar and new models that come out before 2015 models.
Shares of GM were down 29 cents, or 1.07%, to $26.82 in early morning trading Monday. The stock is up just over 3% in the last 12 months.