Glamping: Where Nature Meets Luxury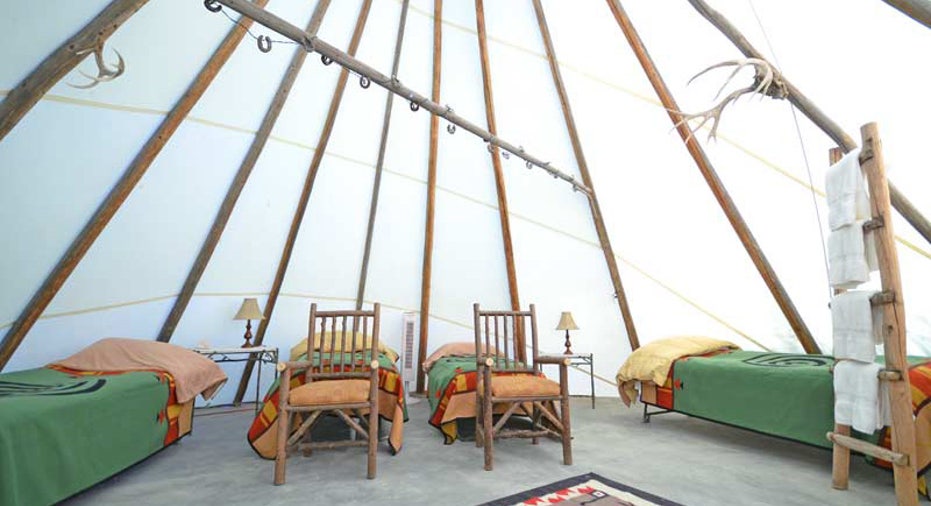 Camping used to mean really roughing it. Sleeping on the cold ground, killing and cooking your dinner, using Mother Nature as a bathroom and forgetting about showers.
But for some, camping has gone glam. These "glampers" or "glamorous campers" are staying in grandiose teepees equipped with Persian rugs and heated bathroom floors.
Glamping entered the travel scene nearly a decade ago and has become increasingly popular with seasoned campers and their less-outdoorsy counterparts alike in recent years. Luxury camping resorts are popping up across the globe as well.
While some would argue glamping is hardly camping at all, John Romfo, director of sales and marketing at The Resort at Paws Up in Greenough, Mont., says these high-end facilities are simply targeting more affluent clients that are adventurous.
"We always hear 'I'd never go camping, but I would definitely do this,' or 'this is my kind of camping,'" he says. "If you are going to go camping, you want to do it in style."
The Resort at Paws Up opened in 2005 with only one camp of six luxury tents in addition to its vacation housing offerings. Today, the resort has four camps of six tents. The tents boast high thread count sheets, electric blankets, heated floors in the bathrooms as well as art hangings on the walls, according to Romfo.
Pricing begins at $1,135 per night for two adults with three meals a day, and reaches $1,620 per night for two adults in the highest-end tent with three meals a day.
Terri Bowman, general manager of the El Capital Canyon Campground in Santa Barbara, Calif., says the property got a luxury upgrade in 2001 after being in business for 30 years in an effort to attract those who want to experience nature, but are unfamiliar with camping.
"We take the anxiety out of that," Bowman says. "They really enjoy the environment. We do serve hardcore campers, but it's also nice to not have to sleep on the ground. I think it's a merger—I'm sure we've kept a lot of happy marriages."
Cabins and teepees range from $135 to $785 per night, and El Capitan has close to 80,000 visitors a year. Bowman says TVs and cars are not allowed on the property to ensure guests are still inspired to experience nature while staying in high-end lodging.
"With the economy being so bad, people want a lot of family time and want to feel nature," she says. "It's simple out here."
Eric Hernandez, a photographer and avid camper, would have never considered himself a "glamper" in the past, but stumbled upon the El Capitan at the end of  an RV trip nearly four years ago, and is now a convert—camping there several times a year.
"It's beautiful and it's nice to have all of the amenities. On top of that, you get the spa treatment—it's kind of unheard of."
The Clayquot Wilderness Resort on Vancouver Island, British Columbia, features ensuite bathrooms, Persian carpets and even candlelit evening turndown service for its guests, according to Sue Bodset, director of marketing and sales. The resort also offers personally-guided activities including horseback riding, rock climbing, archery and zip lining for guests.
"[Glamping] appeals to executives, parents and grandparents who want to get out into nature, but have the comforts of a luxury hotel room," Bodset says.
Clayquot is open from May through September, and hosts about 800 guests annually in that time period, she says. All-inclusive packages are sold for three, four and seven-night stays, and begin at $4,700 per adult and $1,500 per child, per night. The price includes activities, meals, alcohol and transportation to and from the resort.
Pepper Fewel experienced the boon in luxury camping firsthand. Facing an empty house after their kids moved out, Fewel and her husband constructed a teepee and a cabin to host their friends for wine and horseback riding trips. Demand became so high, they were turning people away.
"It's what the public wants, where they want to go," she says. "I never liked to get dirty and that's the way I approached the business. I try to do everything, and meet every need I would want while camping."
Fewel and her husband opened the Cherrywood Bed Breakfast and Barn in 2000. Cherrywood's horseback trips cost $195 and include breakfast and lunch.  Fewel  gave more than 600 riding tours last year. Glampers pay $225 per night per person to stay in real teepees with a luxurious twist—down comforters, chocolates on the pillow, hairdryers and robes. Although they are open daily, Fewel says they had to turn away guests last year due to their increasing demand for tours and stays.
Paws Up, for one, is banking on the popularity of glamping continuing to expand. Annually, Romfo says the resort has more than 2,000 glampers, and is completely remodeling its first camp to meet customer demand.
"A hotel would never leave its rooms un-renovated for that long," he says. "We don't feel this is a fad, so for us this indicates the longevity of the trend."