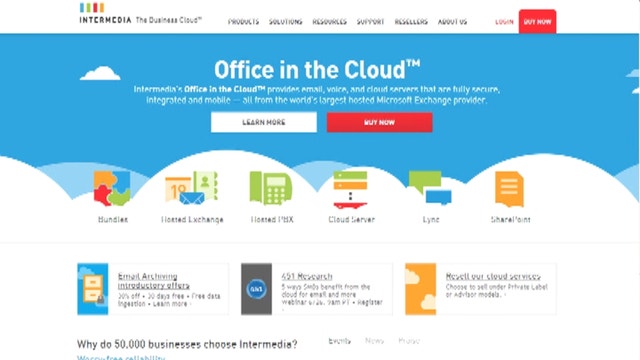 At a time when privacy and hacking are at the center of a national debate, and concerns over cyber threats are ever-mounting, email security in the cloud isn't something to be taken lightly.
Private cloud company Intermedia should know—as the largest provider of business email in the cloud, it is accountable for more than 600,000 email users' security. President Michael Gold says their advantage is providing small and medium-sized businesses with trusted protection they just can't obtain doing this on their own.
"We are running at the same level of a Fortune 50 company with security experts, hardware and software," Gold says. "It would be irresponsible to say we're not concerned [about cyber threats]. Security is something we focus on all day, every day. We have dedicated people who worry about this all day long."
This piece-of-mind is bringing more customers into the cloud, and the company's bottom line is benefiting in a big way. More than 80% of the company's growth is attributed to businesses moving from in-house solutions and servers to the cloud.
Intermedia's user growth is up between  30% and 40%, and revenues are over $100 million for 2012. With more than 400 employees across the globe, the company provides services to more than 50,00 small and medium businesses and more than 600,000 end-user customers.
Also coming down the line is an acquisition of HostedPBX provider AccessLine, which will add over $30 million in revenue and more than 100 additional employees.
Convincing time-strapped businesses that moving their entire office into the cloud does take some doing, Gold says. The savings for Intermedia's average customer are about 50% of what they would spend managing these services across their locations independently, and it enables them to grow globally, if they so desire.
"There are so many challenges to going global," he says. "The Internet allows you to get your message out on a global basis out of the gate. We have an employee base to support their needs, and support their IT needs remotely. Our customer may have locations in four or five offices around the country with one dialing extension [thanks to the cloud]."
The term "cloud" can mean many different things to different customers, he says, which is why Gold believes that not "all clouds are created equally." There are the consumer cloud companies, like Apple with its iTunes services, among others. Then there is the developer cloud, with companies like Amazon and Rackspace.
Finally there is the business cloud, where Intermedia falls, which manages business applications like Microsoft 365, Salesforce and more.
"Within the business cloud you have so many players," he says. "What a business needs to be concerned about is the level of support they need, which most small and medium businesses can't manage on their own. It's having things backed up constantly, knowing you are protected from a security perspective."