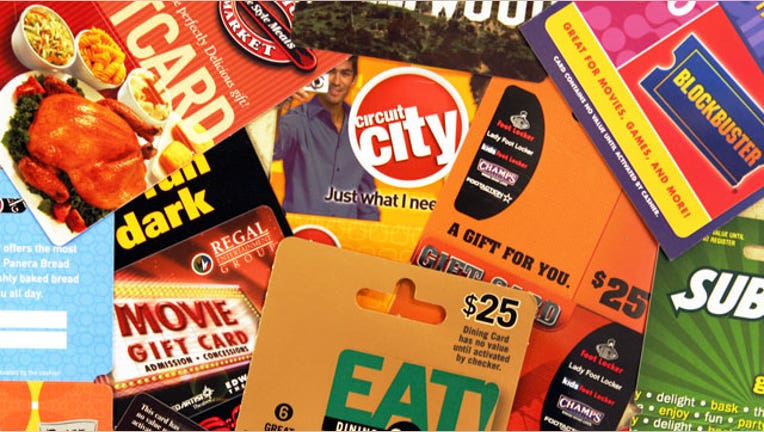 Gift cards aren't just popular with exasperated holiday shoppers puzzling over what to buy Aunt Gertrude. They're also a gift to scam artists.
There's plenty of pickings. The gift card market grew to $97.2 billion in 2010, up 12 percent from a year earlier, according to Brent Watters, senior analyst for prepaid services at Mercator Advisory Group, a Massachusetts company that tracks the consumer payments industry. This holiday season, according to an October 2011 survey by the National Retail Federation, 58 percent of shoppers said they'd like to receive a gift card.
The cards are attractive targets for fraud because, unlike credit or debit cards, there's no identifying name attached to them -- only strings of numbers, says Steve Weisman, author of "The Truth About Avoiding Scams" and a legal professor at Bentley University. They're also relatively easy to pull off.
Most commonly, thieves case racks of gift cards in stores, writing down the identifying numbers or using a scanner to lift information from their magnetic strips, Weisman said. Armed with data, they head home to their computers and wait for customers to buy the cards. They repeatedly check websites that display gift card balances, which tell them when the card is activated. As soon as it's activated, they spend the balance in an online shopping spree.
In a more sophisticated variation of the scam, the thieves also steal a blank card to create a counterfeit card they can use in a store as well as online. In both cases, customers often don't find out their gift is null and void until the intended recipient receives it, weeks or months after the original purchase.
Packaging leaves a vulnerability The scams are possible because most retailers simply don't package their gift cards well enough to conceal the identifying numbers, said Peter Camenzind,* founder of the blog "Gift Card Advocate." And while the greatest risk lies with so-called "closed-loop" cards that can only be used at a single store such as Target or Best Buy, thieves can also target "open-loop" cards issued by credit card companies. They swap activation stickers attached to the outside packaging, so that a consumer buys one card but activates the one possessed by the scam artists.
Other scam artists target consumers who buy gift cards from online exchanges such as PlasticJungle or auction sites such as eBay.
Luke Knowles founded GiftCardGranny.com, an online marketplace that aggregates other websites' prices for discounted gift cards. Some thieves try writing down their card's numeric identifiers, selling the card to the discount website and then racing to spend the card's balance before a new buyer has the chance to do so, Knowles says. But discount websites are combating that technique by exchanging cards for others with the same value but different identification numbers.
But that's not the only way websites are taking on fraud. For example, eBay bars sellers from selling more than one card at a time, making fraud less lucrative, and therefore potentially less attractive. CardPool offers customers a full refund for any reason up to 100 days after their purchase.
"They're getting sophisticated, so that maybe fraud isn't the issue it was a few years ago," Knowles said.
Tips for avoiding gift cards scamsConsumers can protect themselves from gift card fraud by following a few simple precautions.
Don't buy gift cards displayed prominently within the store. Ask sales clerks to sell you cards from the back room or behind the customer service desk.
Examine cards and packaging for signs of tampering. Don't buy a card where the coating covering the PIN number has been scratched away or the activation sticker isn't firmly affixed.
Spend the gift card as soon as possible. Don't put the card in a drawer for months. The longer consumers take to spend their gift cards, the more time thieves have to do it for them.
Beware of online exchanges and auction sites. Steve Weisman and the Federal Trade Commission both advise against buying cards from online exchanges or auction sites because of the possibility of buying stolen cards. Instead, buy cards directly from retailers.
Correction: When originally published, Peter Camenzind's name was misspelled. See CreditCards.com's corrections policy