Giant Lucara Diamond Fails to Sell at Sotheby's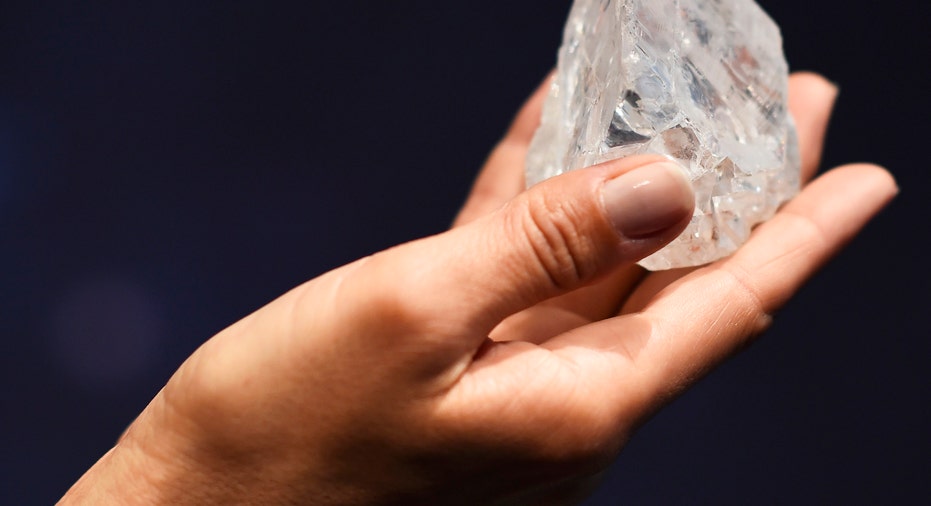 Lucara Diamond Corp's giant Lesedi la Rona gem, the biggest uncutdiamond to be discovered in over a century, failed to sell at a Sotheby's auction in London on Wednesday after bids fell short of the minimum reserve price, the company said.
As a result, Lucara will be retaining the 1,109-carat stone, it said in a statement. The tennis ball-sized gem was discovered by the Vancouver-based company in its Botswana mine last November.
The auction house had estimated that the diamond would sell for more than $70 million. The highest bid was $61 million, according to posts on Twitter.
Shares in Lucara fell nearly 14 percent to C$3.37 on the Toronto Stock Exchange.
"The result is a disappointing one, and potentially calls into question the sale method chosen," BMO analyst Edward Sterck said in a note to clients. Large, rare diamonds are usually offered for sale to small groups of diamond dealers rather than by public auction.
The Lesedi la Rona, which means "Our Light" in the Tswana language spoken in Botswana, is the world's second-biggest gem quality diamond ever recovered, and the largest in more than a century.
The biggest is the Cullinan diamond, a 3,106-carat stone found in South Africa in 1905. (Reporting by Nicole Mordant in Vancouver; Editing by Jeffrey Benkoe and Frances Kerry)