Getting Your Car Ready For the Road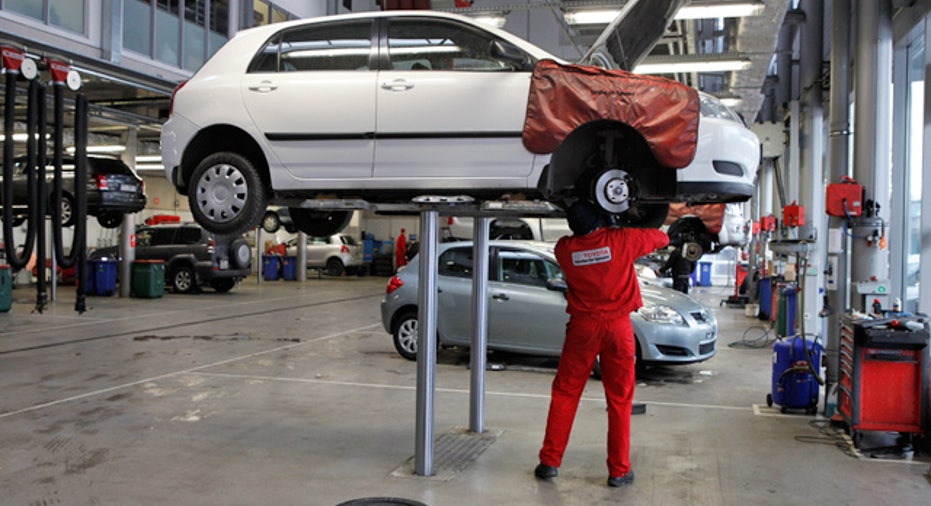 Few things spoil a road trip or family vacation more quickly than car trouble far from home. Who wants to spend even a moment of a hard-earned holiday on the side of the road waiting for a tow truck?
A pre-trip auto checkup could make all the difference. Take good care of your car before you leave, and it will take good care of you out on the road.
An ounce of prevention
The easiest way to safeguard your road trip is to let a mechanic perform a full safety inspection on your car a week or two before your trip.
"Do it at least a week before you go -- so if something pops up, it would give the repair shop time to take care of it," says Bill Csogi, an ASE certified master mechanic. He owns Car Critic of Naples, Fla., an automotive inspection, appraisal and investigation company.
Having a mechanic look at your car the day before your trip is not a good idea. If there's a problem, it could take some time to fix.
A big, last-second auto repair could really throw a wrench into your vacation plans or even force you to delay your trip.
"You may have to rent a car at the last minute, and that can get expensive," Csogi says.So let a mechanic give your car the once-over a week or two before your trip. In a safety inspection, a mechanic will check everything from fluid levels, belts and hoses to lights and tires and brakes to make sure your car is ready for the road.
Low coolant or antifreeze, a fraying belt or a worn-down hose could lead to big trouble out on the road. A small repair now could spare you a big expensive repair later on.And there are plenty of things you can do on your own to help get your car ready for a long road trip. Check out these do-it-yourself maintenance tips.
If you're a regular customer, a mechanic may charge you next to nothing for a safety inspection. Other customers can expect to pay the cost of a full hour of labor.
Whatever the cost of a safety inspection, you should consider it money well spent."It's just one of those peace-of-mind things," says David Bennett, manager of automotive programs at AAA. "Have somebody who's qualified take a look at everything."
Prepare for the worst
No matter how much maintenance you and your mechanic do on a car before a trip, there's no guarantee that you won't have auto troubles out on the road.
"Keep in mind nobody has a crystal ball," Bennett says. "It may look good today and tomorrow something may happen."
Having a roadside survival kit at the ready will make an unexpected breakdown a lot less stressful.
What should you pack? A copy of your car's warranty and contact information for your emergency car care service should be at the top of the list.
Whether you have roadside assistance through your car's warranty or insurance or you belong to an auto care club such as AAA, make sure you have the emergency contact number with you at all times.
Not sure what else to bring? Check out this list.
Keep your cool
If you do encounter car troubles while traveling, it's important to stay as calm as possible.Flick on your hazard lights and slowly head over to the side of the road. Pull your car onto the far right shoulder as far as it will possibly go. Set the emergency brake and place flares or warning triangles behind the vehicle.
Call for emergency road service. You'll need to tell the operator your exact location and give a description of your vehicle including year, make, model, color and license plate number.Be sure to ask about towing charges and the location of a nearby, reliable repair shop. If your car is still under a new car warranty, you may want to ask about the nearest dealership.If you're a member of AAA, ask that the car be taken to the nearest AAA-approved auto repair shop. AAA screens each shop for reliability, honesty, fair pricing and training of mechanics.
Certified technicians perform repairs.
Another strategy is to take your car to a shop belonging to a national repair network such as Napa Auto Care Center, CARQUEST Tech-Net or Bumper to Bumper Service Centers.These repair shops offer nationwide warranties and only certified technicians will work on your car.
Check the credentials
If you're unsure about the quality of a repair shop, check to see if the mechanics are certified by National Institute for Automotive Service Excellence, or ASE.
ASE-certified mechanics must pass comprehensive exams and must be recertified every five years. If auto technicians are certified, certificates will be prominently displayed in the repair shop.
If your car conks out in a hotel parking lot, ask the concierge at the hotel about a reliable local shop. You won't be the first traveler whose car has broken down at the hotel.
Once your car is taken to a shop, tell the mechanic everything that happened. Don't leave out any detail, no matter how minor it may seem.
"Be as descriptive as possible," Bennett says. "Don't try to hide anything, thinking it will save you money, because everything's connected."
With a lot of pre-trip maintenance and a little luck, you won't have to spend a second of your vacation in a repair shop far from home.