Get Some 'Wow' this Winter With these Home Improvement Projects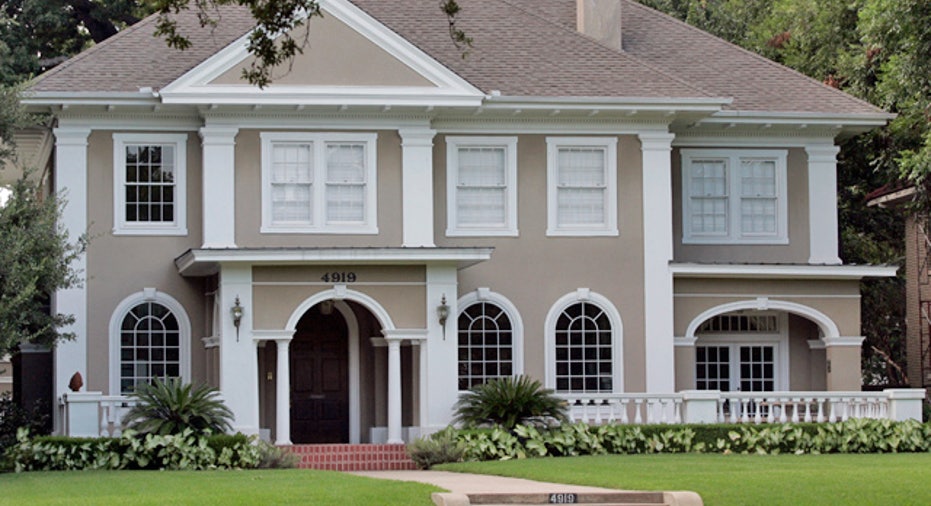 Stuck in the house? Avoiding Old Man Winter? Now is the time to tackle those small home improvement projects that give your home the springtime "wow" factor.
For much of the country, winter means frigid temperatures, wind chills that take your breath away, and piles of snow covering your lawn. That, of course, means being locked inside for months while you slowly go a bit nuts with cabin fever.
When you're looking for a hands-on project to keep you from going stir-crazy during the cold winter months, these ideas from top contractors could provide the sanity you need.
If you choose to go the do-it-yourself route, builder and real estate broker Brett Kulina of Missoula, Montana, has a few tips. "Look for projects that use pre-finished materials, to avoid fumes, sawdust, and sanding. You also want to look for projects that don't disable part of your house," Kulina points out. "Six weeks of kitchen remodeling would be difficult to handle at any time, but especially during the wintertime."
Spruce up those wood floors
Start by getting to the bottom of things: your floors. The installation of solid hardwood flooring requires sanding and finishing that can't be done conveniently in the winter. Instead, look into carpet tiles. "They are mostly just peel and stick," Kulina says. "If you have an existing floor that you are just bored with, they are an easy replacement option. If you ever get tired of them, they are easy to pull up, too."
A floating laminate floor system is also a good idea. Plastic laminates look like tile or wood floors. They are put together with a snap-and-lock system, which requires no nailing or gluing. The finished laminate runs a few bucks per square foot and can give you a great new look before springtime appears. Other good options include pre-finished hardwood and engineered flooring.
Make kitchen remodeling a breeze
A major kitchen remodel during the winter is not a good idea if you want to hang onto your sanity. But you can pull off several small projects that make your kitchen feel like a whole new space.
Cabinet refacing might be tempting, but what if you want to take a faster route? "You can really change the look of your cabinets with a simple change of hardware," says Kulina. "For between two and six bucks per piece, you can buy new hardware and easily install the pieces with a screwdriver and drill."
Don't overlook the inspiration a new backsplash can provide. "A tile backsplash doesn't require taking down cabinets or redoing countertops. Most kitchens require only a few boxes of tiles to create a backsplash and give the room a new, more dramatic look."
What if you do want to go all-in and change out those old countertops? "A countertop installer can do the measurements and installation within a few days," Kulina says, "and that means your kitchen is not out of commission. Upgrading laminate to granite is one of those things that gets a house noticed."
Painting during the winter? You bet!
Since you're stuck inside staring at the walls, why not give them a fresh coat of paint? Contrary to what many homeowners might believe, you can use paint in your home without opening up all the windows and doors, as long as you are using the right type of paint. Paints with low-volatile organic compounds, also known as Low VOC paints, don't produce the noxious fumes traditional paints do.
It can be a relatively inexpensive fix, depending on how much you want to spend on the paint and how many rooms you want to finish. Painting the walls will give you a great do-it-yourself project, and it adds to your home's appeal; a new coat of paint simply makes a house look cleaner.
Want to watch the work instead? Call a contractor
If do-it-yourself isn't for you but you want to make the most of your winter months, take advantage of the "off season" period for contractors. Now is the time to hire a good contractor to help you with those projects you've been putting off.
Jeffrey Anderson, a contractor with 25 years' experience in residential and construction management under his belt, has a few creative ideas for giving your home that "wow" factor before the snow disappears.
Get creative with a gardening room
Is that space in your basement used for little more than storage? Clean it out and turn it into a gardening room. "Ladies loved having a gardening room," Anderson says. "In the basement I would build a room with cabinets, deep sinks with plenty of room for pots, and a tile floor that was easy to clean. One of the custom homes I worked on even had a hand-painted mural between the top cabinets and the base cabinets."
For a basic sink, cabinets and countertop in a room that's about 8 feet wide, a ballpark estimate could be $800 to $1,000 for the project. Of course, high-end materials can drive up that price. As an added bonus, such a room can make a unique selling point if you choose to put your house on the market.
Prepare for next year's football season
Are you tired of watching the game on that old television in that room that just doesn't feel sporty enough? An elaborate wet bar could remedy that. Anderson has seen plenty of happy homeowners go from so-so game day to living in sports central.
"I would come up with a base cabinet design, then build a knee wall in front of it, creating a backsplash," Anderson explains. "I would put Formica or granite on top of the knee wall so they could add stools. They would then put a big-screen TV on the wall in front of it. I would include a deep bar sink, a dishwasher, cabinets that could handle a mini microwave, and maybe a wine cooler."
The cost? That depends entirely on you. A simple wet bar could run around $1,000, but you could easily spend tens of thousands on your custom dream come true.
Try this trick most homeowners miss
A do-it-yourself project with excellent potential is right above you. "Sprucing up the interior trim completely changes the look of the room," Anderson says. "It doesn't have to be that expensive, and it is something homeowners can do with a little time and patience."
Coffered ceilings, chair rails, crown molding, and even picture rails are great ways to spice up a so-so space. Don't be afraid to get dramatic. "One of the nicest rooms I've seen had walls of dark green and a bright white trim," Anderson says.
Financing
While most of the home improvement projects discussed here are relatively low-cost expressions, you still need to decide how you're going to finance them, especially the home improvement projects that are on the larger side of the scale. In terms of financing, you have several options:
Cash: For the smallest projects, such as replacing your existing cabinet hardware, you can likely purchase your materials with the cash you have in your wallet.
Credit cards: For most, charging a few gallons of paint and a couple paint brushes to your credit card won't break your budget. You can even pay your bill in monthly installments, but we don't recommend it.
Home equity loan/line of credit: Your larger home improvement projects--such as creating that dream game room--may require you to get a second mortgage on your home. A home equity loan or line of credit might be an option if you have got enough equity to use. These tax-favored loans are great for projects too expensive to be financed through cash or credit cards.
This article was originally published on HSH.com.
var gDomain='www.qsstats.com', gDcsId='dcsvwt4y610000o2mpcappf90_1x7g', gFpc='WT_FPC', gConvert=true, gTag=''+'IPT>);'; if((typeof(gConvert)!='undefined') && gConvert && (document.cookie.indexOf(gFpc+'=') == -1) && (document.cookie.indexOf('WTLOPTOUT=')==-1)){document.write(gTag);} function dcsAdditionalParameters(){ WT.qs_osrc="FXN"; }