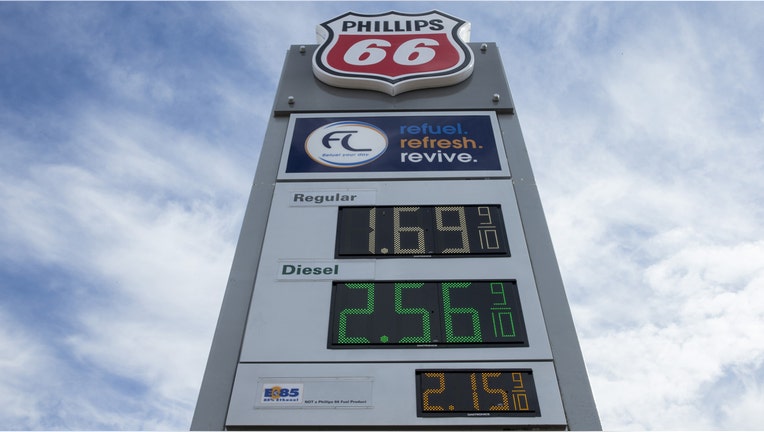 If you thought gas prices could not get any cheaper, just wait until 2016.
Right before Christmas, the U.S. average for a gallon of gas dropped south of $2 for the first time in close to seven years, showing just how far pump prices have fallen in most regions of the country. More than half of all states are below the $2 milestone, based on GasBuddy.com data, and two-thirds of gas stations across America are selling regular gas for $1.99 a gallon or less.
Road-trippers can expect more savings to come. The U.S. Energy Information Administration believes retail prices are on pace to average $2.43 a gallon this year and will slip a little further to an annual average of $2.36 in 2016, which is a buck less than the average price of gas in 2014.
Diesel is also poised for another year of cheaper prices, as the EIA's outlook calls for a 2016 average of $2.67, or about four cents below the current year.
"Headwinds will persist for most of the year. We're still awash in crude oil," said Patrick DeHaan, senior analyst at GasBuddy.
A glut of oil—due in large part to booming production in America—has sent crude and gasoline prices reeling. U.S. crude recently traded at its lowest level in nearly seven years, slipping under $34 a barrel. That equates to a decline of 69% since a 2014 high of $108 a barrel. Meanwhile, the Organization of the Petroleum Exporting Countries (OPEC) continues to stand firm, leaving its spigots open in an effort to maintain its market share.
Experts believe the oil market will remain under pressure in 2016. In its latest Short-Term Energy Outlook, the U.S. Energy Information Administration predicted that West Texas Intermediate oil will average $50.89 a barrel over the course of the full year, up only slightly versus an expected 2015 average of $49.08 a barrel.
The EIA acknowledged that oil faces "many uncertainties" heading into the new year, saying the market's direction depends on the resilience of non-OPEC drilling activity amid suppressed prices. The report also cited demand for fuel and the influx of Iranian crude as possible catalysts for volatility.
A congressional spending bill signed by President Barack Obama on Dec. 18 lifted the ban on U.S. exports of raw oil, although its near-term impact is seen as minimal.
"We're looking at a competitive oil market that should continue to be oversupplied next year," DeHaan said. "We should see three to four months of healthy growth in demand next summer, but the [International Energy Agency] is anticipating that supply will be higher than demand."
With oil heading into another tough year, consumers can keep more cash in their wallets. Seasonal trends would dictate that gas prices will stay on a downward trajectory through January, AAA said in a recent note.
Refinery maintenance in late winter could add 50 cents or more to a gallon of gas, but the national average should avoid rising to $3 a gallon at any point during the year.