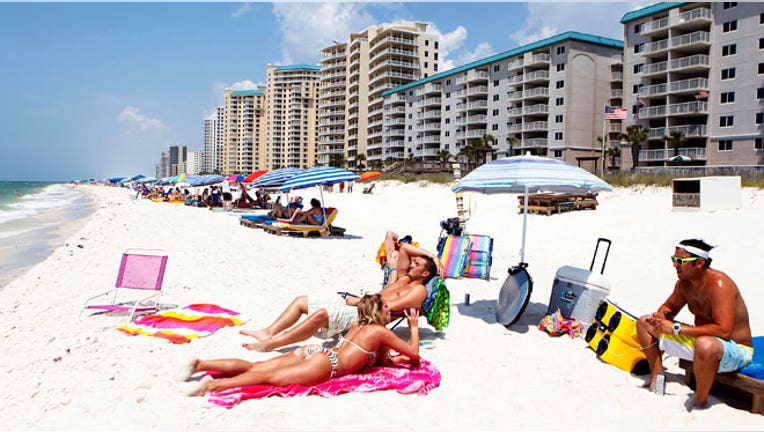 After what seemed like a never-ending winter for some parts of the country, more than three-quarters of Americans are planning to take a summer vacation.
A new survey from online travel site Orbitz found 77% of Americans are taking a vacation this season, with nearly half traveling with the entire family and 33% traveling with a significant other.
Orbitz found beach locales as travelers' top destination this summer with the top three locations including, Orlando, Las Vegas and Cancun, Mexico.
But of course, budgets are still of top concern, says Orbitz spokesperson Marita Hudson Thomas. Most want to spend $2,500 and under (75%), and nearly one-third said if gas prices rise about $4, they will scale back their summer plans.
"They won't cancel their vacations, but people do have strict budgets," Hudson Thomas says.
She says that airfare is down for nine of  the 10 top destinations; however, hotel rates are up.  Denver (-14%), New York (-11%) and Honolulu (-10%) all had double-digit drops in airfare price, however of the top 10 summer destinations, only Las Vegas (- 3%) and Denver (-7%) had a drop in year-over-year hotel rates.
Prices are more affordable as the economy has somewhat rebounded, so more families are planning to take trips this year.
"With the economy continuing to rebound, we're seeing consumers move away from settling on a shorter summer road trip and think more about that big vacation to someplace like Cancun," said Jeanenne Tornatore, senior travel editor for Orbitz.com, in a release. "Airfare has taken a dip from last summer, and there are great deals available through promotions and mobile booking; it makes it easier for you to take that big trip and still bring the whole family."
Overseas travel has also become somewhat more affordable, according to Hudson Thomas.  San Juan, Puerto Rico, is one example with a five-night trip per person coming in at $1,320, making it one of the most affordable destinations for the summer.
"It's not a huge surprise, but its interesting that you can do some of this international travel at a low price—there are some really good prices domestically and internationally," she says.