Get on the 'Linsanity' Wagon and Up Your Game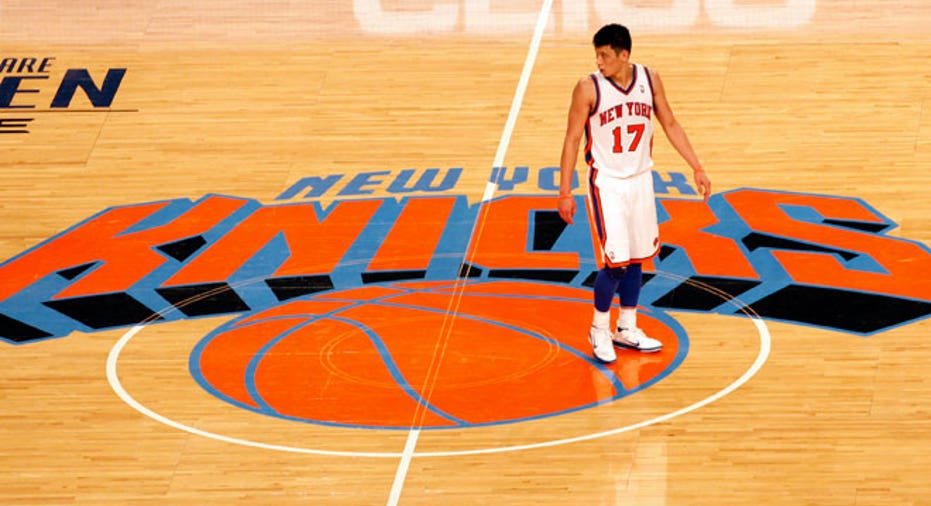 Even if you're not a sports fan – it's hard not to know about Jeremy Lin. The New York Knicks point guard has spawned a fanatical following dubbed "Linsanity" that has taken over The Big Apple, the country and points well beyond.
Lin's on-the-court performance this month has been insanely stellar. In less than a week, he sealed a Knicks Valentine's Day-victory with a last-second (actually, .5 second) three-pointer. Twenty-four hours later, he helped the Knicks' winning streak climb to seven games. Over the weekend, a disappointing February 17 loss against New Orleans proved to be a small bump in the road—because Lin rebounded with a 28-point performance against the Mavericks two days later and  moved the victory needle another notch. The Knicks have won eight of their last nine games—and Lin has netted 20 or more points in all but one of those games.
All of this is from a 23-year-old Harvard grad who was bench-sitting less than three weeks ago. Amazing? Absolutely. But Lin excels beyond hoops. He is demonstrating admirable leadership traits that readily transfer to the workplace.
Lin's rapid rise from complete underdog to superstardom hasn't dimmed his vision of where he came from. The NBA's first American-born player of Chinese or Taiwanese descent, Lin was cut by two teams in December before the Knicks scooped him up. It's hardly shabby to be donning the orange and blue Knicks uniform, yet Lin has stayed calibrated and humble. No, he didn't check-in to the Plaza's penthouse suite, but instead opted to couch surf at his brother's New York City apartment for six weeks.
Just keep it real. I've regularly witnessed the instant transformation of the middle manager elevated to director. The move from cubicle to the corner office is often accompanied by a new wardrobe, new office furniture and new attitude. Don't go changing just because your title does. Keep a genuine persona and direct connection with other team members in the workplace. The walls of a new office quickly isolate. Remember: It's a lot more fun and informative to have your coffee in a break room rather than alone at your desk. You'll dial in to a hot rumor and hear a new idea for saving costs – big benefits for any manager.
Visuals matter. Instead of sitting at the head of the table during a staff meeting, settle into a chair along the side of the table with other team members. Let's face it, once you move to the head of the table, you separate yourself from the team. With Lin, there's no chest pounding or throwing up the index finger to say, "Hey, I'm No. 1." He's not bringing attention to himself. He keeps his mannerisms muted.
The same can be said for his message. When asked by reporters to talk about his on-the-court heroics, he opts instead to talk about his team members. "It's not about me, it's about us as a team coming together and playing better together," was the response he gave to reporters during a post-game press conference.
Verbals and vocals matter too.  Lin regularly praises his teammates with specific attribution of their accomplishments. For example, after a recent victory, he verbally saluted three teammates while answering a reporter's questions about the game without talking about himself.
"We had so many active hands," he said. "We had Landry, Tyson, Shump. Everybody with deflections and rebounds, and we just clamped it down in the fourth quarter."
It's about WE not ME. This type of acknowledgment goes a long way in the business world as well.
Honest, spontaneous, verbal recognition produces more lasting impact than a $50 gift certificate. The key to generating the biggest impact is to be specific in the attribution—specific in identifying the person and the actions they took to contribute to a real goal and accomplishment.
All of us need coaching to be better managers and team members. Right now, you can audit – at no cost – lessons of authenticity thanks to Jeremy Lin. Set aside 10 minutes and Google his name. Select and view some of his on-the-court interviews and post-game press conferences – and watch and listen to how he carries himself on and off the court.
Look at Lin as someone who can provide a teaching moment. He's authentic, humble, thoughtful and engaging. Characteristics any great leader should strive for.
It's always good to look at people who are captivating others – and right now we've got a good one. It's a learning experience—a Lin-tastic learning experience.
So how do you compare to Lin when it comes to giving public recognition? Take our poll to find out.
Linda Dulye is internationally recognized for helping many companies go spectator free. A former communications leader for GE and Allied Signal, Linda established Dulye & Co.   in 1998 with a practical, process-driven approach for improving communications and collaboration through an engaged workforce— a formidable competitive advantage, that she calls a Spectator-Free Workplace™.