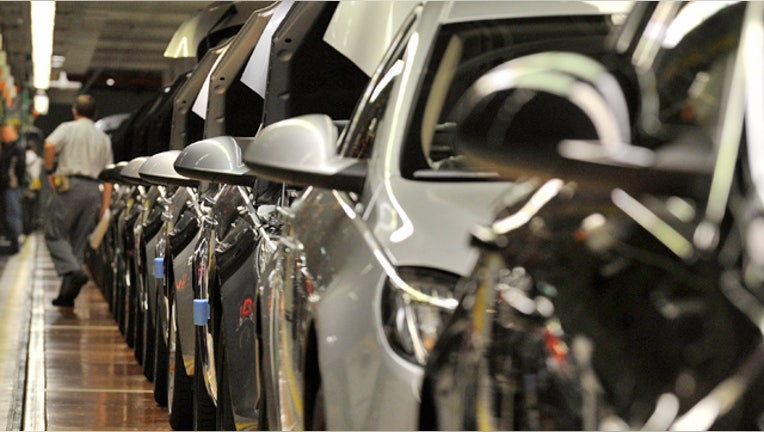 General Motors Co. has become the latest global auto maker to slash prices in China amid a slowdown in the world's No. 1 auto market.
GM's main local joint venture said on Tuesday it lowered prices on 40 models by 10,000 yuan ($1,613) to 53,900 yuan ($8,694), covering the three main brands it sells in China--Buick, Chevrolet and Cadillac. In the case of the Cadillac ATS sedan, the price fell 6.7% to 418,800 yuan, while the price of a Chevrolet Cruze with a 1.5-liter engine fell 8.3% to 109,900 yuan.
Shanghai General Motors Co. said it cut prices to adapt to China's "new normal," a phrased used by Chinese leaders to indicate slowing economic growth.
"Through the price adjustment, the selected products will consolidate their leading position in different segments, making them more attractive to consumers," said a spokeswoman for GM in China.
The statement came on the heels of similar moves by others global auto companies in recent weeks in China, which has seen an auto sales slowdown, intensifying competition and higher inventories of unsold cars on dealer lots. Industry experts say the push to protect market share could hurt profitability in a market many have counted on for strong sales and healthy profit margins.
"Over time we remain convinced that these price cuts will spread across the industry, impacting pricing and profitability for both the manufacturers and their dealers," Robin Zhu, an analyst for Bernstein Research.
Shanghai Volkswagen, one of Volkswagen AG's joint ventures in China, in April made a series of price cuts of as much as 10,000 yuan for models including the newly launched midsize Lamando sedan. A Honda Motor Co. joint venture in China cut the price of its popular CR-V sport-utility vehicle by about 8,000 yuan last month. Ford Motor Co.'s joint venture with Chongqing Changan Automobile Co. also said in April it would cover the 10% purchase tax for buyers of its cars.
Sales are expected to slow further. In the first four months of this year, sales of passenger vehicles in China grew 7.7% from a year earlier, according to the China Association of Automobile Manufacturers, a government-backed industry group. The association has put its estimate for growth in the passenger vehicle market at 8% this year, slower than last year's growth of 9.9% and the 2013 pace of 16%. Consultancy IHS Automotive forecast growth for the light vehicle market this year at 7% and next year at 6%.
Foreign car makers have felt the impact. In the first four months of this year, they sold 4 million passenger vehicles in China, largely flat compared with a year earlier, data from the auto manufacturers" association show.
GM sold about 3.54 million vehicles in China last year, more than a third of its global sales volumes, and the company plans to raise its vehicle sales volumes in China by 40% by 2018.
Shanghai GM in April unveiled a $16 billion investment plan for China that includes developing new-car products to cater to Chinese tastes. With the investment, Shanghai GM expects to seize a minimum 10% share of the domestic market for passenger cars, the company said. Currently it has a roughly 9% share.
Shanghai GM is a joint venture between the U.S. auto giant and China's SAIC Motor Corp.