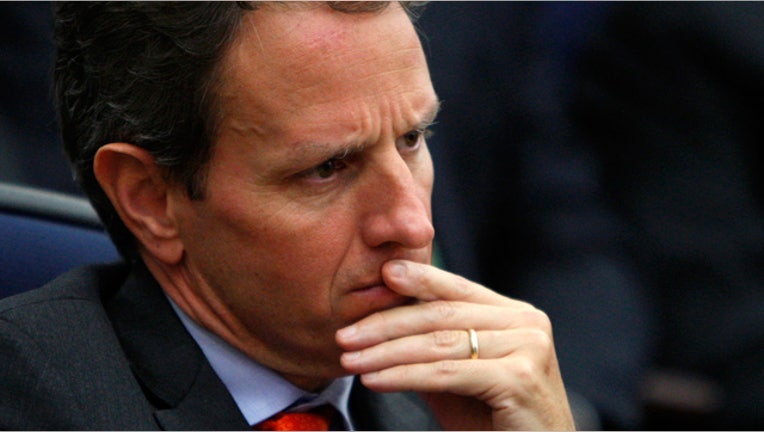 Tim Geithner has long planned to step down from his role as Treasury Secretary during President Obama's second term. What is one of the most powerful men in finance to do once he becomes a private citizen?
A round of "detox" and writing a book, possibly in that order.
Friends of Geithner say they believe he will take a year off from one of the most stressful posts in government and possibly pen a book about his role in developing economic policy during President  Obama's first term in office, as well as his other public policy experience, including his role as president of the New York Federal Reserve Bank during the 2008 financial crisis.
No doubt it could be a page-turner, at least for those interested in the confluence of finance and government during one of the most tumultuous times since the Great Depression in the 1930s.
Geithner, 51, was one of the architects behind the controversial bailouts of Bear Stearns, American International Group (NYSE:AIG) and the grand bailout of the banking system known as the Troubled Asset Relief Program, or TARP. He also played a role in the decision to let investment bank Lehman Brothers fail, which sent shockwaves through world markets.
Also potential fodder for his book are the rescues of General Motors (NYSE:GM) and Chrysler. He has spent nearly his entire career in government except a short stint in 1980s at Kissinger Associates.
Back in September, Geithner appeared to throw cold water on the idea of writing a book, though he didn't rule it out. Speaking during the Clinton Global Initiative conference in New York, he told moderator Charlie Rose that "a lot of people are telling my story."
But people who have spoken to him in recent weeks say he's now embracing the idea of writing about his experiences in government, after taking some time off in what one person described as a "detox" period.
A spokesman for Geithner didn't return calls for comment.
As first reported by FOX Business, Jack Lew is seen as the front-runner to replace Geithner in a decision that could be announced by President Barack Obama as early as this week.
Meanwhile, other high-ranking advisers to Obama are also beginning to make plans for their future. Bill Daley, who served as Obama's chief of staff for a year starting in January 2011, is mulling a run for the governor of Illinois.
Former Obama economic adviser Larry Summers might find his way back into Washington. Sources say Obama is considering Summers and TIAA-CREF chief executive Roger Ferguson as potential replacements for Federal Reserve Chairman Ben Bernanke., whose term ends in January 2014.
Bernanke has reportedly told people he doesn't want another term as Fed chairman.