Gatorade to Support Youth Sports in New Ad Campaign, POTY Awards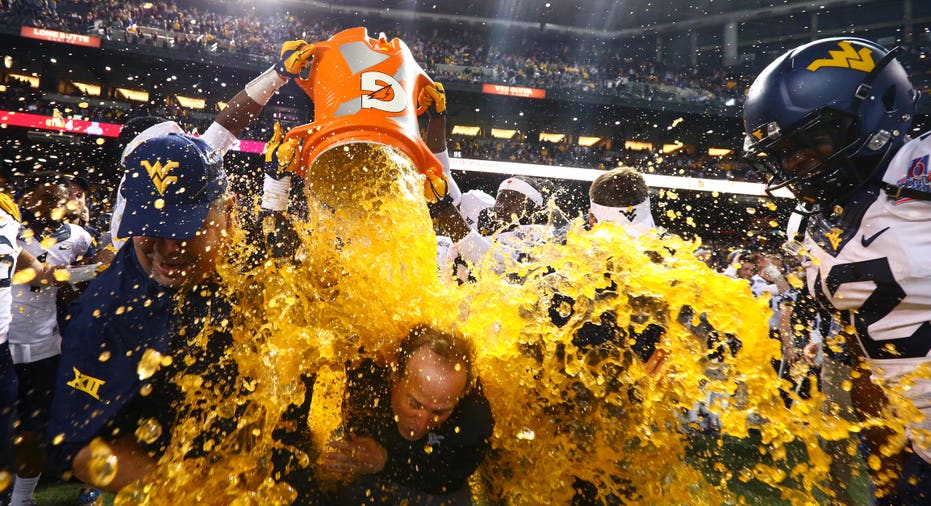 Gatorade is kicking off a new marketing campaign this summer aimed at supporting youth sports, FOXBusiness.com has learned exclusively.
The Pepsi (NYSE:PEP)-owned sports drink also plans to expand its high-school awards program in the fall, allowing Gatorade State Player of the Year winners to give charitable grants funded by the company.
Gatorade has begun distributing special-edition bottles that invite customers to cast votes for their favorite non-profit sports organizations. The votes, placed on Gatorade.com, will determine how the company will divvy up $300,000 in donations. The bottles feature sponsored athletes Usain Bolt, Paul George, Lionel Messi, April Ross and Serena Williams, all of whom will be in Brazil for the 2016 Summer Olympics.
The sports stars nominated some of the charities competing for donations. The full list includes Up2Us Sports, which trains coaches in urban areas, and the Challenged Athletes Foundation, which provides adaptive sports equipment.
Bolt, George, Ross and Williams also star in a new ad for Gatorade to promote the "For the Love of Sports" campaign. The spot, called "Never Lose the Love," features the athletes' younger selves cheering on their current selves.
George, the Indiana Pacers star, said it's important to keep youth sports going strong and "make it enjoyable" for kids.
"Basketball teaches responsibility, it teaches leadership, and it taught me how to communicate. It taught me how to take constructive criticism," George told FOXBusiness.com. "I was a shy kid, and it made me step out of being shy. It gave me a platform where I could be confident. That's what I preach to my kids [at camp]."
The three-time NBA All-Star, who has run summer basketball camps in California and Indiana, added playing sports as a youngster has benefits off the court.
"Even if it's something outside of basketball, there's something you have to work at and get better over time. That's something my kids get out of it. They see how hard I worked. You have to make a plan and go after it," George said.
Gatorade agrees, and executives want the new marketing campaign to draw attention to sports programs facing a lack of resources. Funding is seen as one reason behind a decline in youth sports participation in recent years.
In a preliminary report published in May, the non-profit Aspen Institute's Project Play said sports participation among children ages six to 12 edged slightly higher to 40% in 2015. However, the number of young athletes in America remains below the 44.5% mark recorded in 2008. Gymnastics, ice hockey, lacrosse and field hockey are the only sports to post gains over the last eight years. Basketball, baseball, soccer and tackle football—the four most popular sports in the survey—each saw participation decline due in part to a drop in funding.
"Gatorade has always been part of the fabric of sports. What we continue to focus on is, how do we make sure there's a positive impact on youth in sports? If our mission is to make your performance better, how do we make sure there is any performance at all?" Gatorade Senior Vice President and General Manager Brett O'Brien said in an interview.
O'Brien added, "We've seen less and less participation, especially in young girls. There's a whole host of reasons, but for us, one of those things is funding. Clubs aren't funded properly in so many markets."
Gatorade believes its "Play It Forward" program will have a lasting impact. Beginning with the 2016-17 school year, all 606 Gatorade State Player of the Year winners can each give $1,000 grants to sports-related charities. There will also be an opportunity to gift one of 10 spotlight grants worth $10,000 at the end of the year.
The awards, which started in 1985, are the most widely recognized awards in prep sports. They are given to student-athletes across 12 boys and girls sports each year, taking into account their achievements in sports, the classroom and the community.
According to O'Brien, Gatorade developed the "Play It Forward" program so student-athletes can give back.
"Last year at the awards ceremony, it was interesting to hear them talk amongst each other. None of these athletes get out of bed and have a monster game. They work hard, and everyone had support. We love hearing those stories, but we thought, what can we do to help those athletes return the favor, so to speak?" O'Brien said.
The new plans will also help Gatorade further engage young consumers and ensure the brand's core customers, athletes, increase in number.
Gatorade already has a commanding lead over its rivals, such as Coca-Cola's (NYSE:KO) Powerade and upstart BodyArmor, which counts Dr. Pepper Snapple Group (NYSE:DPS) among its investors. Gatorade controls an estimated three-quarters of the U.S. sports-drink market, according to research firm Euromonitor International.
O'Brien acknowledged that for Gatorade, it's important for youth sports to thrive.
"It certainly benefits us, as we look to the future, to make sure as many youth are participating in sports as possible. We want to tell our story about how we can help their performance. But to us, it's integral to be more than that if we're part of the fabric of sports," he said.