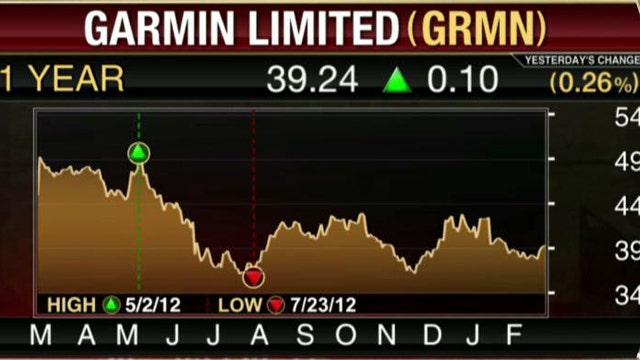 Hit by shrinking automotive sales, GPS maker Garmin (NASDAQ:GRMN) disappointed Wall Street on Wednesday by logging a 22% drop in fourth-quarter profits and forecasting tepid results for 2013.
Shares of the technology company tumbled about 9% on the earnings miss and gloomy outlook.
Garmin said it earned $129.3 million, or 66 cents a share, last quarter, compared with a profit of $165.6 million, or 85 cents a share, a year earlier.
Excluding one-time items, it earned 68 cents a share, trailing consensus calls from analysts by a nickel.
Revenue slumped 16% to $769 million, widely lagging the Street's view of $833.4 million. Gross margins rose to 49% from 48%.
All but Garmin's fitness segment suffered sales declines, highlighted by a 25% tumble in automotive/mobile to $437 million. Marine sales fell 9% to $39 million, while aviation and outdoor revenue decreased 2% a piece.
"Though business trends decelerated in the fourth quarter, we remain focused on new product development and market share gains to offset the secular declines in the PND industry and the continued generation of long-term shareholder value," CEO Cliff Pemble said in a statement.
Looking ahead, even the optimistic end of Garmin's 2013 earnings and sales guidance would miss expectations on Wall Street.
Management sees 2013 non-GAAP EPS of $2.30 to $2.40 on revenue of $2.5 billion to $2.6 billion. Analysts had been forecasting EPS of $2.82 on sales of $2.76 billion.
Garmin said its board plans to recommend shareholders approve a plan to pay a cash dividend of $1.80 a share at the annual meeting in June. The dividend would be payable in four installments.
The company also said its board of directors authorized a $300 million share buyback plan last week that would be good through the end of 2014.
Still, Wall Street sent shares of Garmin diving 9.23% to $35.62 early Wednesday. The selloff comes on top of a decline of about 4% so far in 2013 and 11% over the past 12 months.