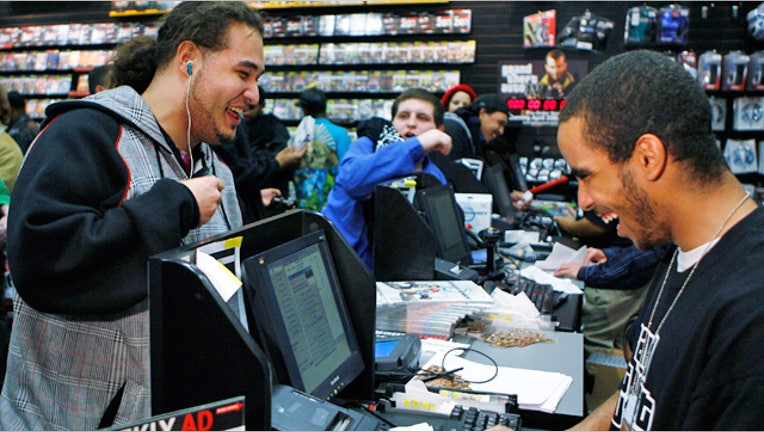 GameStop (NYSE:GME)  revealed a stronger-than-expected 49.5% jump in fourth-quarter profits on Thursday, but the video-game retailer's earnings beat was overshadowed by gloomy guidance as the industry braces for a slowdown before the launch of PlayStation 4.
The markets punished GameStop for the tepid outlook, driving its shares more than 5% lower in premarket action.
The company said it earned $261.1 million, or $2.15 a share, last quarter, compared with a profit of $174.7 million, or $1.27 a share, a year earlier.
Excluding one-time items, it earned $2.16 a share, besting the Street's view of $2.09.
Total sales dipped 0.6% to $3.56 billion, compared with consensus calls for $3.45 billion. However, same-store sales shrank 4.6%.
"While 2012 was a challenging year for console gaming, we focused on factors within our control. We expanded our market leadership position, maintained our financial strength and controlled our spending," CEO Paul Raines said in a statement.
Citing the looming launch of PlayStation 4 by Sony (NYSE:SNE), management spooked the Street with its 2013 guidance, which calls for total sales to be flat to down 8% and EPS of $2.75 to $3.15. Analysts had been projecting far stronger EPS of $3.40.
"GameStop expects the first half of the year to be challenging as consumers postpone purchases leading up to the fourth quarter console launch," the company said.
For the current quarter, GameStop sees sales tumbling between 6% and 8.5% and EPS of 38 cents to 43 cents. Even the high end of that new range would trail the Street's EPS view of 55 cents.
"GameStop is strong, healthy and ready to lead the industry and its customers into the next phase of gaming," Raines said.
GameStop also said it plans to reduce its global square footage by about 2% in 2013.
Shares of Grapevine, Texas-based GameStop slumped 5.67% to $24.95 ahead of Thursday's opening bell, putting them on pace to wipe out most of their 2013 gain.