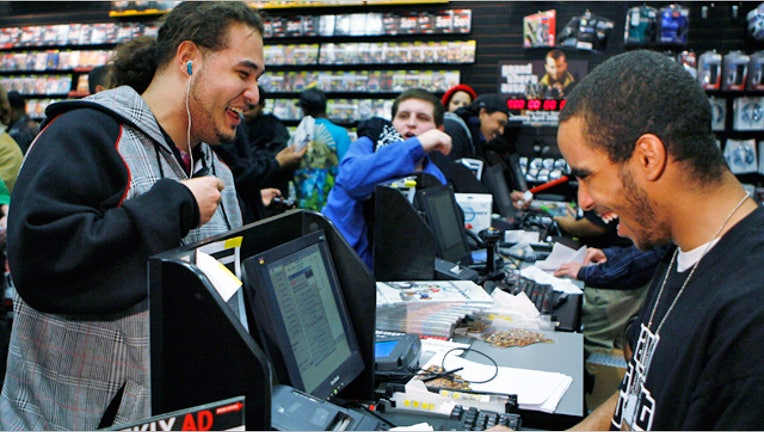 GameStop (NYSE:GME) reported narrowed second-quarter earnings on Thursday but topped Wall Street expectations on tighter costs that helped offset a sharp decline in sales.
The company also boosted its dividend.
The world's largest video game retailer reported net earnings of $21 million, or 16 cents a share, compared with a year-earlier profit of $30.9 million, or 22 cents, topping average analyst estimates in a Thomson Reuters poll by a penny.
Sales for the three months ended July 28 fell 11.1% to $1.55 billion from $1.74 billion a year ago, missing the Street's view of $1.61 billion. Comparable-store sales – or those at stores open longer than a year – slid 9.3%.
"As expected, slow traffic due to a lack of new game releases caused sales of new software and hardware to decline sharply," Grapevine, Texas-based GameStop said in a statement.
The company, which has been struggling to overcome a decline in traditional video game product sales as gamers turn to lower-priced offerings on the Internet and dedicate more playtime to their tablets and phones, forecast weaker sales in the current quarter.
GameStop expects third-quarter comparable-store sales to fall between 5% and 10%, with earnings rising modestly from the prior quarter to 28 cents to 36 cents, which is far below the consensus' 41 cents.
The retailer reaffirmed its earlier provided fiscal 2012 profit guidance of $3.10 to $3.30 a share on a comparable-store sales decline of 2% to 10%. Analysts are looking for earnings of $3.14.
GameStop warned that it may book a "material" impairment charge next quarter as it performs an interim impairment test of its goodwill and other intangible assets. The test, required as part of financial accounting standards, reflects the recent decline in the company's stock price that has pushed its net book value of equity above its market capitalization.
Meanwhile, second-quarter earnings were cushioned by a 16.5% decline in cost of sales to $1.03 billion compared with $1.2 billion a year ago and GameStop lifted its quarterly dividend by 67% to 25 cents a share.
Shares of GameStop edged about 1.2% higher Thursday to $17.23, but remain in a 28.5% slump since January.
"We are focused on staying ahead of the curve as the competitive landscape evolves and we manage through the trough of the console cycle," GameStop CEO Paul Raines said in a statement.
What GameStop calls "other category sales," climbed by 40.6% during the quarter, which it said was driven by new business channels.
Digital receipts increased by 27% to $134 million, while mobile sales, made up of tablet and pre-owned iDevice products, were $29 million and remain on track to reach the company's 2012 goal of mobile sales in the range of $150 million to $200 million.